Many cabins have water issues in their basement or crawl spaces. Our cabin is no exception – especially in the spring or after heavy rains. To fight the water, I figured we could install a French drain system adjacent to the foundation to improve the drainage of water away from the cabin. After some consideration, I thought it might also be a good idea to add a surface drain since we had no gutters on our cabin. Here is what I did.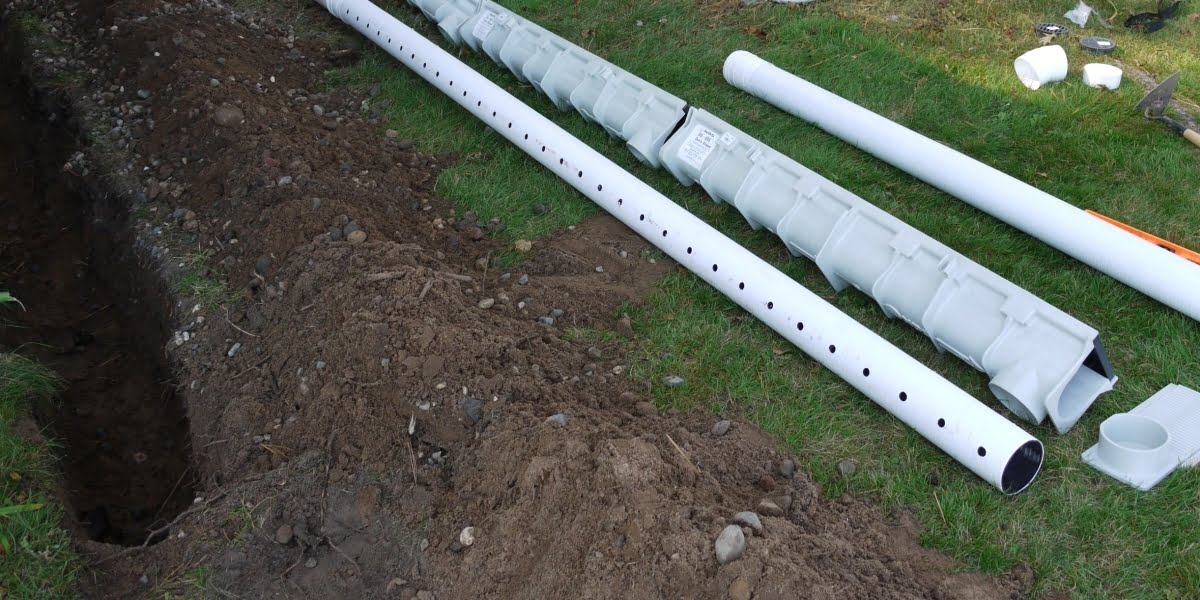 Combo french and surface drain install to help dry crawlspace.
Combo Drain to help redirect roof rain water without gutters
If you've read some of my other articles, you probably know I've put some time and effort into mitigating my crawl space moisture issues. Dirt crawlspaces may be the worst building design ever conceived and they lead to all sorts of the worst home problems – moisture, mold, insects, rodents, etc. To try and tackle the water issues of the crawl space I've installed a sump pump and encapsulated the crawlspace adding a radon pump to continuously evacuate the space under the membrane.
I'm not sure if I've seen such a hybrid drain before, but it doesn't seem too crazy as the surface drain can handle any surface ground water and the deeper French drain should keep sub-surface water under control.
This effort just adds to the war on water and hopefully helps reduce the water load on the home and crawl space. Would it have been more efficient and effective just to install rain gutters on the cabin? Probably, but for some reason I thought digging trenches for a few days was a good idea. Time may tell.
With that here is a bit my reasoning for the project and a bit of French drain history.
Water In Basements And Crawl Spaces Often Comes From Outside Of The Home
Most crawl space or basement water enters from the outside (barring a plumbing leak or similar) and typically by one of three routes:
humid air entering through foundation vents
sub-surface ground water via hydro-static forces
surface ground water passing through foundation walls
Each of the above are unique problems and should be addressed separately.
Issues with humid exterior air ventilation are fixed by sealing your crawl space to outside air. I have already done this by sealing the foundation vents in my foundation walls with block (more details above sealing your crawl space here).
Fixing problems related to ground and sub-surface ground water (problems #2 and #3 above) can be accomplished with drains that divert water sources before they can pass into your crawl space or basement.
For sub-surface water, install buried drains (French drains) to de-water deeper soil and reduce hydro-static forces and for surface water, install surface drains to divert water before it reaches your foundation walls.
What Is A French Drain?
French drains are trenched drains lined with aggregate (gravel, sand, etc.) with or without buried drainage pipe or tile used to divert sub-surface water.
French drains are named after an early American farmer, Henry French, who described and popularized them in his book, Farm Drainage.
Many different types of French drains are in use today and are often named for the drain location and or function. Examples include; curtain drains, perimeter drains, interceptor drains, and foundation drains.
Curtain drains are French drains used to protect areas adjacent to elevated or perched water tables (like at the base of wet hill). Perimeter drains are French drains that surround the area to be protected. Foundation drains are placed near the base of a building or home to protect the foundation.
Although there are many types of French drains, all share the purpose of controlling sub-surface water.
French drains should not be used to control surface water that should be diverted from the surface before reaching deeper soils and potentially contributing to sub-surface water that the drain is attempting to remove.
Use Surface Drains (Channel Drains, Trench Drains And Catch Basins) To Drain Surface Water
Surface water from roof runoff, snow melt, and other landscape run-off should be controlled using surface drains. Surface drains simply catch and redirect surface water.
There are many varies of drain types, often named for style and location. Channel drains provide a narrow channel to divert water.
Trench drains are surface drains that interrupt the movement of water across a surface. Catch basins are reservoirs placed at a specific location in need of drainage.
Controlling Surface And Sub-Surface Water To Dry Our Cabin Crawl Space
Our cabin lacks roof gutters and has a rather flat, poorly sloped yard. Rainwater, roof run-off, and snow-melt create fairly regular surface and sub-surface water assaults to our cabin's crawl space.
With both surface and sub-surface water issues, I will need a plan that addresses both the surface and sub-surface water keep our crawl space dry.
According to the EPA:
The two most frequent causes of wet basements or crawl spaces (according to the EPA):

The lack of proper grading
Gutters discharging water too close to the home's foundation.

Suggestions from the EPA related to roof water discharge:

Gutter and downspout systems with lateral discharge at least 5 feet away from the home foundation
At-grade drainage systems with lateral discharge at least 5 feet away from the home foundation
Dry wells, water gardens and other underground catchment systems can be used for water discharge, but should be located at least 10 feet away from the home foundation

(source: EPA Technical Guide to the Indoor airPLUS Construction Specifications, 8-28-12)
My Two Main Water Problems
Surface water from roof run-off.Our cabin is gutter-less, which leads to an enormous amount of water dumped next to our cabin every time it rains. (each inch of rainfall a 1,000 sq ft roof will shed just over 623 gallons of water!
Sub-surface water from saturated soil. Seasonal changes in soil water plus excess ground water charge from surface water, snow melt and slope issues can all lead to excess soil moisture.
Two Drains To Solve Two Different Problems
The fix the above two water issues, I plan to add two different drains – one to solve the surface water run-off issue and one to solve the sub-surface water issue:
Surface channel drains to divert surface water and act as in-ground gutters.
Sub-surface (French) drains to control sub-surface water and de-water wet soil.
A Combined, Single-Trench Approach For Both Drains
To limit the amount of trenching for the project, I plan to place both drains in the same trench.
At the base of the trench, I will install a French drain. At the top surface of the trench, I will install a channel drain. Each drain will perform its particular job and empty into a shared discharge circuit.
Remember to call before digging to identify any buried power lines, plumbing or gas lines!
OVERVIEW | French/Channel Drain Install
SUPPLIES LIST | French/Channel Drain Install
TOOLS LIST | French/Channel Drain Install
STEPS | French/Channel Drain Install
IMAGE GALLERY | French/Channel Drain Install