Installing beadboard ceilings in your cabin or home is an easy way to add vintage-feel and character and an easy way to cover up old, ugly or boring ceilings. Our cabin's main living space has a terrific exposed-beam vaulted ceiling, but the remaining rooms had really boring painted drywall ceilings.
We converted the boring ceilings to charming beaded board ceilings by installing 1″ beading pine tongue and groove boards and the results were terrific. This article gives a bit of info about different methods of creating a beadboard finishes and walks through our ceiling beadboard install at our cabin.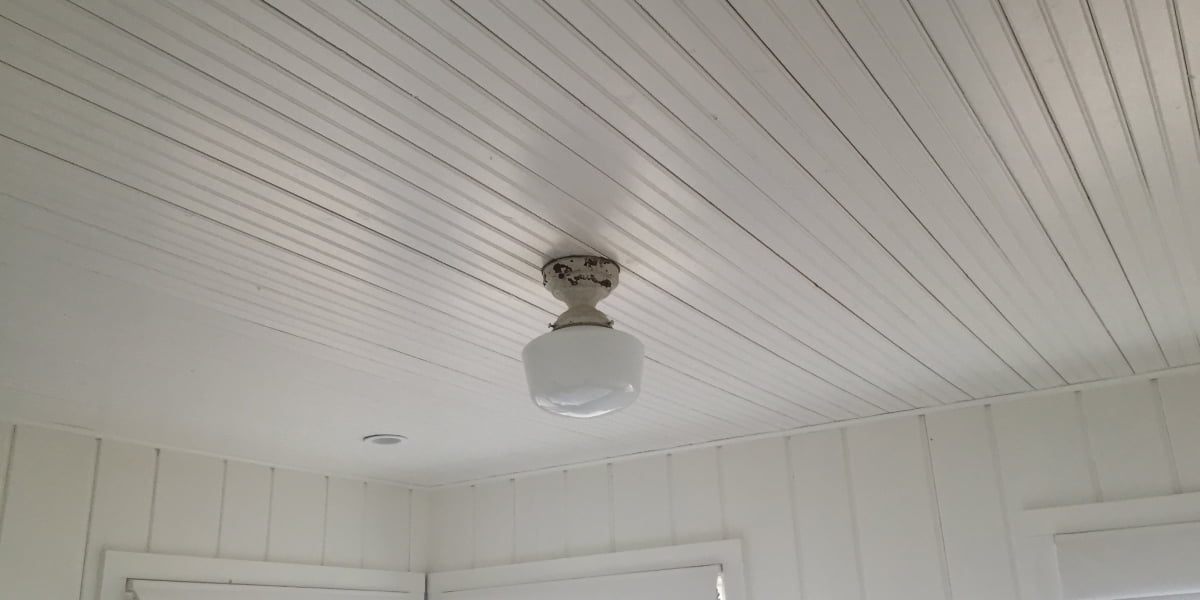 Beadboard ceiling.
How to add authentic beadboard ceilings to your home
Traditionally, beadboard finishes are built using individual tongue and groove boards beaded boards. Today, beadboard surfaces can be created using a few different products, including traditional solid wood boards and beaded panels.
Beadboard-patterned panels are one way to create beadboard finishes.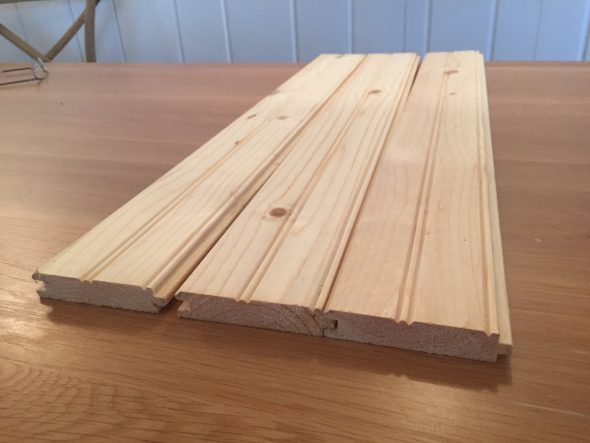 While I strongly prefer using individual tongue and groove beaded boards, manufactured panels offer speed and cost savings. The trade off is a slightly generic, "too perfect" look that lacks the character, depth and feel of true beadboard created from individual boards.
That said, there may be installations that benefit from thinner, lighter beadboard panels.
These panelized products, especially those that are resistant to moisture, may perform better in certain environments or under certain building constraints. Many are lighter and easier to install too.
Choosing Between Tongue and Groove Beaded Boards vs. Beadboard Patterned Panels
| | | |
| --- | --- | --- |
| | T&G Beaded Boards | Beadboard Patterned Paneling |
| Appearance | vintage, authentic, varied | contemporary, manufactured, uniform |
| Made Out Of | solid wood – pine, oak, others | fiberboard, MDF, polymers |
| Product Size | individual boards – 3″, 4″,6″ & 8″ widths common | larger planks and panels |
|  Thickness |  3/8″ – 1″ common | 1/8″ – 1/4″ common |
|  Cost per sf |  $1.5 – $5+ depending on species and grade | $0.5 –  $4 |
Beaded tongue and groove boards are available in a variety of dimensions, and are made from an assortment of wood species (pine is common), engineered wood and polymers. For my project, I used 3/4″ x 4″ x 12′ pine beaded boards purchased from my local lumber yard.
 Considerations When Using Tongue and Groove Beaded Boards for Beadboard
Compared to using manufactured beaded panels, solid wood boards require a few considerations prior to installation. Here are a few:
Solid wood beaded boards, like any solid wood product, should be moisture stable and acclimated to the environment you plan to install it in.Purchase kiln dried products and allow them to acclimate to you home prior to install.
Consider the timing of installation if your climate and home have significant seasonal humidity variations.Boards installed during drier months will tend to expand during more humid ones and vice-versa. Plan accordingly, but allowing adequate expansion gaps for changes in humidity and anticipate board contraction during dryer times.
Primers and preliminary coats of clear finishes can and should be applied prior to installation when possible. Pre-applied finishes help protect and stabilize boards.
For much of my board and batten ceiling install, I first applied several coats of primer to all sides of the boards prior to installing.Then, after installing the boards, I only needed to apply a finish coat to ceiling. Pre-finishing tongue and groove boards are also beneficial in preventing the boards from showing unfinished tongue and groove surfaces if boards expand and contract with seasonal changes in humidity.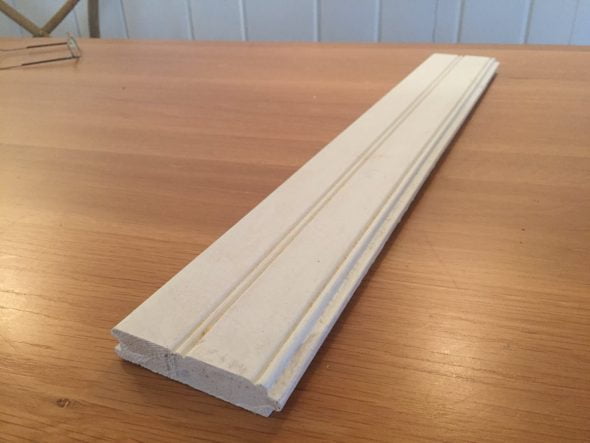 Solid wood boards will expand and contract more than manufactured products with changes in humidity. Consider the environment when planning your beadboard finishes.
In bathrooms and other high humidity environments, solid boards may not be the best choice. If you do plan to install solid wood boards in these areas, the boards should be well sealed on all six sides to help protect them from moisture. Choosing a wood species that performs well in humid conditions may also be helpful (teak, cedar, others).In high-humidity environments, consider alternative products instead of solid wood.
Manufactured exterior grade beadboard planks and paneling that may perform better. You may also consider avoiding wood finishes (like beadboard) in these areas. Although we added beadboard to our kitchen, bedroom and porch ceilings, we skipped it in our bathroom.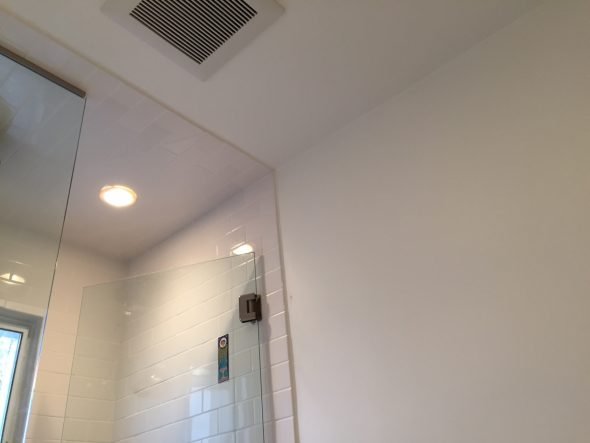 Solid wood boards may require more substantial fastening compared to paneling. Thinner, lighter panels, with greater dimensional stability can often be installed with construction adhesive. Heavier, thicker individual boards are typically nailed, and installed perpendicular to framing studs. While running beaded boards perpendicular to ceiling studs is usually not a problem, it offers challenges for a wainscot style application on walls.
Beaded Ceilings Installed in Kitchen, Bedrooms and Porch
Initially, we wanted to install beadboard ceilings in our bedrooms. Once they were up, we couldn't get enough, and we added them to our kitchen and porch ceilings as well.
Here are a few images of our mostly finished beadboard ceilings, with some before and after beadboard ceilings:
After Beadboard Ceilings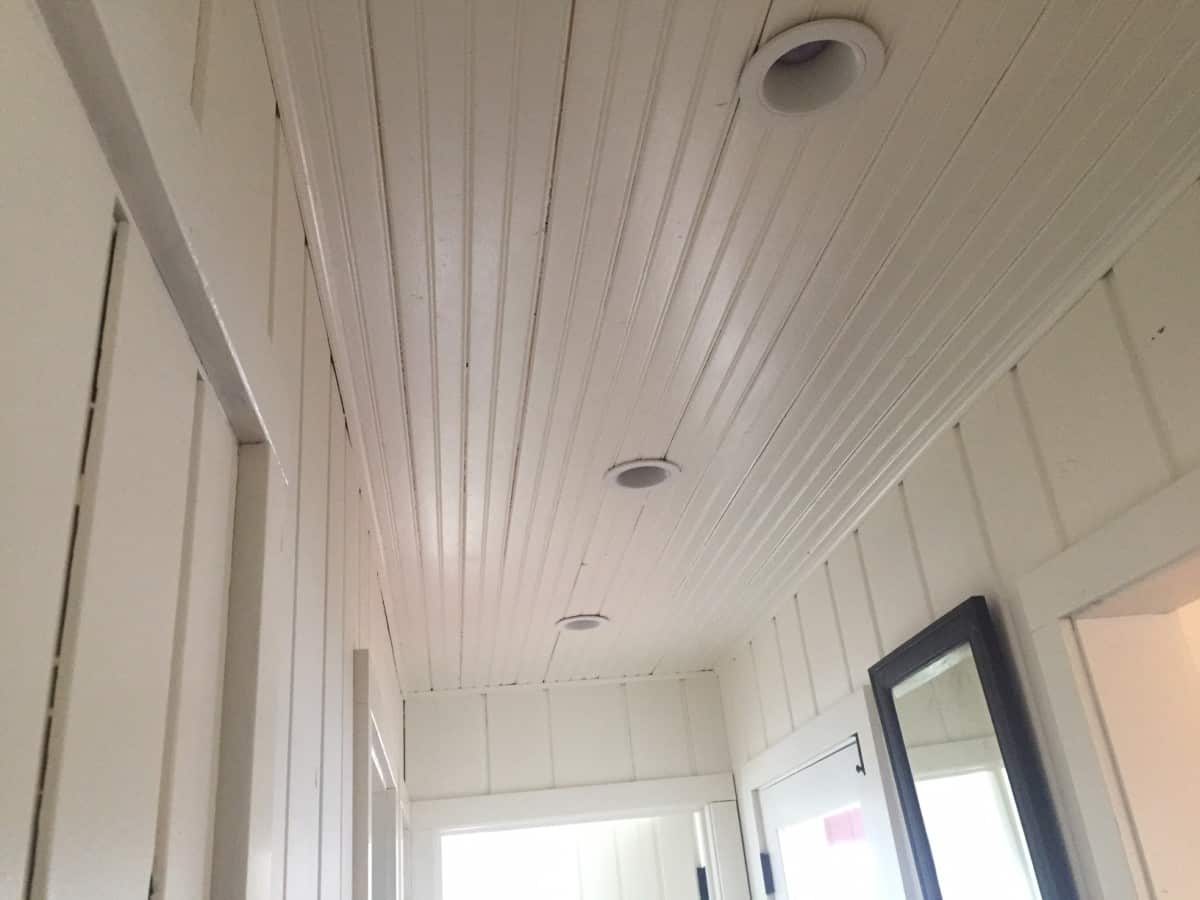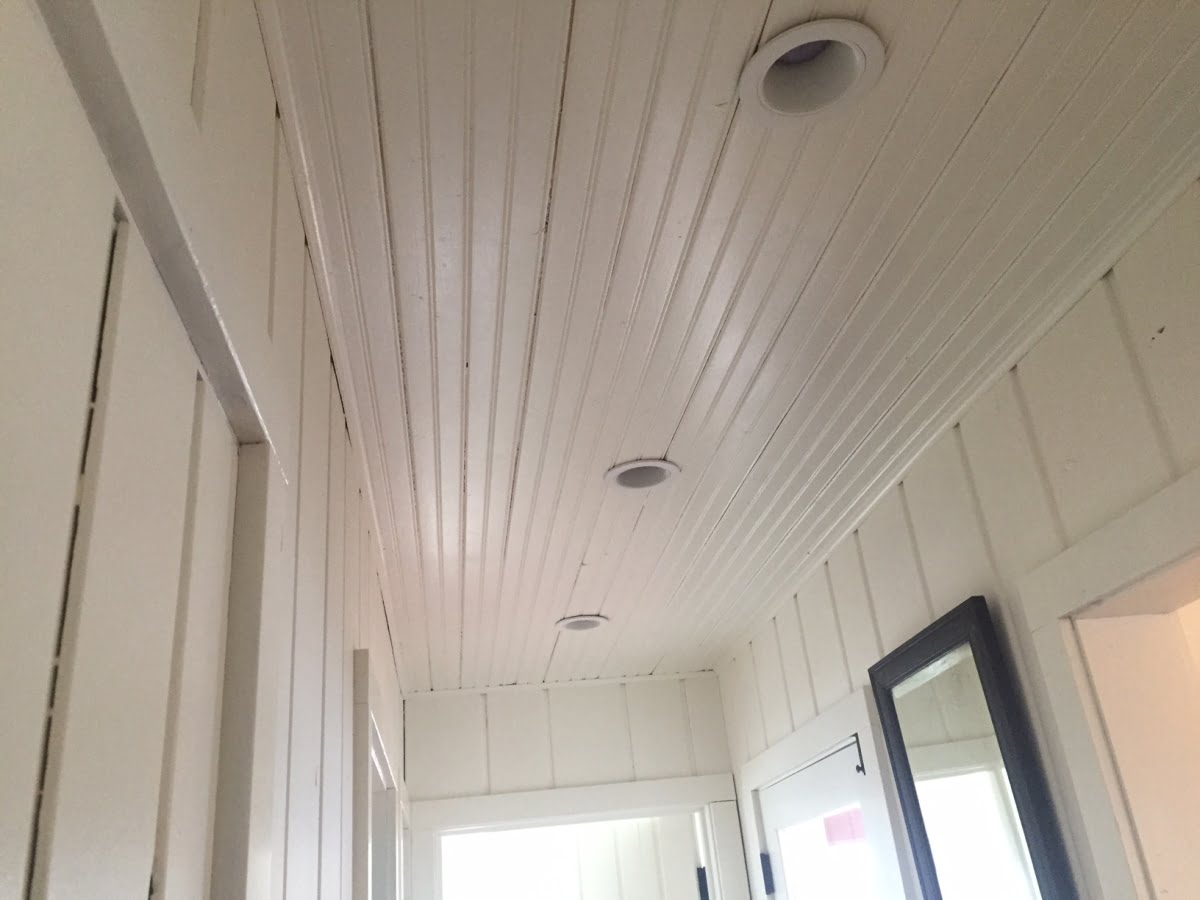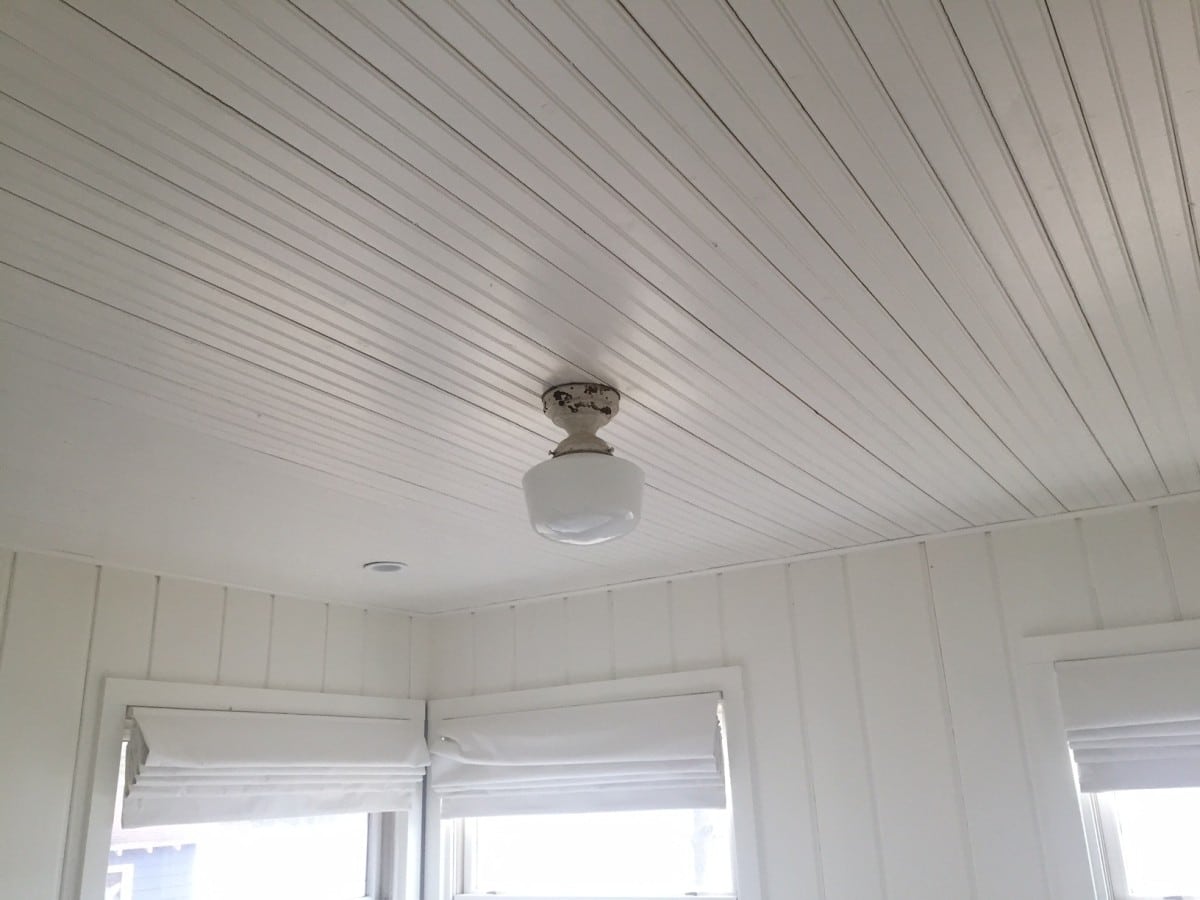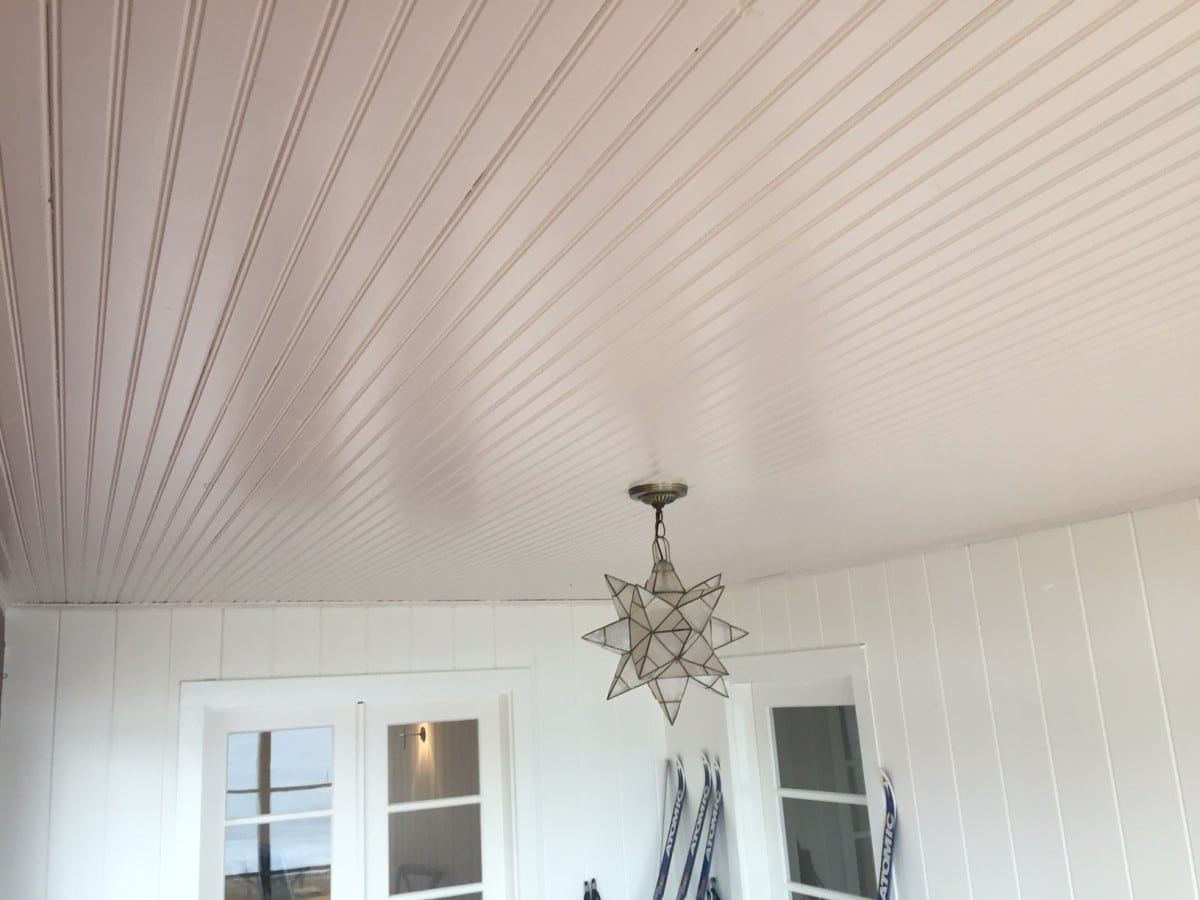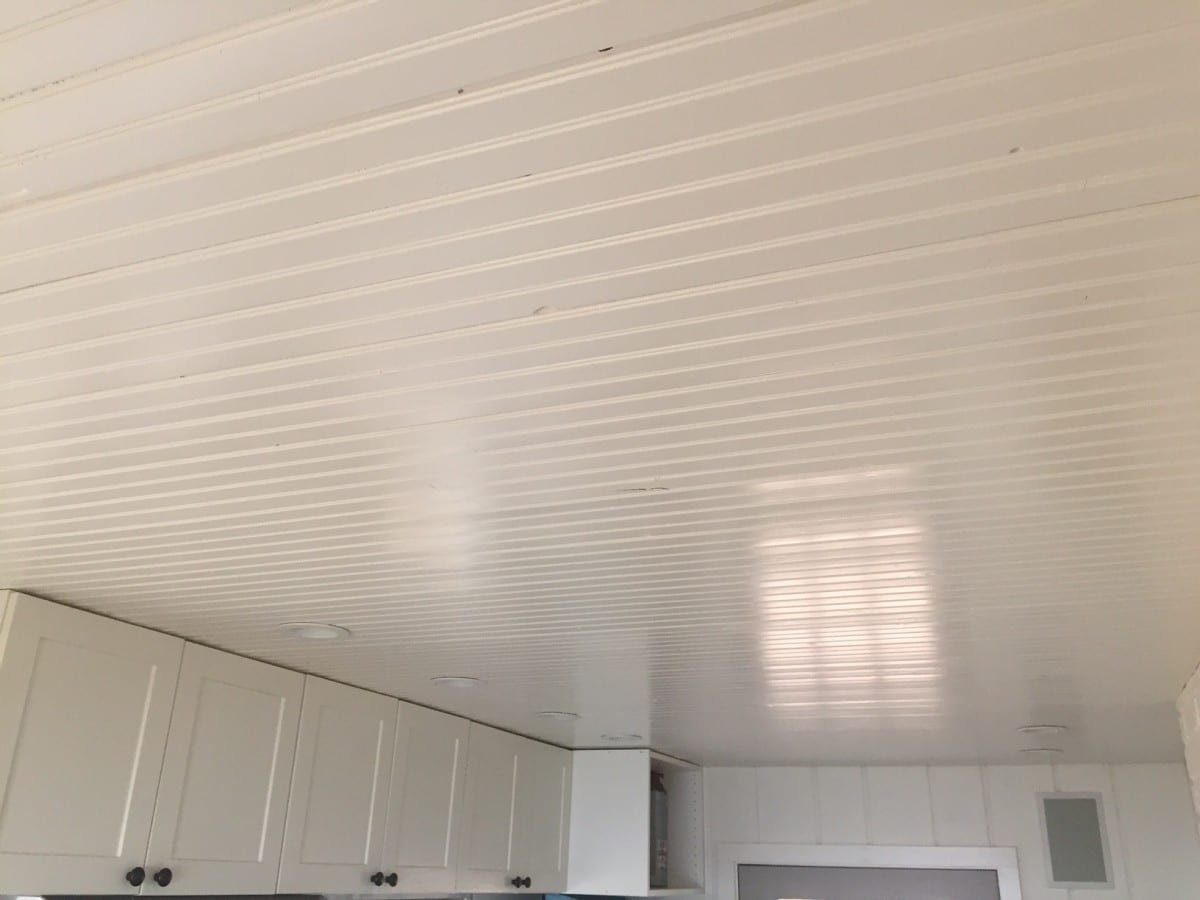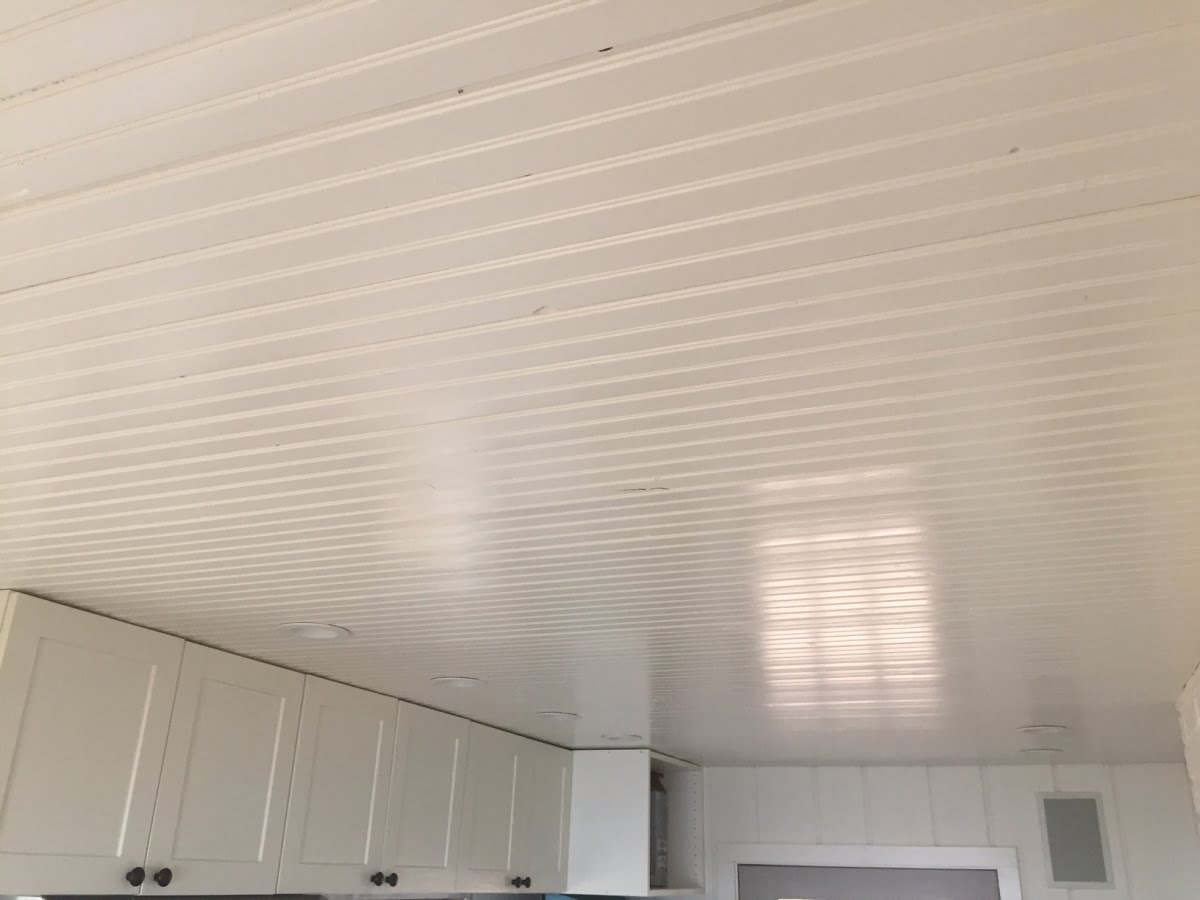 Before Beadboard Ceilings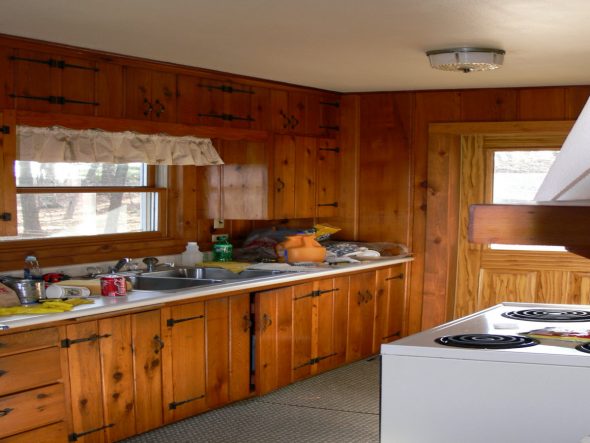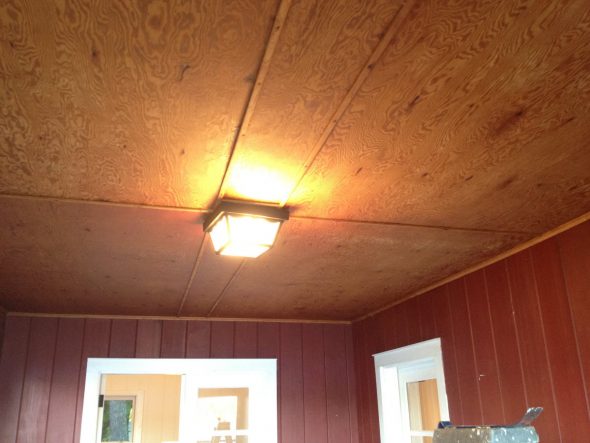 Installing the tongue and groove beaded boards was fairly straightforward. I did it most of it myself, with the exception of the kitchen where my dad helped. I think the results were excellent and after many years, the ceilings look as good as they did immediately after they went up.
If you are looking for a easy way to add some charm and character to your ceilings, this is a good option. Here is the summary of our project and the steps we used.
OVERVIEW | Beadboard Ceiling
Steps Summary | Beadboard Ceiling:
SUPPLIES LIST | Beadboard Ceiling
TOOLS LIST | Beadboard Ceiling
STEPS | Beadboard Ceiling
Gather Materials and Tools

Obtain the material you plan to use for the beadboard. If using individual tongue and groove boards, consider painting all six sides of the material before installing. I primed the 3/4″ x 4″ pine beaded tongue and groove boards prior to installing them. This is important if using tongue and groove boards as they will respond to seasonal changes in humidity and temperature, possibly exposing unpainted portions of the board with movement.

If using individual tongue and groove boards, order material long enough to avoid end-to-end board seams if possible. Some material may have tongue and groove on the ends as well ("end-matched") and allow for easier and more stable end-to-end joints. Tongue and groove beaded boards are typically available in lengths up to 16′ and are sold by most lumber retailers.

To calculate the amount of material to order, remember that 4″ beaded tongue and groove boards provide only 3 1/2″ of a finished surface due to the tongue and groove joint. Order a bit extra to cover for damaged boards and waste. You can always return unused boards.

To fasten the boards, I used a pneumatic Bostitch 16 gauge finish nailer with 2″ 16 gauge finishing nails. I highly recommend using a pneumatic nailer if installing individual tongue and groove boards, as it will set nails just below the board surface without the need to manually set the finishing nail head. The nailer saves a lot of time and work.

Bostitch pneumatic finishing nailer and 16 gauge 2" finishing nails used to blind nail the tongue and groove boards.

Pre-Finish, Pre-Prime or Back-Prime the Boards Prior to Install if Possible

To preserve the appearance and life of your beadboard ceiling project, consider finishing or at least priming the boards prior to installing them. Sealed boards last longer and have better dimensional stability.

Its also often a lot easy to apply primer or finish to the boards prior to installing them. And boards that have been primed or prefinished are much easier and quicker to paint once installed. Painting bare wood ceiling boards after the install in not that fun. Having the boards pre-painted will also allow for expansion and contraction of the boards without revealing bare wood surfaces.

Plan the Board Install

Determine the direction and location of the ceiling joists. The beadboard ceiling boards should be installed perpendicular (90-degree angle to) to the ceiling joists.

This orientation allows each ceiling board to be nailed to each of the ceiling joists. Using a stud finder or other method, locate and mark your ceiling joists prior to beginning board installation. Use a caulk line or straight edge to mark the location of all joists on the entire length of the ceiling.

Install the Beadboard Tongue and Groove Boards

Beginning at the wall on one end of the ceiling, start installing the tongue and groove boards. Remember that you will be installing the boards perpendicular to the ceiling joists, so pick the starting wall accordingly.

Install the first board tongue out with the groove side of the board facing the wall. Leave a slight expansion gap (1/4″ or so) between the groove side of the board and the wall. An expansion gap at the finished tongue-end of the ceiling is less important because of the expansion between the tongue and groove joints of the installed boards.

To install the first board, center the board left to right, with equal expansion gap on either side of the board. Square the board with the side walls, and nail the board in place.

For the first board, face nail the starting edge of the board (groove side) next to the wall. These nails pass directly through the face of the board perpendicular to the board surface. Then blind nail the tongue, align your nailer (or nail if hand nailing) at a 45-degree angle through the base of the tongue directed back under the board.

Install the Last Few Boards

When you get close to the end of the ceiling with the limited remaining space left, you will no longer be able to use a hammer and tap-board to tighten the boards. Instead, use a pry bar against the wall and the tapping board to draw the boards tight prior to nailing.

When you reach the end of the ceiling and the last board, you will likely need to rip (cut lengthwise) the board to fit the remaining space. To do so first measure the needed width to fill in the final gap minus any expansion gap you plan to leave (if any). Then, cut a piece of beaded board lengthwise after measuring and marking the proper width. Don't forget to consider the tongue and groove joint when making and marking this width.

To make it easier to rip the final board, join the piece to be cut into another tongue and groove board. I then screw the stabilizing tongue and groove board to my saw horse using deck screws – just my way of doing it.

Now install this last board as you did the first, face-nailing the wall side. If the last piece is narrow, join the second to the last board to the final ripped board and install together. Use the wall to tighten the boards then face nail the final piece.

Finish the Installed Beadboard Ceiling with Paint or Stain

After the boards are installed, paint or finish as desired. We painted the beadboard ceilings with Benjamin Moore Advance waterborne alkyd indoor paint. With the boards already primed, the finish coats went on very easily. I added two coats of the above finish paint on top of the pre-primed installed beaded boards using a 6 1/2″ Wooster mini roller with a 3/8″ nap.

Install Trim at the Wall-Ceiling Junctions

To cover the expansion gap between the ceiling and the walls and to finish the covers, add trim. There are many different trim options. We chose a simple 3/4″ quarter round trim.

Similar to the beaded boards, I primed the trim prior to installing it. Use finish nails or the same finish nailer set up to install the trim. Nails should be slightly countersunk and covered with a filler or caulk.
IMAGE GALLERY | Beadboard Ceiling