Cold weather septic systems tend to freeze. The septic system for our central Minnesota lake cabin is no exception and has had many freeze ups in the ten or so years we have owned the property.
This year alone I have had to thaw the septic line three separate times. The problems with our septic system are common to many systems that tend to freeze; long periods of low or no use, a shallow system with little natural or applied insulation, a low-flow continuous water source (high-efficiency furnace) and bitter cold winters.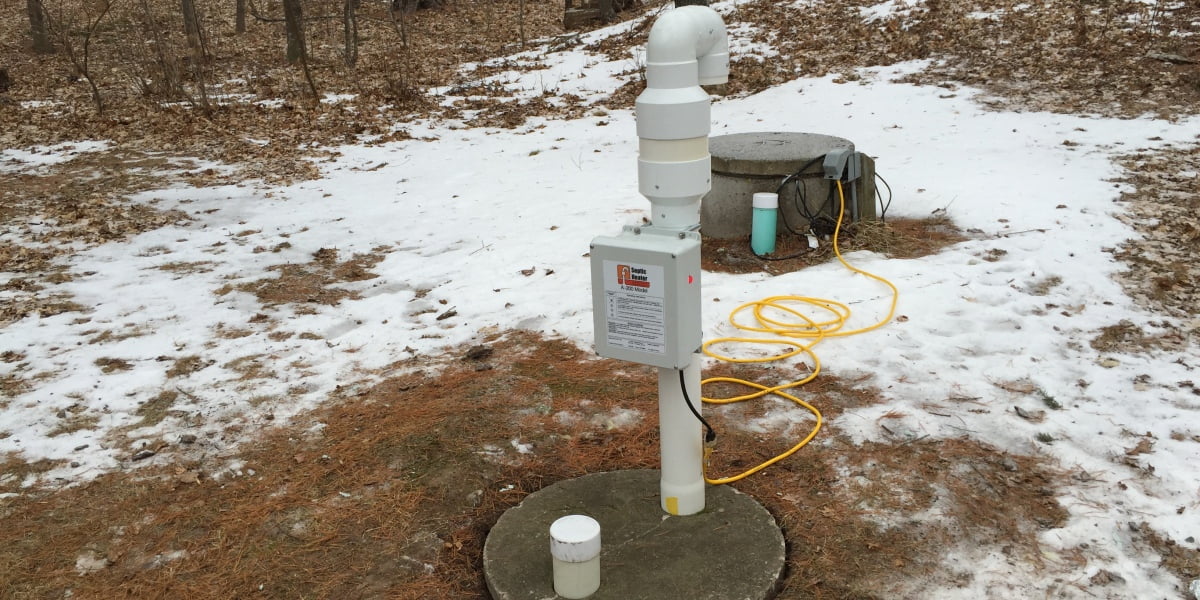 Septic Heater install to prevent frozen septic
In Search Of A Permanent Solution To Frozen Septic Systems
Over the years, I've worked on fixing a few of the core causes (the furnace, insulation, etc.), but despite my efforts, our system still freezes in the right conditions. I recently built and installed a custom high-capacity furnace condensate pump that will hopefully help.
I have gotten fairly good at thawing the system, see my article on thawing a frozen septic line. But it sure would be nice to spend a winter at the cabin without having to worry about the toilet backing up and the drains not working!
During my thawing of the frozen holding tank and septic line project, I searched for a permanent solution to the cycle of septic freeze ups and found The Septic Heater Company, and their septic heating system that uses warm air to maintain the temperature of the connected septic system and prevent freezing. It sounded great. It was also very expensive.
I happened to be a my cabin, trying to thaw out my frozen septic system for the third time that winter. I called the company and talked with the founder/owner Chris and had one delivered to my cabin the same day!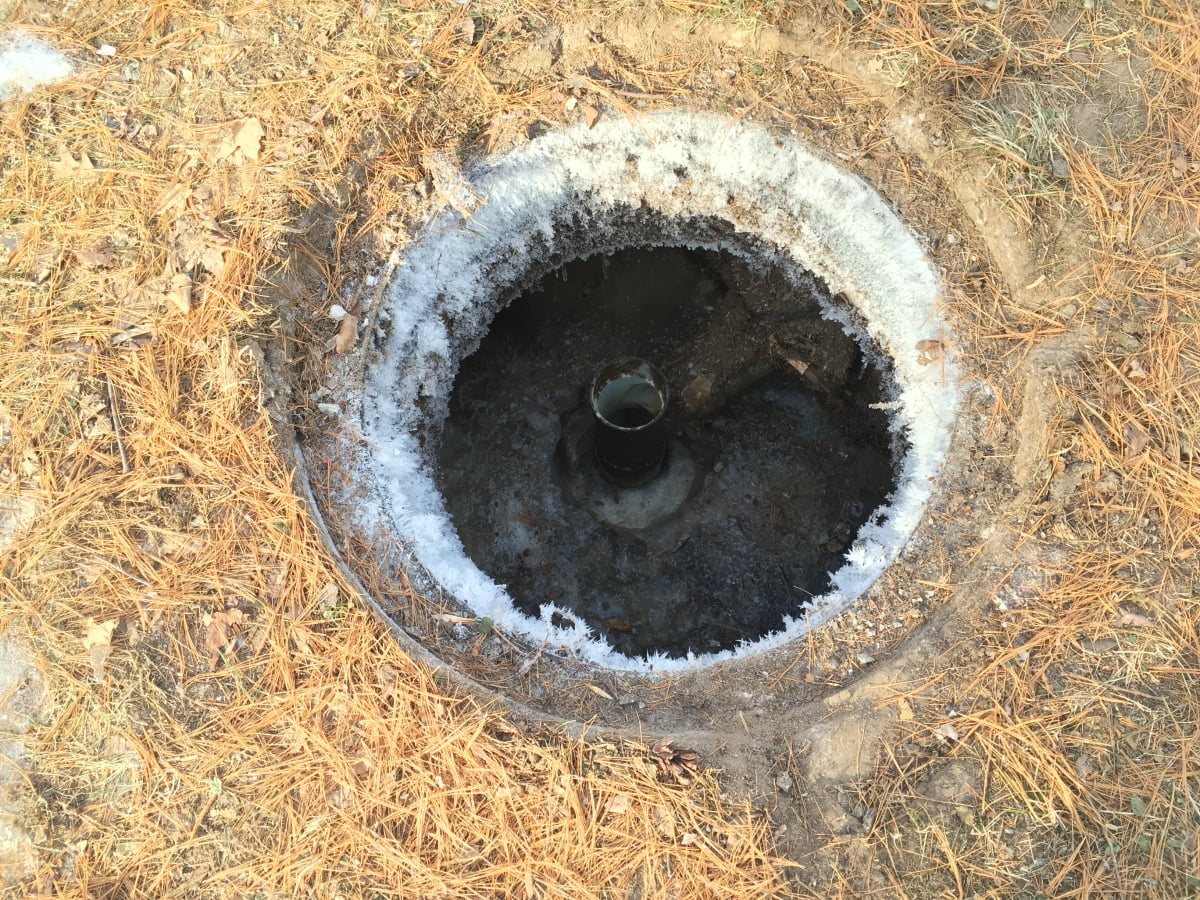 Although the Septic Heater unit was not designed to actively thaw a frozen septic system, it does have a manual setting that allows the unit to be run continuously, bypassing the internal thermostat.
So, after I got the unit I installed it and started it up. It was just starting to get dark, near dinner time.
The next day, with the unit still running, my previously frozen holding tank was nearly thawed! Later that day the entire system was ice free and I switched the unit from manual on mode to the thermostat-controlled on mode. Awesome!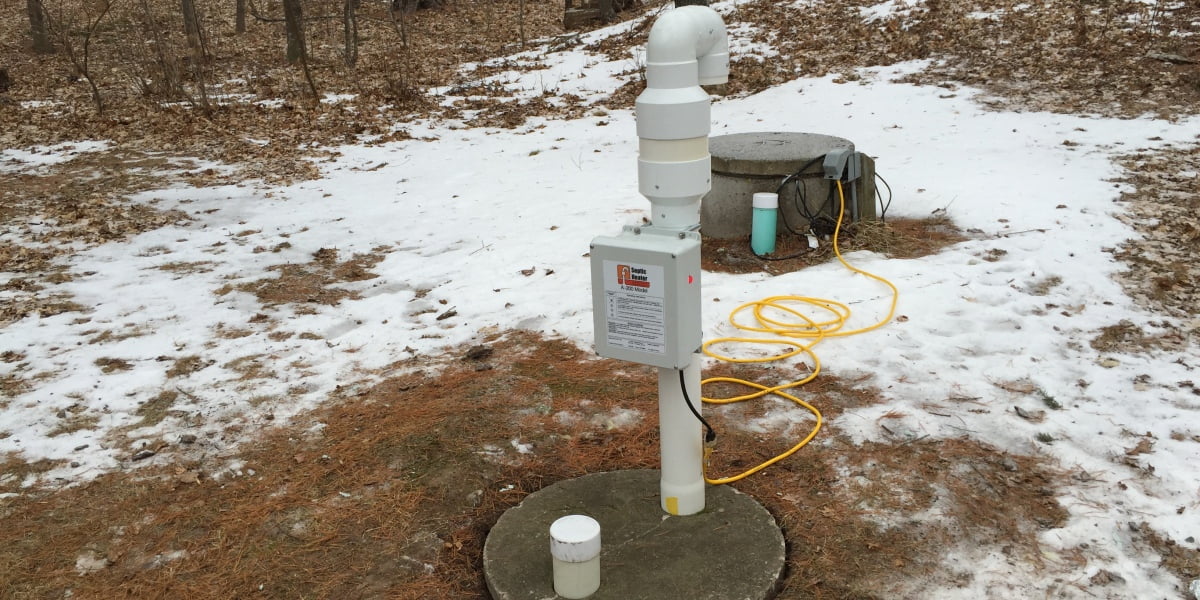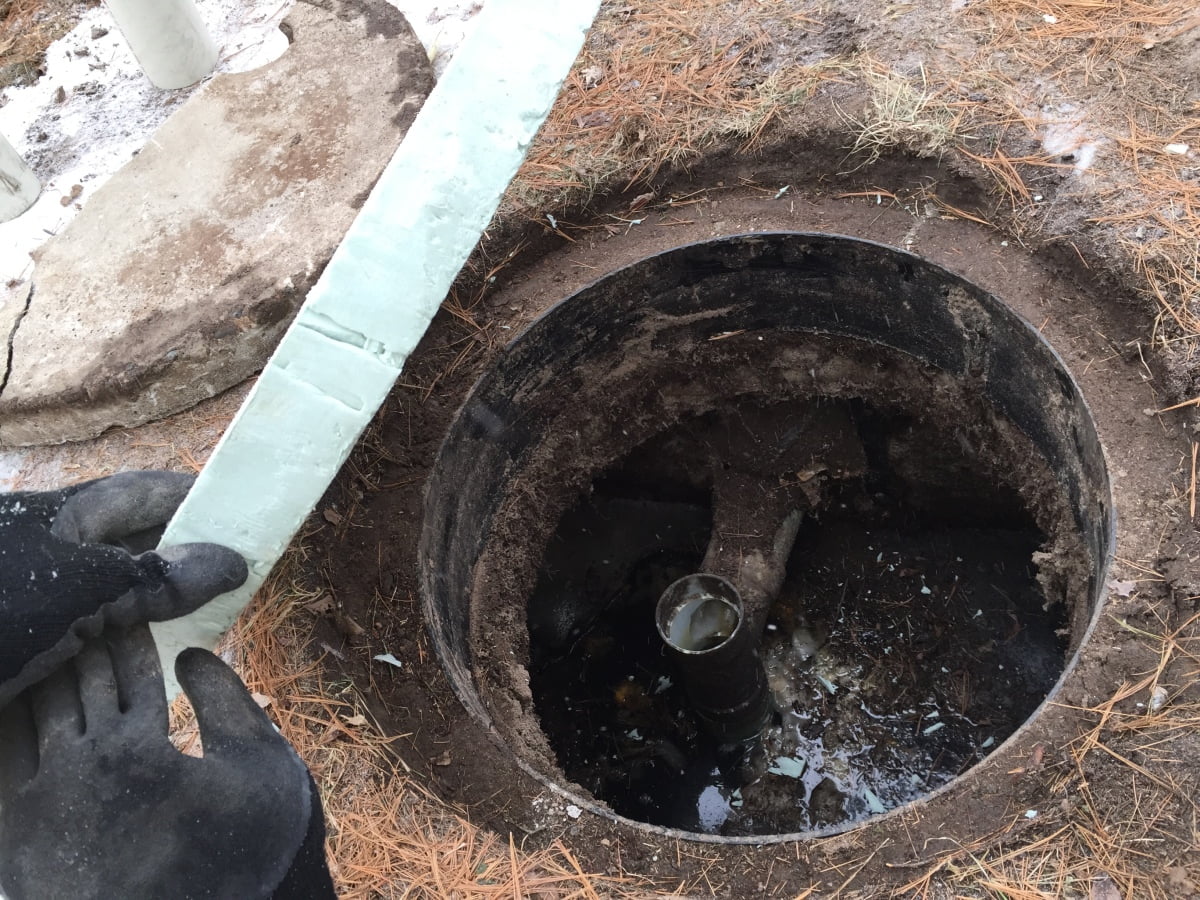 Since that initial install and thaw, I've been using the Septic Heater unit every year, set on the automatic thermostat controlled setting. I have not had a single septic system freeze during this 5 year period of using the unit.
SUPPLIES LIST | Septic Heater Install
TOOLS LIST | Septic Heater Install
STEPS | Septic Heater Install
FOLLOW UP | Septic Heater Install
Some Things to Help Avoid Septic Freezing
Preventing A Frozen Septic Line
Ensure adequate natural insulation over pipe run.

Do not remove or compress snow over septic area (do not drive over or plow over septic system), snow has an r-value of 1 or more per inch of snow (12″ of snow = R-12+).
Add layer of straw (R-1.5 per inch) or wood mulch (R-1 per inch) over pipe run and other areas of septic system or plant grass, vegetation in bare dirt areas over septic system.
Add a layer or two of foam board insulation (polystyrene is R-5 per inch).
Avoid compressing dirt over septic line (cars, atvs, etc) as compressed ground freezes deeper.

Add insulation over and around septic system / line.

Add 2 – 4″ of rigid foam insulation around septic lines, and over holding tank with over lapping edges (polystyrene is R-5 per inch). Use water softener salt bags, sand bags or bags of landscaping pebbles to hold down.

Fix or Avoid continuous, low-flow water sources emptying into septic line.

Fix leaking faucets, fixtures.
Consider options for draining furnace condensation water.

Use the system regularly during cold months.

Regular use flushes the system and add heat to the system.
Normal bacterial activity generates heat in holding tank.

Use the system regularly during cold months.

Regular use flushes the system and add heat to the system.
Normal bacterial activity generates heat in holding tank.