55 comments
Thaw Frozen Septic Line
Thaw a frozen septic system line using a garden hose or PEX tubing.
After arriving at the cabin on a bitter January weekend last year, we found our drains were not working – the toilet wouldn't flush, and the sinks wouldn't drain. It didn't take long to figure out what was going on. We had a frozen septic system.
Domestic septic systems work remarkably well, even in frigid climates. However, given the right conditions, septic lines and holding tanks can freeze. What are those "right" conditions that allow septic systems to freeze? Stationary water in sub-freezing temperatures.
Most septic systems avoid ice formation by the thermal protection offered by a buried system and the flushing and warming effects of routine use. Without these, systems can freeze.
In our case, our system was bound to fail.
It was a very cold January with little snow cover. Our relatively shallow septic line, without the insulating benefits of snow, was almost certainly above the frost level and plenty cold to make ice. In addition, we had not been at the cabin for some time, robbing the septic system of the beneficial warming and flushing effects of the home's plumbing. The system was cold, and all it needed was stationary water to form ice.
Our water source for our frozen septic system? The furnace. As it turns out, the condensate water from our furnace empties into the septic system. This continuous source of low-flow water added to our cold system readily filled our septic line with ice.
So, what could we have done to prevent this and how do we prevent it from happening again? Simple… keep the system warm and avoid low-flow continuous water sources in the system.
Septic Systems Freeze For Many Reasons 
Risks factors for a frozen septic system – things that promote a cold system
Septic line too shallow – line installed above or too close to frost level

Septic line below compacted soil (driveways, paths) – compacted soils tend to freeze deeper
Snow cover inadequate or compacted – loss of insulation effect of snow
Lack of vegetation or grass cover – vegetation acts as insulation for soil
Lack or insufficient heat added to system – infrequent use
Risks factors for a frozen septic system – things that allow ice to form
Infrequent use of system – use of system flushes pipes and adds heat to system
Continuous low volume water source (furnace condensation drainage, leaking faucet) – provides water to create ice buildup without benefit of flushing system
Improperly pitched septic line or low spots in line travel – water cannot exit septic line completely allow it to freeze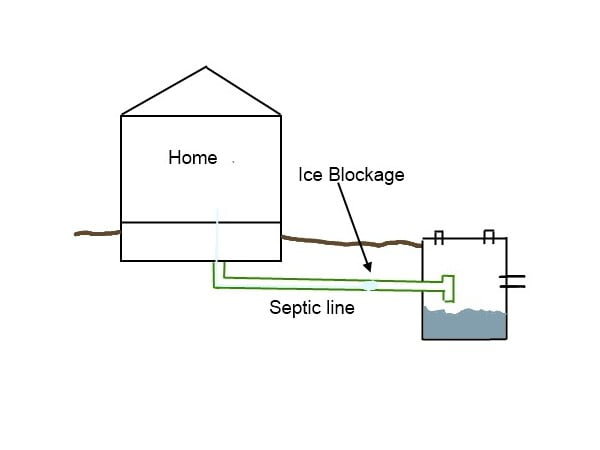 Septic systems can have many factors leading to ice formation. Each needs to be considered and addressed to prevent future freeze ups. But, before we can address the problems, we need to de-ice the frozen septic line and re-open the system.
But, before you can address the problems, you will obviously need to thaw any ice within your lines and re-open the system.
Your septic line is frozen, now what? Easy; thaw it out!
To fix a frozen septic, you will need to thaw the ice that is blocking the system or line.
I did this myself and you likely can too. Before jumping into this, seriously consider calling a professional who specializes in clearing frozen septic systems. The first time my system froze, I did just that. For $250 the problem was fixed in 15 minutes.
Like most projects, thawing a septic line yourself is a question of risk vs. reward. If you like the idea of staying clean and warm in your home while someone takes care of the repair, stop reading now and find the phone. But, if you would rather try this yourself, you will benefit from the process and learn more about your system, possibly helping you to improve your septic system and avoid future freeze ups.
So if you're still on board, and ready to do this yourself, find some really old clothes and read on …
Overview
/ Thaw a frozen septic line
Project Supplies

/ Thaw a frozen septic line

Project Tools

/ Thaw a frozen septic line

Project Steps

/ Thaw a frozen septic line

Locate the first access cover of the septic system holding tank

Many systems have two access covers (one for the primary or "solid" compartment and the one for the secondary or "liquid" compartment). We are looking for the cover where the septic line from the house enters the holding tank (typically the cover closest to the house).

Locate and loosen cover for primary holding tank of septic system.

Prepare water supply hose

If using a garden hose attach a brass nozzle to keep the hose from turning in the septic line (Thanks to Nancy for the great tip). The nozzle should be longer than the diameter of the pipe (the pipe is typically 4″).

If using hot supply water, be aware that the garden hose may soften and make it difficult to advance the hose. If you are planning on using hot water you can use PEX tubing instead of garden hose. PEX is fairly stiff and will not need an additional nozzle. (Thanks to David for the tip!)

50 ft. non-kink garden hose and 6" nozzle.

Use 3/8" or 1/2" OD PEX tubing instead of garden hose. It is stiffer and will retain its stiffness when used with hot water. Connect the PEX tubing to a garden hose adapter using sharkbite or similar connector.

Hose adapter for PEX tubing connected to a garden hose fitting.

Find a water source

Ideally, you would use a source isolated from your domestic water supply, and therefore be sure the nothing from the septic systems mixes with your domestic water supply.

Unfortunately, this may not be a realistic option. If you do use a source of water from your home — a hose faucet or utility faucet — use a back flow prevention valve to keep any water back flow from entering your domestic water supply.

I used a hose fitting connected to my hot water line from my utility room. It has the benefit of being fairly close to the septic tank and offered heated water.  Hot water is not necessary, but will speed up the process of clearing the ice blockage. I did limit the temperature of my hot water to 110 ℉ to help avoid heat damage to the PVC sewer pipe. Most drain and sewer PVC pipe is rated for a maximum of 140 ℉. Knowing the temperature limitation of PVC, it may be a good idea to avoid thawing services that use steam to clear pipes as the heat from the steam can melt the pipes.

Hot water source for connection to hose to thaw septic system -- use anti-siphon valve to prevent back flow into domestic water supply.

Locate the septic pipe coming from the house

Many will have a "T" baffle and enter the tank on the side closest to the house (supply).

Once you locate the line, you need to pass the hose, nozzle first, into the septic line so it is facing the blockage (heading back to the house).

You may have to bend the hose slightly to get the nozzle into the septic pipe (I used a 6″ nozzle and needed to bend the hose a bit to get it in past the baffle).

Hose passed into septic line with flush water on.

Turn on your water source and advance hose into septic pipe

Feed the hose into the pipe until you encounter resistance (this should be the ice blockage). Now the nozzle will be spraying water directly at the ice.

As the ice melts, you will be able to continue advancing the hose until the ice has melted and you are through the blockage. Depending on the volume of waste water in the septic line behind the blockage, it should be fairly obvious when the ice has cleared.

In my case a the volume of water returning into the septic tank increased dramatically and the water was soapy with white suds.

If you are but not sure if the line has cleared, you can remove the hose (leave the water on until you are out of the septic line to prevent backflow) and have someone in the house run some water (with soap if it will help you identify the water) while you monitor for the waste water to flow into the septic tank.

Remove the hose before turning off the water supply

Removing the hose prior to turning off the water supply will prevent back flow into the hose. Replace the septic cover and clean your tools and hose.

To clean the outside of the garden hose, I pulled the entire length of hose through a handful of Chlorox disinfecting wipes several times and finished by pulling it through damp paper towels.

To sterilize the entire hose, soak it in a dilute (1:50) bleech in water solution by diluting 1/3 cup of bleech in 1 gallon of water

Fix the underlying problems causing line freeze

After you have successfully thawed the frozen line, you should try to identify the underlying cause of your system freeze and make appropriate repairs. There are many excellent resources available online and I have listed a few below.

See my additional articles related to preventing a frozen septic system:

Preventing septic line freezing from high-efficiency furnace condensate drainage using a high-capacity furnace condensate tank and pump system.
Installing a Septic Heater to keep your septic system ice free.

Project Followup

How to Prevent Septic Line Freezing

Ensure adequate natural insulation over pipe run.
Do not remove or compress snow over septic area (do not drive over or plow over septic system), snow has an r-value of 1 or more per inch of snow (12″ of snow = R-12+).
Add layer of straw (R-1.5 per inch) or wood mulch (R-1 per inch) over pipe run and other areas of septic system or plant grass, vegetation in bare dirt areas over septic system.
Add a layer or two of foam board insulation (polystyrene is R-5 per inch).
Avoid compressing dirt over septic line (cars, atvs, etc) as compressed ground freezes deeper.
Add insulation over and around septic system / line.
Add 2 – 4″ of rigid foam insulation around septic lines, and over holding tank with over lapping edges (polystyrene is R-5 per inch). Use water softener salt bags, sand bags or bags of landscaping pebbles to hold down.
Fix or Avoid continuous, low-flow water sources emptying into septic line.
Fix leaking faucets, fixtures.
Consider options for draining furnace condensation water.
Use the system regularly during cold months.
Regular use flushes the system and add heat to the system.
Normal bacterial activity generates heat in holding tank.
Use the system regularly during cold months.
Regular use flushes the system and add heat to the system.
Normal bacterial activity generates heat in holding tank.

Additional Winter Septic System Resources

Water Resources Center / University of Minnesota – Freezing Problems & Septic Systems