How To Build a Wine Cellar or Wine Cellar Closet Yourself
OK, to be honest, this was not a cabin project. But, building a wine cellar can be a great DIY project, and if you are thinking about building a wine cellar, doing it yourself can save you a lot of money and provide the joy of doing it yourself. Besides, what goes better with a long weekend at the cabin than a few vintage reds from the south of France?
So, if you love wine and like building things, this may be the perfect project for you. Before we start, a little wine storage 101.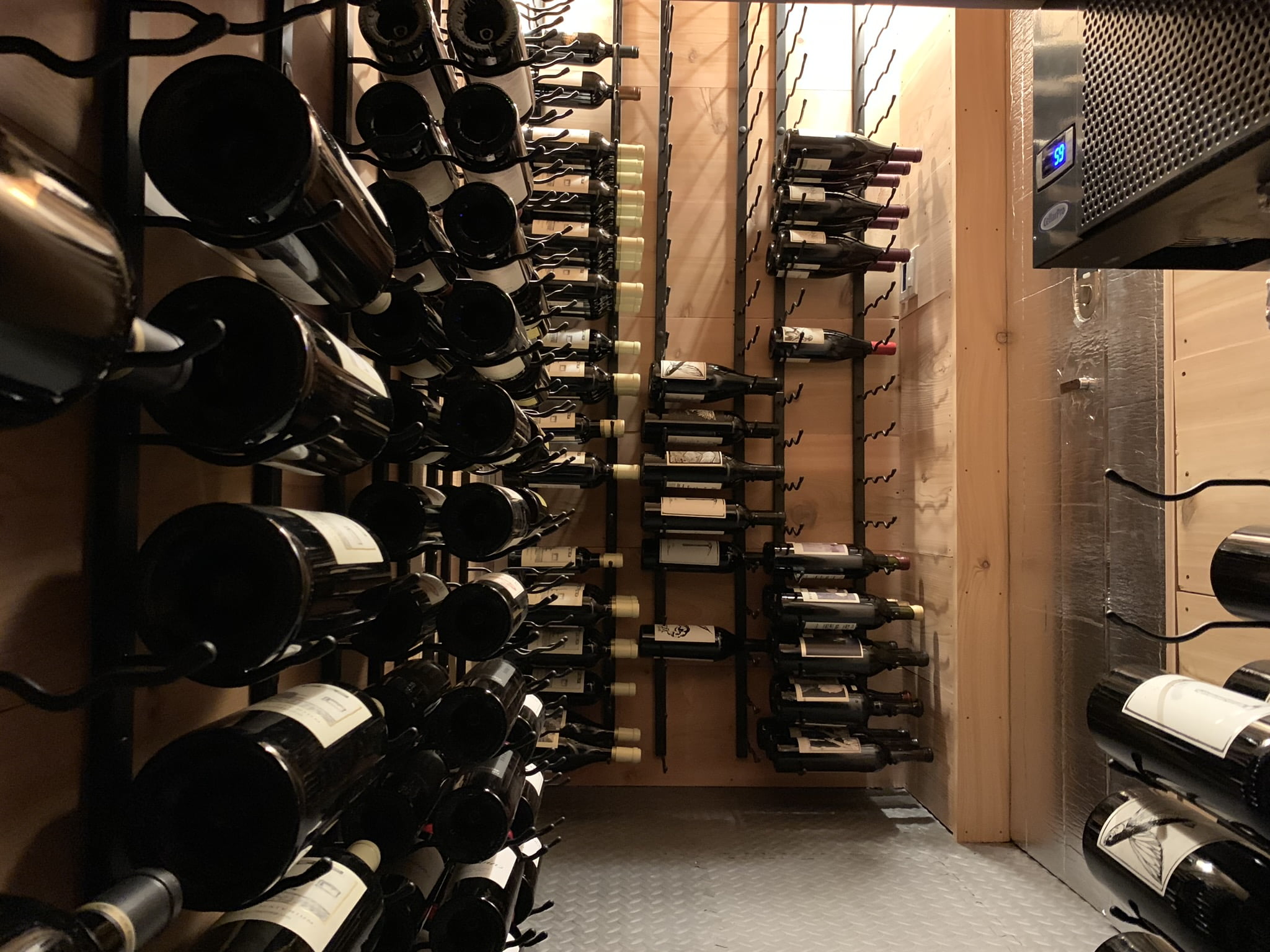 How to build a wine cellar
The Benefits of a Wine Cellar and Proper Wine Storage
If you like wine and are reading this, you probably understand proper wine storage and the benefits of a building a wine cellar. For those less familiar with wine storage, the bottom line is this: wine cellars provide the proper conditions for short and long term wine storage, providing the following benefits:
Benefits of properly stored wines:
Proper wine storage conditions maximize the shelf-life and preserve the quality of stored wine.
Proper storage conditions optimize the wine aging process.
Wines stored at proper temps are ready to serve at or near their optimum temperatures.
Wine is a complicated and somewhat delicate compound. Excessive heat, large temperature swings and exposure to oxygen can quickly degrade wine. Ideal storage conditions help preserve a wine's quality.
Also, most finer wines will change or "improve" with age, and storing wines under ideal conditions provides the proper environment for this slow maturation process to occur.
Lastly, storing and serving wine at cellar temperature, helps you to serve better-tasting wine. Wine is a complex mixture of organic compounds and alcohol, whose flavor profile is largely influenced by the temperature-dependent release of these aromatic compounds.
Wines served too warm (room temperature or above) tend to express too much alcohol and aromatics, leading to a "flabby" and unfocused taste. Wines served too cold (refrigerator temps) express too little alcohol and volatile aromatics and result in "tight" and restrained tasting wines.
Most wines are served too warm or too cold. Reds served at room temperature are generally served too warm and white wines served at refrigerator temps are generally served too cold.
Both red and white wines tend to taste more balanced, and as the winemaker intended, if served near cellar temperatures of 50 – 60 ℉. Wines served cool will warm as you drink them, allowing the flavor profile to evolve as they are consumed.
Ideal Wine Cellar Conditions
A good wine cellar provides the following ideal conditions for storing and aging of wine:
Temperature of 55 – 60 ℉ (55 ℉ is ideal)
Humidity of 50 – 70%
Dark and vibration-free environment
Horizontal bottle storage for continuous wine-to-cork contact
In addition to proper conditions, a wine cellar should be easy to use and in reasonable proximity to the areas where you will open and enjoy your wine. A good wine cellar should also operate at a reasonable cost.
To obtain the above ideal wine cellar conditions, you can either choose a location with favorable existing conditions (root cellar, unconditioned basement, etc.) or actively create these conditions yourself by building a wine cellar.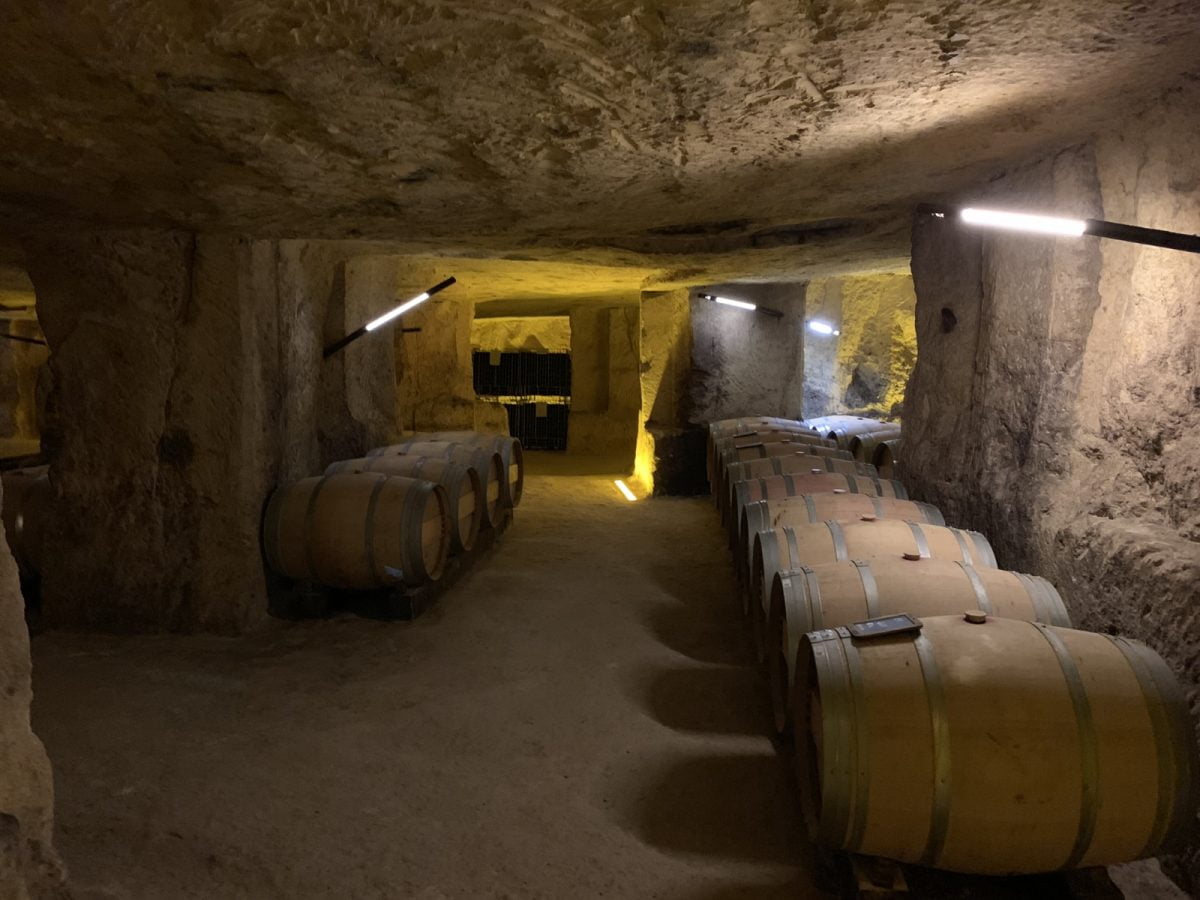 Early wine storage was frequently underground in wine caves, which naturally provided cool temps, high humidity and darkness. Today underground wine caves remain important for the storage and maturation of wine at wineries around the world.
Like the conditions of natural wine caves, the perfect wine cellar is cool, moist and dark. Consider a location for your new cellar that will help you achieve and maintain these ideal conditions.
When planning a wine cellar build, avoid locations that are too hot, cold or change temperature frequently.
Ideal locations to build a wine cellar are within the conditioned areas in your home. Consider ease of construction too when picking a place for your new cellar, finding a location with easy access to electricity, that is reasonably easy to seal, and insulate and somewhere that will allow you to install a through-the-wall or ducted wine cellar cooling unit.
Good locations to consider; an extra room in a basement, a spare basement closet, a basement under the stairs closet (the location I used) or a fresh build in the basement or ground floor of your home.
Bad locations to potentially avoid: an unheated garage or shed, a sunny room, an area that would be difficult to insulate and moisture seal.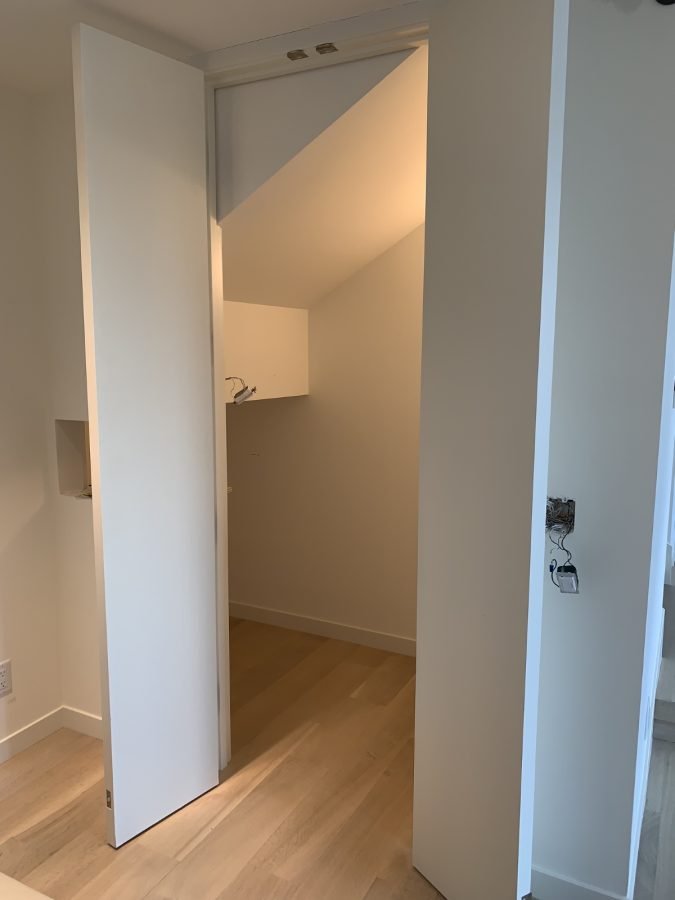 Build a Wine Cellar to Provide Stable Wine Cave Like Conditions
A well-functioning wine cellar should mimic the conditions of natural wine caves – cool, moist, dark, vibration-free and stable.
To consistently deliver wine cave like conditions within your home, your wine cellar build will need to be very well insulated, air and moisture sealed, and built with moisture-stable materials.
The insulation and moisture barrier will need to extend completely around the cellar build – floor, walls, ceiling and door. The general layers from outside the cellar to inside are:
Air/Vapor barrier (often polyethylene sheeting)
Insulation (R-12 or greater)
Air/Vapor barrier (optional inside)
Moisture-stable wall finish
The performance of a wine cellar depends greatly on an air and moisture tight build and sufficient thermal insulation of the floor, ceiling, walls and door. Wine cellar cooling units depend on air-tight and well insulated spaces and will generally not provide adequate cooling without these conditions. And, operating a refrigeration unit without air barriers and insulation would be very wasteful and expensive and create excessive temperature variation.
The Importance of an Air Sealed Wine Cellar Build
Wine cellar builds should include a air-resistant and moisture-resistant barrier. The lack of an air/vapor barrier will allow warmer, higher-humidity air to enter the cellar space leading to moisture problems.
Warm air can hold more water compared to cooler air. As warm air moves into a cooler space, like a wine cellar, water vapor can condense forming liquid water once it hits its dew point temperature. This water release can quickly lead to structural damage and decay and mold growth. The lack of an air/vapor barrier will also create excessive water production from your cooling unit.
When installing an air/vapor barrier, install it on the warm side of the wine cellar walls, ceiling, and floor. This way, warm ambient air is prevented from entering the cellar or cellar wall or ceiling cavities where it could cool and release water. If the air barrier is placed on the cool side of the cellar, ambient air will be able to move to the barrier, cool and release water behind the barrier. For this wine cellar, I first installed a poly air/vapor barrier, then installed rigid foam insulation over it.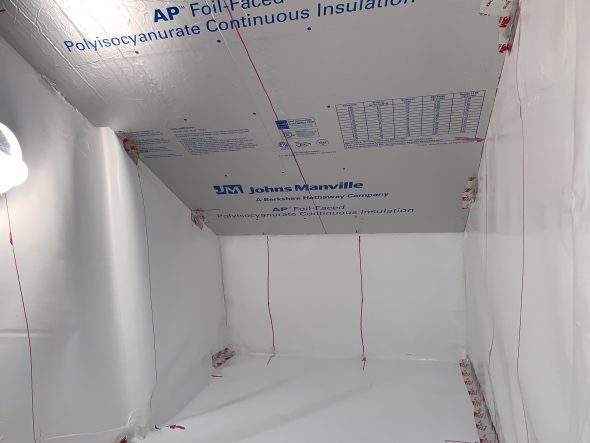 The More Insulation the Better for your Wine Cellar
Building a wine cellar without adequate insulation is also a common problem. Without sufficient insulation of the wine cellar ceiling, walls and floor, temperature changes will occur more frequently and tend to mimic the temperatures of the air surrounding the wine cellar.
In poorly insulated wine cellars, the refrigeration units will spend much more time on and cycle much more frequently, leading to higher electrical costs and more rapid temperature changes and larger temperature range swings.
Also, insufficient insulation will make it less likely you will be able to reach a reasonable target temperature (55 – 60 ℉) for your cellar. Individual wine cellar refrigeration units typically have published thermal performance data each unit for cellar size, based on insulation, and ambient and desired target temperatures. Below is an example of such a chart for the CellarPro 1800 series of wine cellar cooling units (I used the CellarPro 1800 XT for my cellar).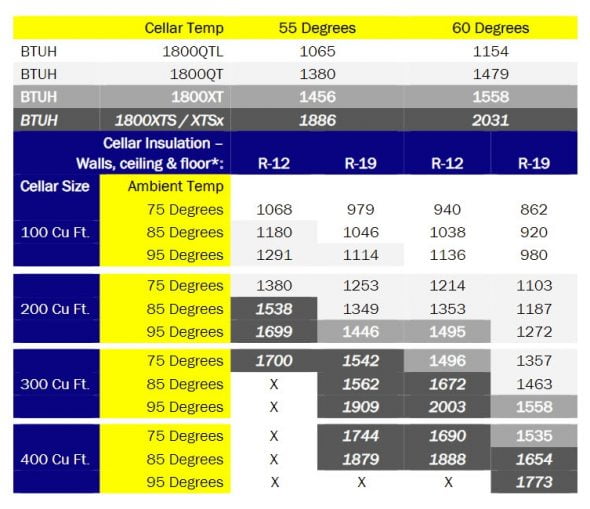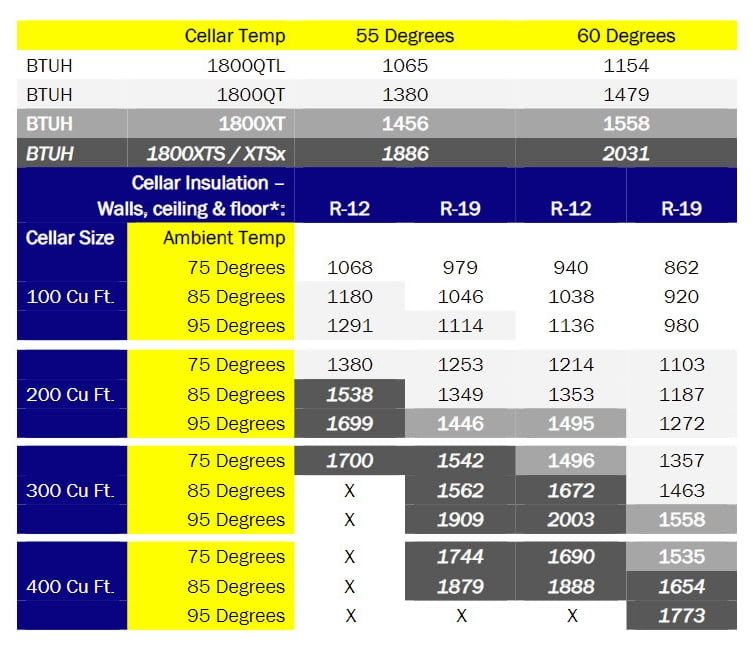 Cover Your Wine Cellar Walls with a Functional, Durable Finish
Two consideration when choosing a material for the walls of your cellar; 1) mounting shelving/racks and 2) mold/moisture resistance.
To store wine in your cellar you will need some sort of wine racking. I used a commercial metal rack that is fastened with screws. Although you can use anchors and install these racks to drywall surfaces, driving screws directly into 1″ cedar boards is easier and sturdier. Cedar boards are naturally rot resistant and durable in higher moisture environments.
Drywall can be used for cellar construction, but standard gypsum drywall may not perform well in high humidity environments and you may want to avoid using it for the interior finish of your cellar. You could consider using a smooth tile backer board (like HardieBacker, or Wonderboard) which contain little or no gypsum or paper and are intended for use in wet environments.
Tile backboard can then be painted (smooth surface products) or finished with tile. Tile is great for high-moisture environments, but comes with the downside of additional complexity and cost to install and difficulty mounting fasteners for racks or shelving.
Another option is to use rigid foil-faced foam (polyisocyanurate) to insulate your cellar and as the finishing surface inside the cellar. I used this method for a previous wine cellar and it worked well as I had floor standing wine racks that did not require fastener attachment to the walls. If you use this method, you can seal the seams between panels with a foil tape for a more finished look and additional air sealing.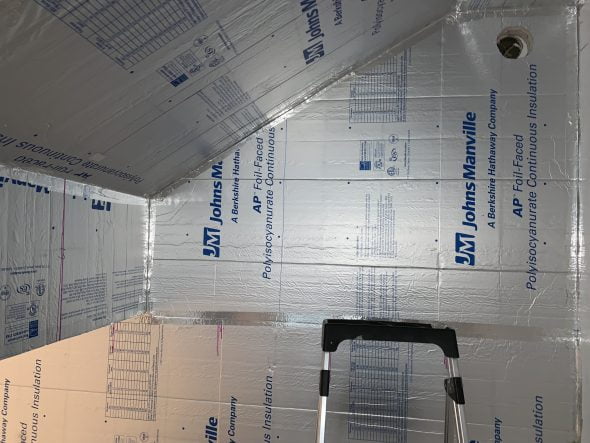 After considering the options, I chose to use rigid foil-faced foam insulation plus 1 x 12 solid red cedar board as horizontal paneling to finish my cellar walls and ceiling. Using solid cedar boards, I was able to mount them to the wall studs and then screw directly into them to mount my wine racks – flexible, simple, pleasing to the eye and slightly aromatic.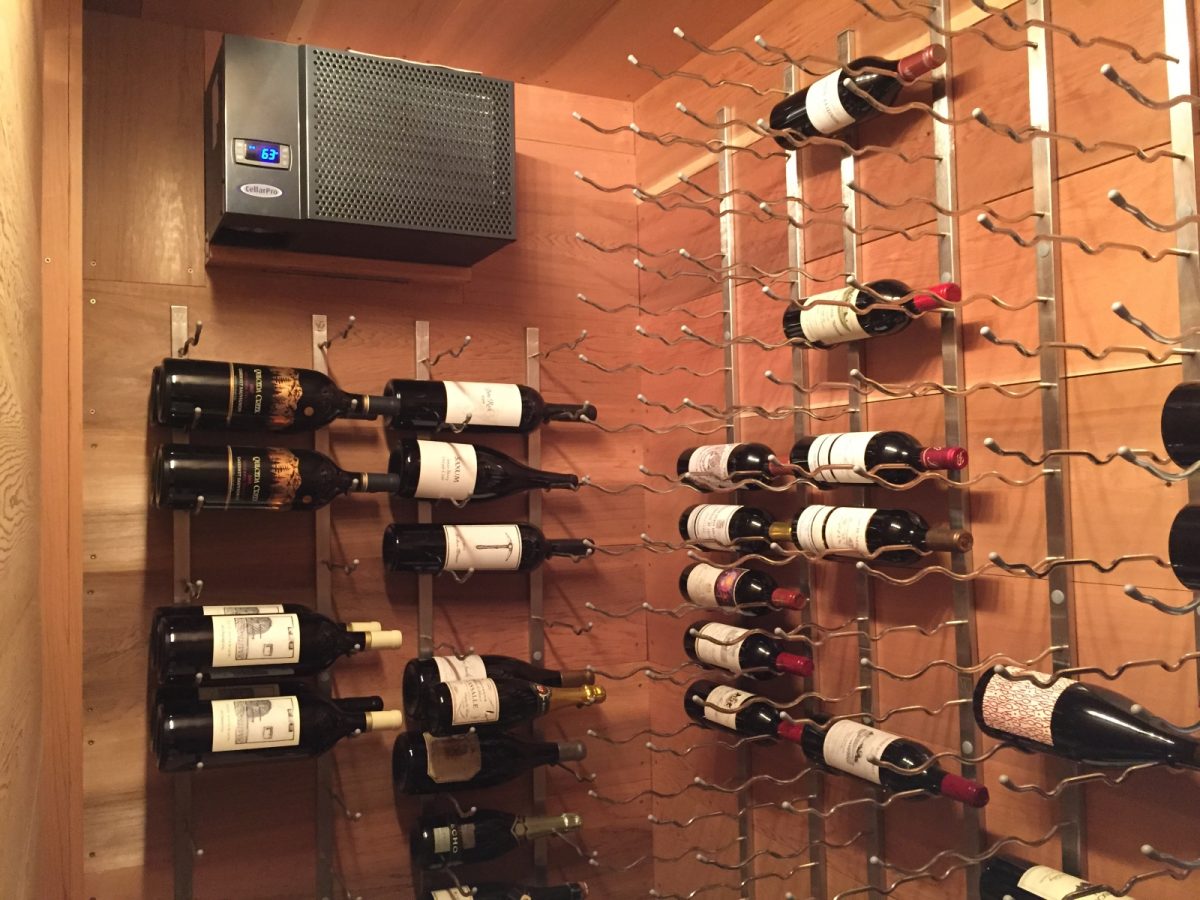 Wine Cellar Flooring
For the flooring of the cellar, pick a product that tolerates a high-humidity environment. Wood flooring may or may not be a good choice with the high levels of humidity within a typical wine cellar.
If you do install wood flooring, an engineered product (solid veneer bonded to plywood structural layer) may be a more stable choice. Tile will work, but again it's more expensive and complicated to install – especially if you are adding insulation to the floor.
Vinyl products and continuous or tiled synthetic flooring would likely be good choices, but choose a product that does not have a strong odor. Some rubber flooring mats have a strong odor that would be unpleasant in your wine cellar.
I used foam gym tiles. These tiles are inexpensive, easy to install and readily available online or at local home improvement stores. The also add additional insulation value and not affected by water nor provide food for potential mold growth.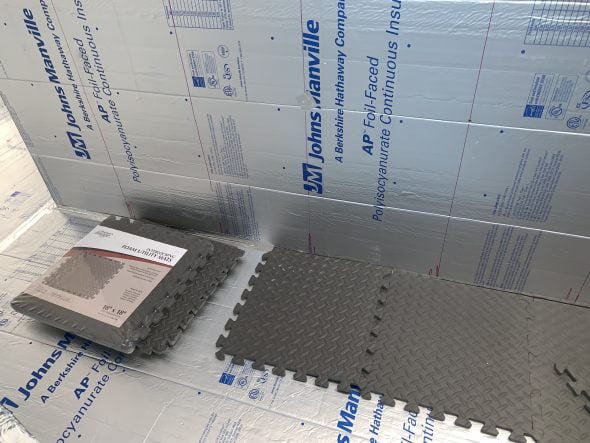 Wine Cellar Racks, Bins, Shelves and Cubes
There are many options for wine racks for your cellar made from a variety of materials. Wood and metal products are common, and I favor metal products.
I like metal racks for their strength, versatility, relatively low cost and ease of installation. They also tend to offer designs with less structural material compared to wood, allowing more visualization of the wine bottles.
Wood racks tend to be more expensive and configured in traditional slot-style racks. Many of these wooden slot racks are typically built with small strips of wood that are nail-gun fastened together, giving them a cheap look in my opinion. They also tend to cost a lot more per bottle compared to metal racks. Even so, many like wood racking and don't mind the limitations of wood wine racks.
I used metal racks for all of the 3 wine cellars I have built in the past.
In the first cellar, which was a passive basement cellar built in a small foundation block walled small closet where I could not easily drive fasteners into the walls, I used food service style metal wire wine racks. They are very strong, are stackable, allowing for easy shelf height adjustment and they are inexpensive.
For my last two wine cellar builds, I used metal wall-mounted display-style racks by VintageView. These racks mount on the walls of your cellar and are offered in one to three bottle deep designs.
I like the VintageView Wall Series wine racks for several reasons; you can see the labels on the wine bottles, and they are not as deep and traditional wine racking making them much better suited for small narrow wine cellar build in small rooms or closets. My last two wine cellar builds converted old closets and these racks allowed me more efficient use of the narrow space. I also really like to visual presentation of the bottle labels.
Recommended Wine Racks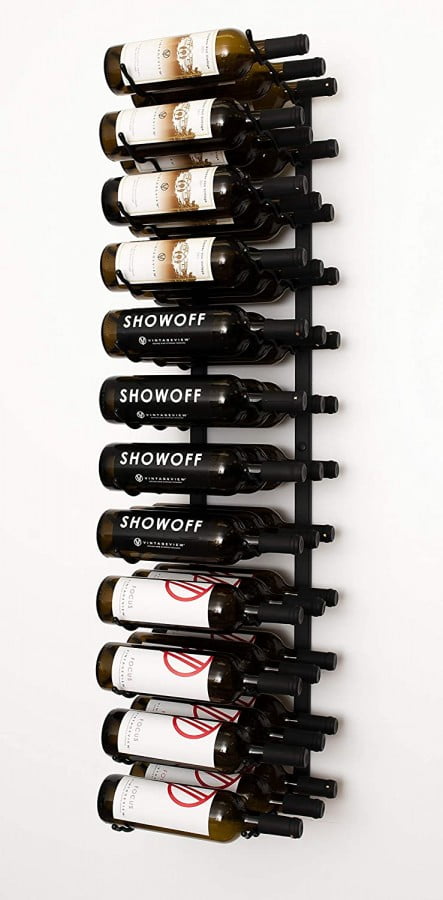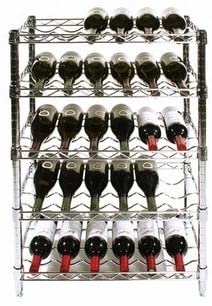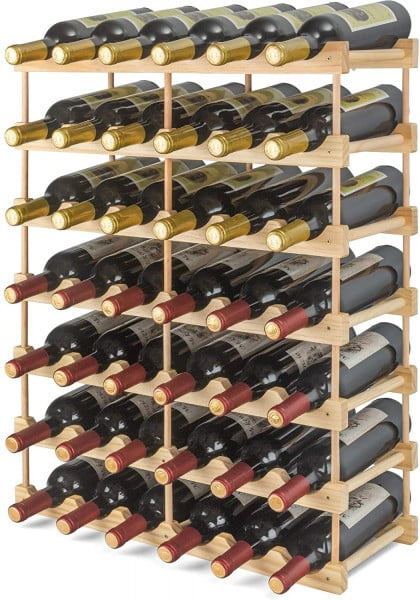 Once you have an idea of the type of wine racking/shelves/bins you would like to use, draw up a cellar rack plan. Use the plan to figure out what you will what and an estimate of what it will cost. There are many tools available from online wine rack sellers to help you design storage within your wine cellar.
I knew I was just going to use VintageView Wall Series display racks, so all I needed to figure out was how many racks and of what depth racks to place of which walls (they have single to triple bottle depth racks). I also ordered some magnum bottle racks for bigger bottles (magnums).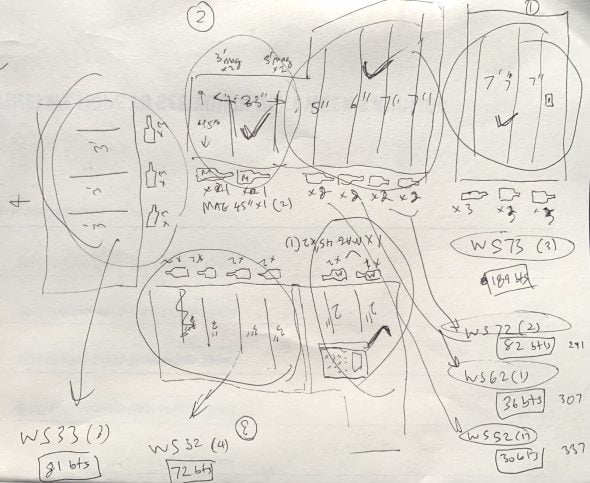 A Note on Ordering VintageView Wall Series Racks
VintageView Wall Series wine racks come in one, two and three bottle depths. They also come in one, two, three and four-foot lengths. To create a 7-foot high rack, order one 3-foot rack and one 4-foot rack, for an 8-foot high rack, order two 4 footers. Some retailers will package them for you – example a WS7 for a 7-foot rack, while others will require you to order a WS3 and WS4 to create a 7-foot rack.
Either way, you order, a 7-foot rack will come as a 3 foot and a 4-foot rack that you will stack when installing. All of the racks come with connectors to attach one rack to another for stacking, even if not ordered to create longer racks. Hope this helps if you want to use VintageView Wall Series racks – and you should, they are awesome!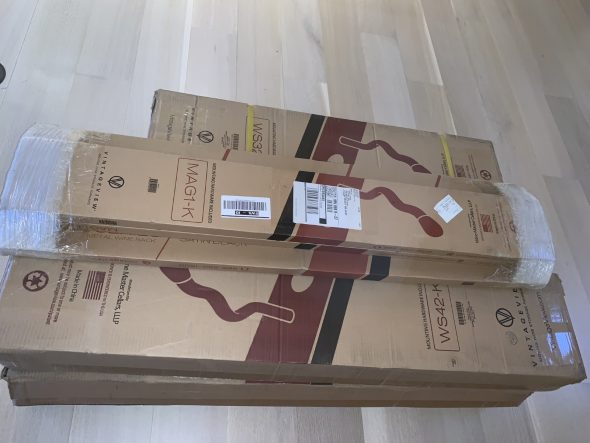 Wine Cellar Refrigeration Cooling Units
If you plan on actively cooling your wine cellar you will need to acquire a wine cellar cooling unit. As tempting as it is to use alternate methods to cool your wine cellar, it usually makes sense to invest in a cooling unit designed specifically for wine cellars. Using central air conditioning ducts to cool a wine cellar space tend to lower humidity levels too much, be difficult to control and may not deliver cool enough air for ideal conditions. Window unit air conditioners generally do not work well as they are not designed to maintain wine cellar levels of cooling.
Cooling units made specifically for wine cellar cooling are designed to efficiently produce proper wine cellar temperatures (55 ℉) and help maintain higher levels of humidity. If you are building a wine cellar that needs cooling, I highly recommend purchasing a wine cellar cooling unit.
There are several different makes of wine cooling units. I bought and really like my CellarPro 1800XT unit. This was the first and only cooling unit I have purchased. I've had it since I bought it new in 2010 and used it without any problems since. I highly recommend CellarPro units.
Most wine cellar cooling units are designed as one of two basic configurations: 1) Self-contained "Through The Wall" units and 2) Two-part "Split Systems".
Through The Wall Wine Cellar Cooling Units
Through the wall wine cooling units contain all the components of a refrigeration circuit within the one unit and are mounted through or across the wine cellar wall.
The evaporator coils, which cool air, are located on the cellar (cold) side of the unit and cool the in-the-cellar air by circulating it across the cold evaporator coils.
The condenser coils, which remove heat from the refrigerant, are located on the warm side of the unit and release heat by circulating outside-the-cellar air across the warm condenser coils at the rear of the unit.
Some through the wall cooling units can be located a limited distance outside of the wine cellar (not mounted through the wall) with the addition of ducting for the cooling air circuit (evaporator coil) and the heat removal circuit (condenser coil).
The advantages of contained, through the wall cooling units include; the simplicity of installation, lower noise levels in the area immediately outside the cellar (unless ducted) and usually lower cost. The disadvantages of through the wall cooling units include; the look and noise of the cooling unit mounted through the wall of your cellar and the required ambient space around the cooling unit discharge side for heat removal.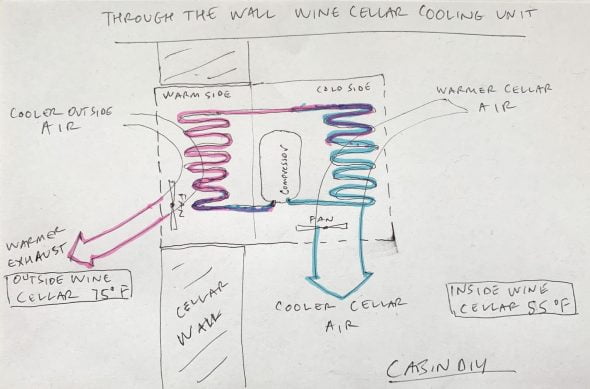 Split System Wine Cellar Cooling Units
Two-part split system wine cooling units separate the evaporator coils and the condenser coils with the "split" units joined by a copper tubing set for the refrigerant circuit.
The cold evaporator coil unit is located within or ducted to the interior of the wine cellar to cool the cellar air and the warm condenser coil unit is located remotely to remove heat from the refrigerant. Refrigerant circulates between the two units by way of copper tubing.
The advantages of a two-part split cooling system include; remote location of condenser coil unit (less noise, no need for open space around the cellar, no rear-of-unit grill on cellar wall), and typically higher cooling capacity. The disadvantages of through the wall cooling units include; higher initial costs, HVAC professional services for refrigerant line connection and fill.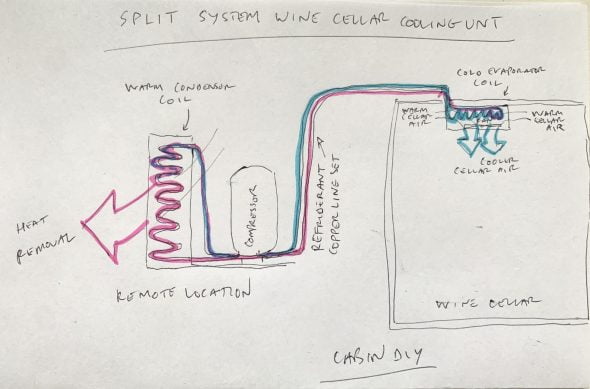 Consider your budget, the size and thermal load (several websites will calculate this for you) of the cellar build when deciding on what size and type of wine cellar cooling unit to purchase. Most well insulated (non-glass) wine cellars of less than 500 cubic feet should be able to use through the wall cooling units. If you are building a large cellar, plan to use a lot of glass or want a remote condenser coil/fan, consider a split system.
Qualtiy Wine Cellar Cooling Units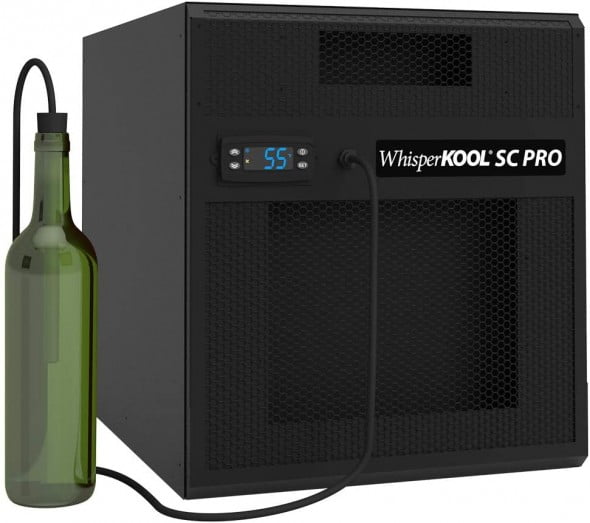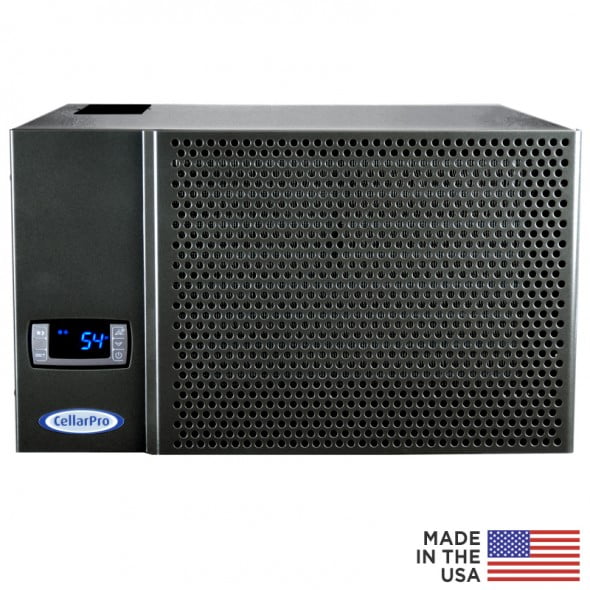 A well-functioning wine cellar should provide ideal temperature (55 – 60 ℉) and humidity levels (50 – 70%) within as small of range of temp and humidity swings as possible. Properly air sealing and insulating your cellar space is essential for stable, efficient wine cellar conditions. Understanding that warm air rises and cool air sinks, wine cellar cooling units should be mounted as high as possible with your cellar.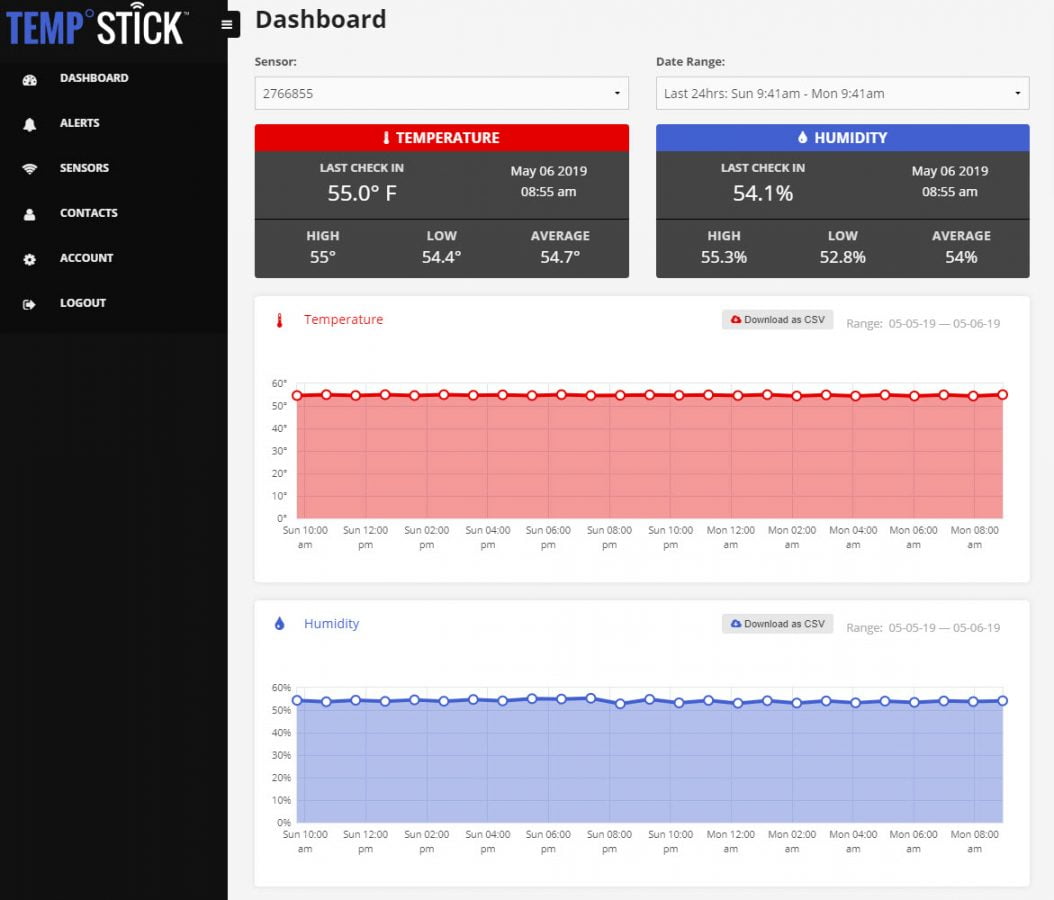 Unfortunately, my closet cellar space made it unpractical to mount my cooling unit high in the cellar and I had to settle for a midway location. To help create more uniform conditions within my cellar, I mounted a small USB-powered desk fan at the top of my cellar to help circulate and mix the air within the cellar. The results of this simple addition to the cellar have been impressive, greatly evening out temp swings and temperature stratification within the cellar.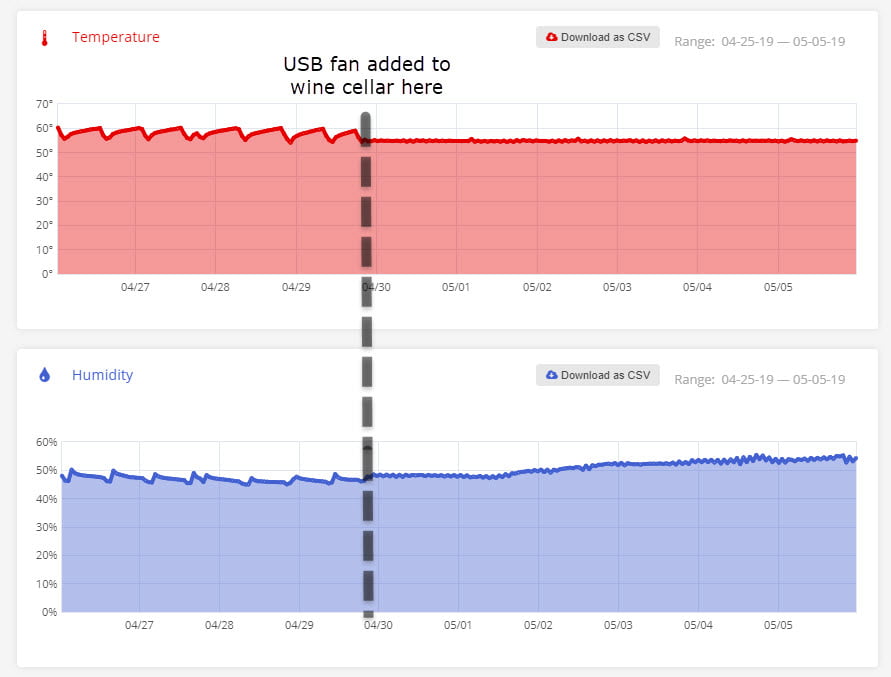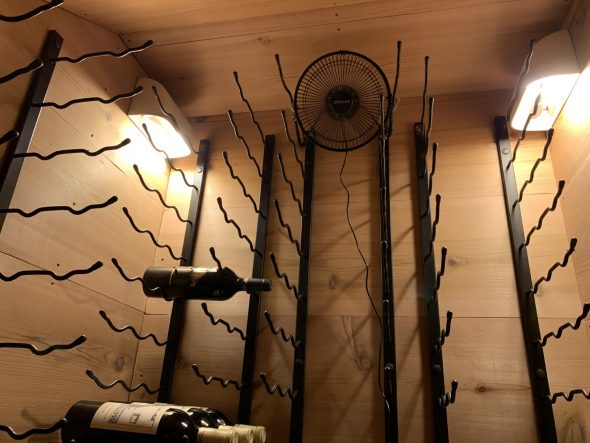 Now that my wine cellar closet conversion is complete, I am very happy with the results. The temperature remains fairly steady at 55℉ with relative humidity just over 50%. I will watch the humidity levels as we move into summer (it is currently early May here in Minnesota). But, all things considered, I couldn't more pleased with how this wine cellar turned out.
Every time I consider building a wine cellar, I hesitate knowing the work involved and the costs. Yet every time I finish a wine cellar and start using it I can't imagine not having built it. For me, my wine cellar is one of my favorite places in my home and always seems to bring a smile to my face. If you love wine, you will love having a wine cellar of your own.
My wine cellar building summary points:
Wines should be stored horizontally, in a dark, vibration-free environment at 55 – 60 ℉ with 50 – 70% relative humidity.
Most wines should be served at cellar temperature and allowed to warm as you drink them.
An ideal wine cellar is airtight, well insulated and equipped with a properly sized wine cellar cooling unit.
Air seal the entire wine cellar space, including the floor and ceiling, on the warm side of the cellar.
Add as much insulation as practical for your space – at least R-15. I highly recommend using tape-sealed, foil-faced polyisocyanurate insulation when insulating over existing walls (I used 2 layers of 1″ polyisocyanurate for this project).
Use a properly sized wine cellar refrigeration unit to cool the space and help maintain adequate humidity levels.
A small USB-powered fan can significantly even the temperature within a cellar and reduce cooling unit cycling.
Cedar boards make excellent cellar walls/ceilings – they are an excellent fastener base for mounting racks and the look and smell terrific.
I love VintageView display racks, especially for narrow (3′ wide closet) wine cellars.
Install a motion-sensor light switch that will turn on when you enter, and more importantly, turn off the lights after a set delay. This way you will never leave the lights on in the cellar which could quickly heat up the cellar.
OK on to the building… keep reading for the details of my conversion of an unused basement closet into a high-performance wine cellar!
SUPPLIES LIST | Build A Wine Cellar
TOOLS LIST | Build A Wine Cellar
STEPS | Build A Wine Cellar
IMAGE GALLERY | Build A Wine Cellar