When planning our kitchen remodel, we wanted to continue our cozy, white, coastal cottage theme in the kitchen as well. We planned for light or white colored cabinets and to save a few bucks, we planned to purchase them from Ikea. Little did we know, to get the look we were after, we would be painting the cabinet doors.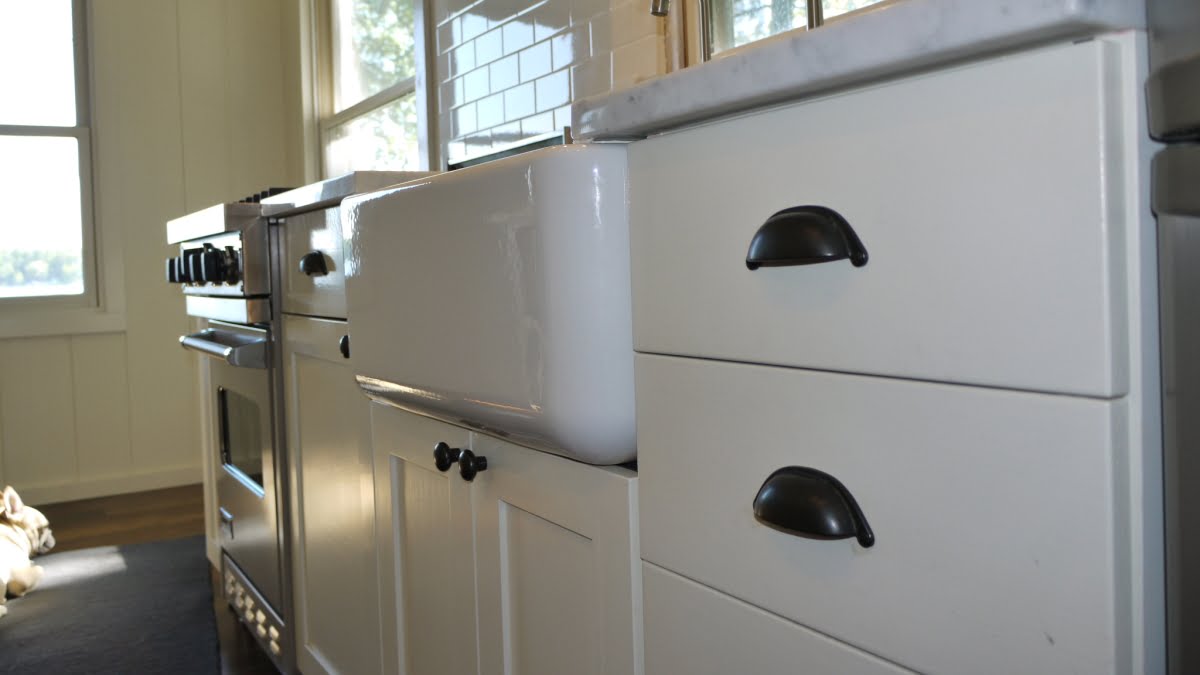 Paint Ikea kitchen cabinets
Give your kitchen cabinets a facelift by painting them
Buying cabinets and cabinet doors from Ikea has some limitations. The cabinet boxes are offered only in white or dark brown, and the door finished are fairly limited. When we were looking, we didn't find and cabinet doors in white that we liked. All of the white doors were simple, glossy and either made from covered fiberboard or synthetic resin. Yuck.
We wanted something a bit more traditional and something wood. And we were hoping these traditional wood doors would be a lighter, preferably white, color.
So what to do? We decided to buy the stock white Ikea cabinet boxes and the dark brown Ikea Tidaholm cabinet doors with the plan to paint them white. Painting brand new kitchen cabinets did not seem ideal, but, if the results were less than spectacular, well, it's just the cabin and they are just Ikea cabinets.
Fortunately, painting the cabinet doors was fairly straightforward, and the results were fantastic.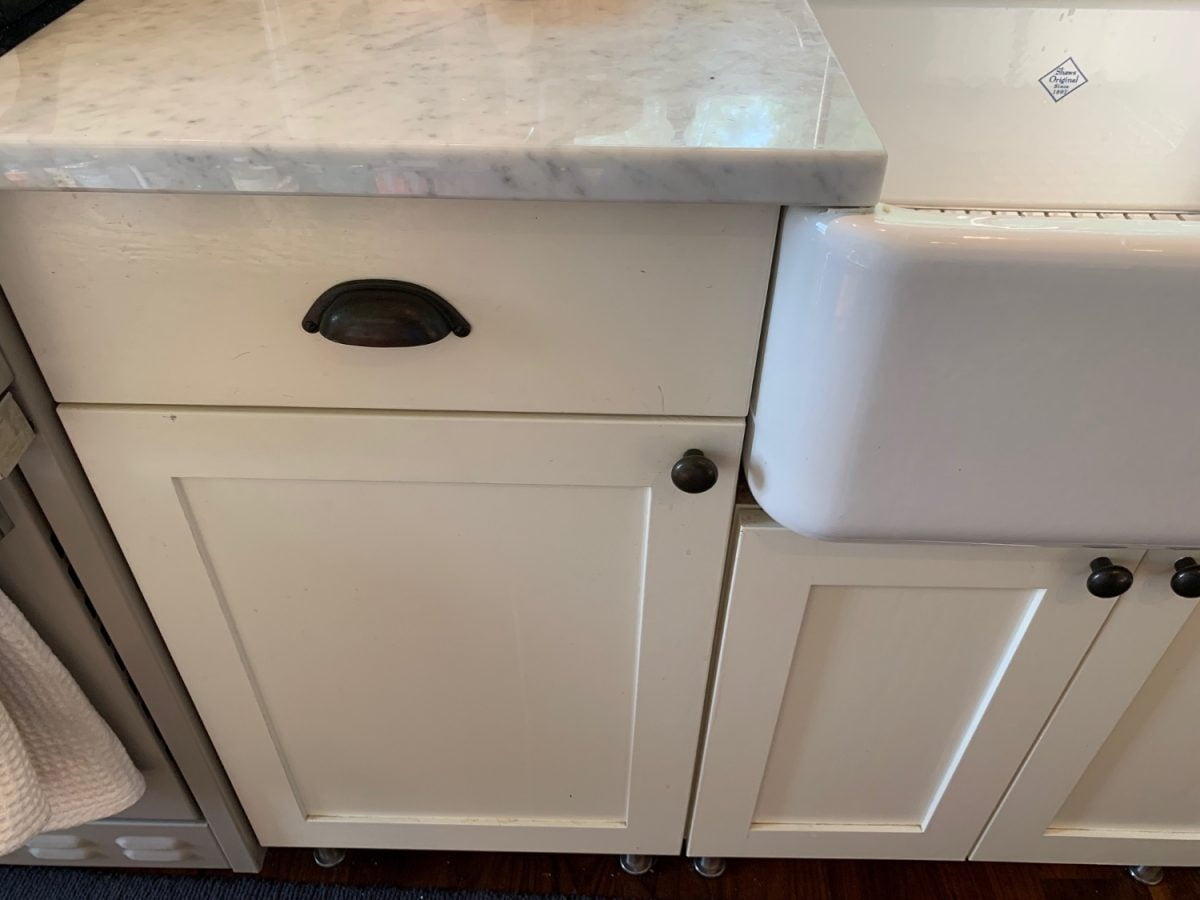 To match our interior walls, we painted the cabinet doors with Benjamin Moore's Satin Impervo paint in White Chocolate.
Our finished painted Ikea cabinets perfectly matched our interior, and the soft, matte finish of the paint added depth and character to cabinet doors.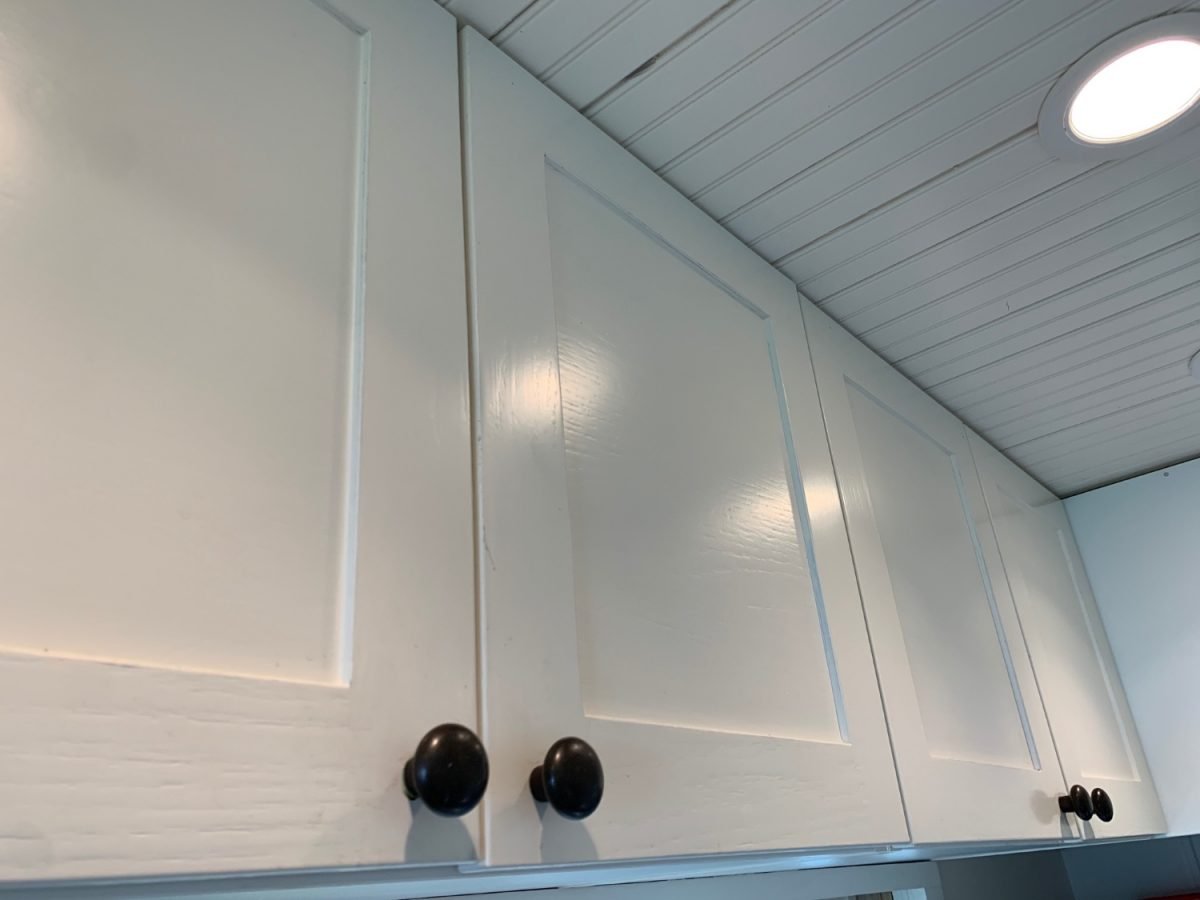 The method we used to paint the cabinets was simple — spray can primer and brush applied oil finish.
You can certainly have them professionally sprayed if you would rather not do this yourself. But, by taking your time, using high-quality paint and a few tricks, you can do it yourself and obtain a very high quality, professional finish for your cabinet doors.
Read on for a walk through the steps describing how we painted our Ikea oak kitchen cabinet doors. We just painted the doors, but you can certainly paint the cabinet boxes as well. If you are planning on painting your entire cabinet, remove the doors and paint them as below, and paint the cabinet enclosures in place using the same techniques, and allowing to dry prior to re-attaching the newly painted cabinet doors.
SUPPLIES LIST | Paint Your Kitchen Cabinets
TOOLS LIST | Paint Your Kitchen Cabinets
STEPS | Paint Your Kitchen Cabinets
Pick a quiet, clean spot to work

Set up a clean work area to paint the cabinets. The location should have a table or similar to allow you to spread out the cabinet doors and should be relatively free of dust and debris that could compromise the finish of the paint.

Thoroughly clean the work space

Create a dust-free environment by cleaning and vacuuming the floor, walls, table and surrounding areas. Cover the table surface with newspaper, drop cloth, cardboard or other covering to prevent damage from paint over spray and drips.

Assemble required supplies, tools and paint

Gather your prep materials including a sanding block, rags, tack cloth, a primer paint and a finish coat paint.

I used an alcohol (shellac) based primer, Zinsser® B-I-N. This primer is great for its fast drying, high coverage qualities. High coverage primers (a.k.a stain blocking primers) work well in this setting as they have high levels of solids and act as filler over the painted surface, and leveling with light, fine sanding to produce a smooth surface.Also, the alcohol-base of this produce, provides excellent "bite" and adhesion.

For a finish paint, choose a paint designed for interior use on wood doors and trim. Some paints are actually labeled for cabinet painting. Enamel alkyd paints work well, especially the older oil-based ones (like Satin Impervo!). Unfortunately these paints off-gas solvents and are bad for the environment and are being phased out of use. Newer paint technology offers water suspended alkyd paints that are getting better over time. These newer paints tend to be more difficult to use compared with the older oil products.

The secret sauce of this project was the paint additive Penetrol® by Flood/PPG. This product acts as a paint conditioner, altering its characteristics to improve the flow and leveling of the paint. With the improved paint surface leveling, you should be able to apply your finish coat with a brush without brush marks on the finished paint surface.

There is a version of the product for latex based paints too. I've used it for interior doors painted with latex paint and it seems to work well.

If using one of the newer water-suspended alkyd paints, I would check with the manufacturer regarding compatibility. I would also trial the mixture on a test surface prior to using it on your cabinets.

Anyway, if you can get your hands on some Benjamin Moore Impervo, or similar, awesome, use it. If not, ask your paint store for suggestions and consider a trial piece of material to test the paint you choose and to gain experience applying it.

Remove cabinet doors and arrange on work table

If painting existing, in place cabinets and doors, remove and paint the doors first. Prior to removing doors, mark the doors in a hidden area (back) and make a diagram of there location before removal. Save hardware in zip lock bags or similar for reassembly. Move doors to work area.

Prep cabinet doors by lightly sanding and cleaning

Using a medium to fine sanding sponge or similar (I used a 3M fine grit sanding sponge), and working in the direction of the wood grain, sand the surfaces of the cabinets. Use care not to round off edges when sanding.

If the cabinet doors you are painting are not new, be sure to thoroughly clean the surface of the doors prior to sanding. Use a solvent based de-greaser if the cabinet doors have been in service for some time, as kitchen cabinet doors tend to accumulate oily deposits.

Use an alcohol dampened microfiber cloth to wipe away residue sanding dust. Finish the cleaning process with a clean tack cloth.

Apply primer paint coat

Prior to painting, vacuum the work space and work surfaces to remove residual dust from the sanding process. Once the work area is clean, arrange the clean, sanded cabinet doors for the first primer coat of paint.

For primer application I found using spray can formulation of the Zinsser BIN primer to provided easier application and better results compared to brush application. As always, with spray applications of paint, it is preferable to apply several lighter coats of paint rather than one heavy coat. Use a mask or respirator when spray painting.

Spray one side at a time, allow to dry for one hour, and then spray the opposite side. Once both sides of the cabinet doors are primed, allow the doors to dry overnight before applying a second coat.

Apply second primer paint coat

After drying overnight, lightly sand the primed cabinet doors to remove any high primer spots. After sanding, used an alcohol dampened microfiber cloth to remove sanding dust and finish the clean up with a tack cloth to remove any residual dust.

Next, apply a second coat of primer to the cabinet doors, allowing each side to dry for an hour before painting the next. Once the cabinet doors have a second coat of primer, allow the doors to again to dry overnight. After drying, again lightly sanded the primer and clean with an alcohol dampened microfiber cloth and a dry tack cloth before beginning the finish coat.

Apply finish paint coat

For the finish, I used Benjamin Moore's Satin Impervo Alkyd low-luster paint. This paint is expensive ($75 + / gallon), but it is an exceptional paint that has excellent leveling qualities. Beware that this is an oil based product and lighter colors of this paint may yellow with time.

Prior to applying the finish coat, I added the paint additive Penetrol to help provide a smooth finish without brush marks. Penetrol is a petroleum based solvent that when added to oil based paints lengthens drying time and helps level the finish.

To keep the finish paint "stock", I only added Penetrol to individual small batches mixed for each painting session. Mix these batches in disposable plastic one pint containers, using a new container for each painting session to avoid dust and debris contamination.

If you return any paint to the original can, pour it through a fine paint filter to remove any dust accumulated during use.

To apply the finish coat of paint, first roll the paint on the door to obtain a uniform layer, then use a brush to level the finish. When using the brush, I found that using a very low brush angle helped avoid brush marks in the finish.

After one side was finished, I lifted the door and carefully painted the edges. Each coat of the Penetrol spiked Impervo needed at least 48 hours to dry, so I painted only one side at a time.I allowed the doors to dry resting flat to help prevent paint runs. Once one side was dry, the doors were flipped and the opposite sides painted. The doors were then allowed to dry for several weeks.

Lightly sand the first finish coat and apply a second coat (optional)

Using very fine emery cloth or a sanding block, very lightly sand the dry first finish coat to remove any dust contamination or surface irregularities.  Wipe clean with microfiber cloth and finish with tack cloth.  You can wipe the surface one more time with a clean microfiber cloth dampened with mineral spirits. Then, using the same techniques as the first finish coat, apply a second finish coat and allow to dry.

Polish the finish (optional)

I wanted a rather soft, matte finish, so after letting the final finish coat cure for several weeks, I very lightly polished the painted surface with polishing compound (Cyclo Industries No.7 white) and a soft cloth. I buffed the surface just to soften the finish and level the paint.

After polishing, I washed the doors thoroughly with soapy warm water. (Beware that this and many polishing compounds have a mild solvent odor that may take a few weeks to fade from the polished surfaces.)

If painting cabinet bodies as well as the doors

If you are painting the doors and the cabinet bodies, follow the above sequence to paint the cabinet boxes in place. Tape off and cover walls, counters, appliances and anything else at risk of getting splattered with paint. Consider rolling or brushing on the primer instead of spraying if painting the cabinet bodies in place. You may want to alternate door painting with cabinet body painting during drying periods. Protect each area (door painting area and kitchen cabinet painting area) from sanding dust contamination from the other during prep periods.
IMAGE GALLERY | Paint Your Kitchen Cabinets