Life at the cabin would not be the same without the majestic 100+ year-old white pines. As awesome as these soaring, scented, swaying beauties are, they do present one big problem – a non-stop tree sap attack on the cars below. This is how you remove it.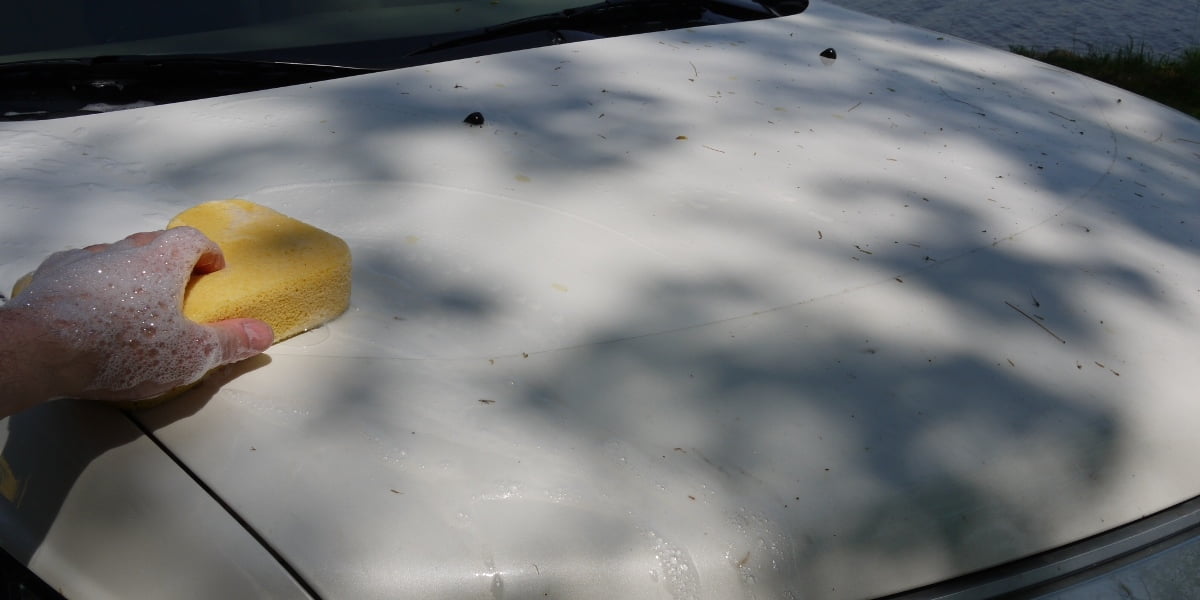 Hand wash car prior to removing tree sap
Tree Sap Car Removal - The Secret is Clay
I tried traditional car washes and hand washing, but neither did much to remove the dried-on hard pine sap that stuck to our cars. After a bit of research, I found that a simple two step process worked best for me to remove the sap from the car finish.
The two step combo for tree sap removal from car finish was denatured alcohol and automotive detailing clay. The alcohol removed the bulk of the sap and the detailing clay cleaned up the inevitable haze that the alcohol sap mixture left behind.
I found that the two step approach was much better than either step by itself. If I used just the solvent (denatured alcohol), the diluted, liquefied sap and alcohol mixture left a nasty, sticky haze that was hard to remove.
If I used just the detailing clay, it took too long to remove large, hard dried deposits, and each deposit used too much of the clay. The answer; use both.
Automotive Detailing Clay, Say What???
If, like me, you had never before heard of Detailing Clay here is a quick description of what it is: Automotive detailing clay is a putty-like compound embedded with very fine abrasives used to clean car finishes. Detailing clay or clay bars are used in the automotive industry to remove fine contaminant from car finishes.
Detailing clay does an excellent job removing contaminants from car finishes and for this project was the perfect solution to remove the trace residue of tree sap left on the car finish after using alcohol.
OVERVIEW | Remove Tree Sap From Car
SUPPLIES LIST | Remove Tree Sap From Car
TOOLS LIST | Remove Tree Sap From Car
STEPS | Remove Tree Sap From Car
IMAGE GALLERY | Remove Tree Sap From Car