Proper floor tile installation requires a flat, stable subfloor and underlayment surface. Floor tile installations on uneven surfaces can result in high tile edges and corners (known as lippage), which may lead to annoying catch spots between tile or even trip hazards. Uneven tile installations may also lead to tile stability issues like cracks and breakage.
According to ANSI (American National Standards Institute) standards, subfloors must have less than 1/16″ flatness variation per 1′ span and less than 1/4″ per 10′ spand for tiles less than 15″ wide or long. For tiles longer or wider than 15″ the specs are less than 1/16″ variation per 2′ and 1/8″ per 10′ span.
Bottom line, floor tiles should be installed on suitable flat surfaces.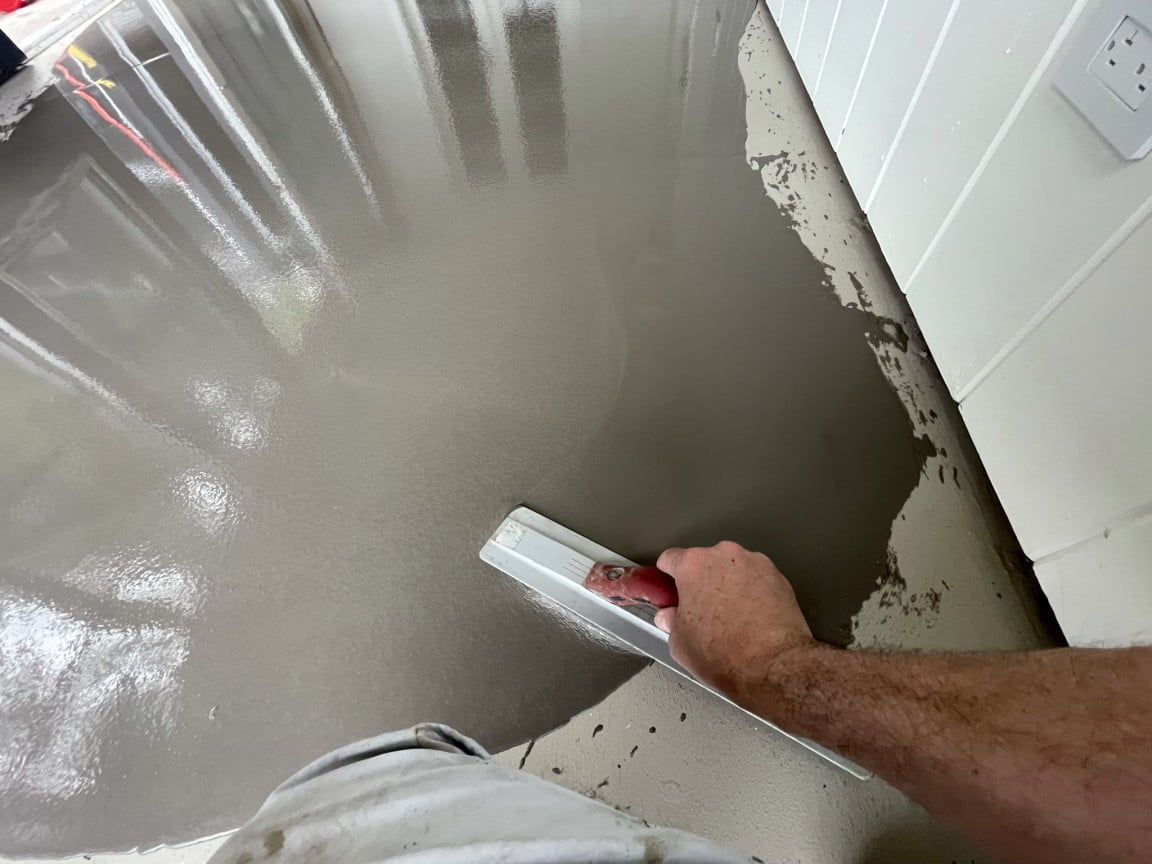 How to place floor leveler underlayment compound to level a floor before installing tile.
I'm just starting a renovation of our cabin porch, including adding tile with in floor electric heat. I put this project off for a long, long time. In fact, one of my earliest posts covers the beginning process of getting the extremely uneven and un-level floor closer to flat: How To Level A Concrete Floor.
Finally ready to finish the porch, I was thinking all I needed to do was order the tile, in-floor heat supplies and get started. Then I checked the flatness and level of the porch floor surface. Ouch!
Despite our earlier work on leveling the porch floor slab, it was still super uneven and not very level.
So, despite my eagerness to get started, the tile install will need to wait for some additional floor leveling.
Installing Tile on a Flat, Level Surface is Better and More Fun
I could have proceeded and tried to level the underlayment and decoupling membrane I planned to install for the in-floor heat, but I knew that would be a serious pain in the butt. Installing materials on uneven floors is no fun. And, if you can't get them close to flat prior to installing tile, installing tile on marginally flat underlayment is no fun either.
The delay and extra step of additional floor leveling is a bummer, but the right choice. So, off to Home Depot to buy some self-leveling underlayment (SLU) material.
LevelQuik RS by Custom Building Products Works Well For Many Smaller DIY Projects
The SLU product I used is LevelQuik RS by Custom Building Products. It is a Portland cement based, rapid set product that produces a high-strength concrete like surface ideal for laying tile over. It is also stocked at most Home Depot stores in the flooring area of the store.
There are few considerations of using this product. First, it sets really fast, with a pot life of only 15 minutes. If you have a large area to cover, and don't have a lot of extra help, this might not be enough work time, especially if working alone. They do offer an extended work time product LevelQuik ES.
The product is also fairly heavy and the extra weight should be considered. There is also a lighter version of the product called LevelLite for projects with weight limitations.
And while to product can be placed over many different subfloor surfaces, there are some special considerations for plywood, OSB and other wood subfloors. If you plan to use LevelQuik RS over these surfaces addtional surface prep (sealing and priming) and wire lath is required for proper bonding. They do make a SLU product for wood subflooring that does not require the addition of wire lath to the wood surface called LevelQuik Advance.
For this project, I was placing the floor leveler over a concrete slab that had been treated with an paint-on elastomeric waterproofing membrane (RedGard), and used the off-the-shelf LevelQuik RS offered at my local Home Depot.
OVERVIEW | QuikLevel RS Self-Leveling Underlayment Placement
SUPPLIES LIST | QuikLevel RS Self-Leveling Underlayment Placement
LevelQuik RS

LevelQuik ES is an extended work time version of this product.
TOOLS LIST | QuikLevel RS Self-Leveling Underlayment Placement
STEPS | QuikLevel RS Self-Leveling Underlayment Placement