The first two articles of this Building a Shower Series, we discussed shower framing and plumbing and the shower pan construction steps of building a walk in shower. This article discusses the final step – how to tile your shower. Prior to beginning the tiling process, the steps covered in the first two articles should be complete.
All the supply and drain plumbing should be installed, tested and ready to go. Your mixing valve(s) should be in place and calibrated as needed and plumbed with the necessary supply lines for planned shower heads stubbed out, properly supported and terminate with a securely mounted drop ear elbow or suitable fitting that is stubbed out and capped.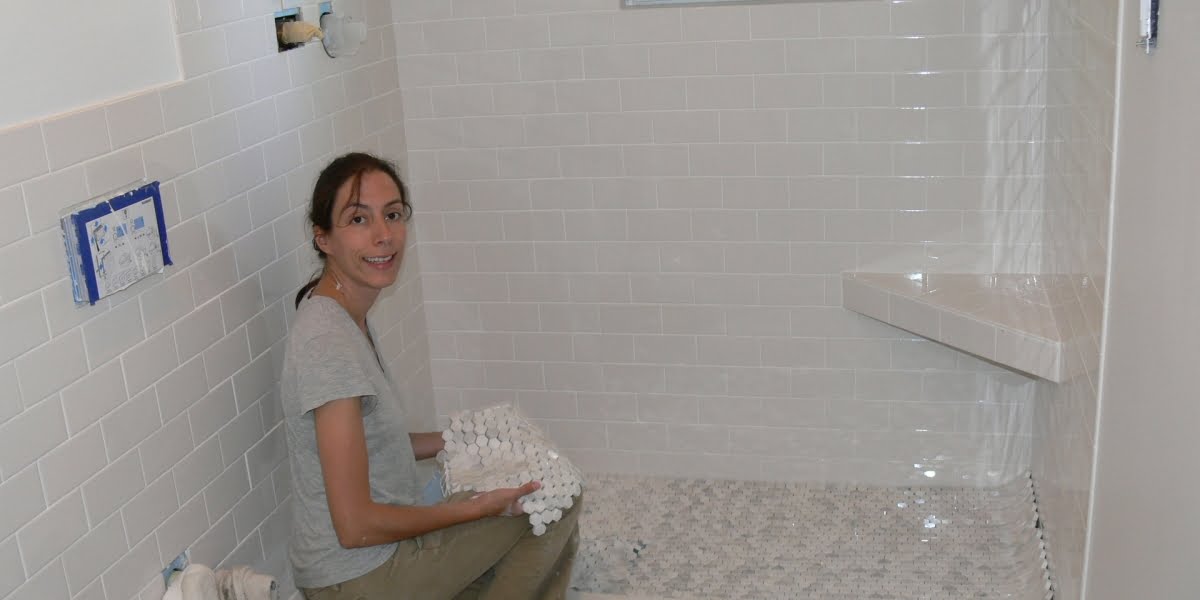 Elena shows off the freshly tiled shower walls and prepares to tile the shower pan.
The Shower Tile Install: Backer Board, Thin Set and Grout
The first step of tiling a shower is to create a stable, tile-friendly surface. Tile installations require a fairly flat, stable surface that is appropriate for the adhesive thin-set mortar used to install tile.
Tile installed in wet environments (like a shower), require water-resistant backer materials. Use only tile backer products approved for shower and wet locations.
In the past, water-resistant gypsum wallboard ("green board") was used as a low-cost wall sheathing and tile backer in wet areas like showers. This product is a wax coated gypsum wall board, that routinely failed when used in wet environments.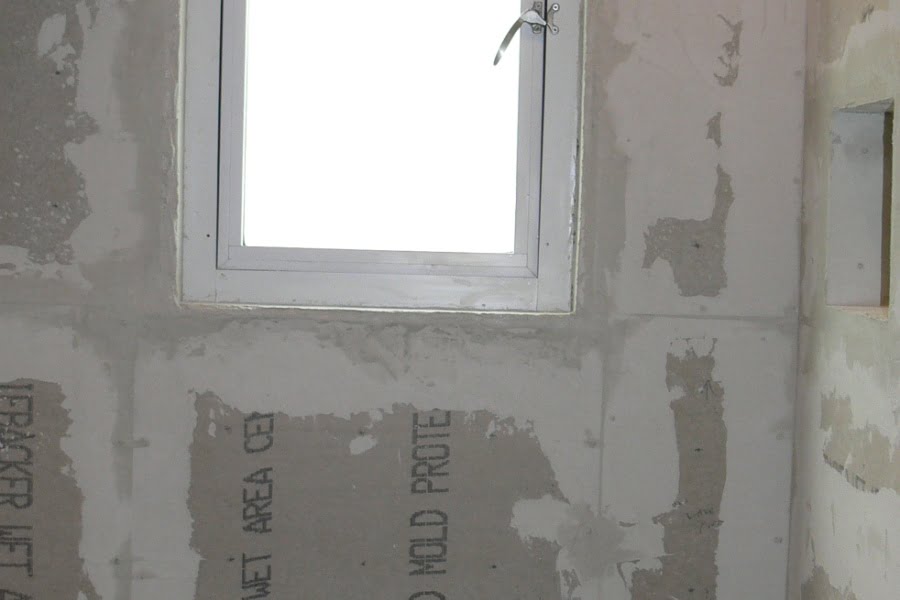 Building codes now prohibit the use of these products as the tile backer in showers. Do not use Green board as a tile backer in showers!
Today, there are many tile backer boards designed for bath and shower use. In general, there are four main types of backer board that can be used for shower construction. They are:
cement board – fiberglass reinforced Portland cement (Durock, WonderBoard, Permabase)
fiber cement board – Portland cement with added cellulose fiber (HardieBacker, BackerBoard, FiberCement)
gypsum core board – gypsum based board with waterproof facing (Fiberock)
polystyrene board – polystyrene board with reinforced resin facing (Kerdi-Board, ProPanel)
Comparison of Common Tile Backer Boards
TYPE
BRANDS
COST
WEIGHT
WATER
SHOWER USE
FLOOR USE
STRENGTH
SURFACE
Cement
Durock
Wonderboard
PermaBase
$
heavy
waterproof
yes
yes, may crack
fair, brittle
rough
Fiber Cement
HardieBacker
BackerBoard
FiberCement
$$
medium
water-resistant
yes
yes, best
high
smooth
Gypsum Core 
Fiberock
Dens-shield
DiamondBack
$$
light
water-resistant
Fiberock
no
low
smooth
Polystyrene 
Kerdi-Board
ProPanel
Wedi
$$$
lightest
waterproof
yes
no
fair
smooth
HardiBacker Use For Both Shower And Bathroom Walls
We used HardieBacker fiber cement backer board for this shower build. I chose this product over fiberglass reinforced cement board (Durock or similar) for its' combination of water resistance and and smooth surface making it easy to paint in areas that will not be tiled. My plan was to use the HardieBacker board to sheath the entire bathroom.
As further waterproofing for the bath and shower, I added a paint-on moisture barrier. I applied this barrier over the HardiBacker in the shower and behind the sink and toilet in the bathroom.
Although wet-area approved tile backer boards are quite water resistant, many do not stop the movement of water. Vapor barrier requirements depend on local codes and specific applications (Steam Shower use, etc.).
Most installations in showers should have either a vapor barrier behind the backer board (poly sheeting) or one on top of the backer board (paint-on membranes) applied before tiling.
I prefer paint-on barriers. I like the idea of blocking water before it passes through the cement board. Also, consider that any vapor barrier behind the cement board will have fastener penetrations compared to the continuous, uninterrupted barrier that a paint-on product provides.
Two commonly available paint-on membranes are; Redgard (Custom Building Products, Home Depot), HydroBarrier, and Hydro Ban (Laticrete). I used Hydro Barrier by Laticrete (highly recommended). Both products allow thin-set tile adhesives to be applied directly to the membrane once it has dried.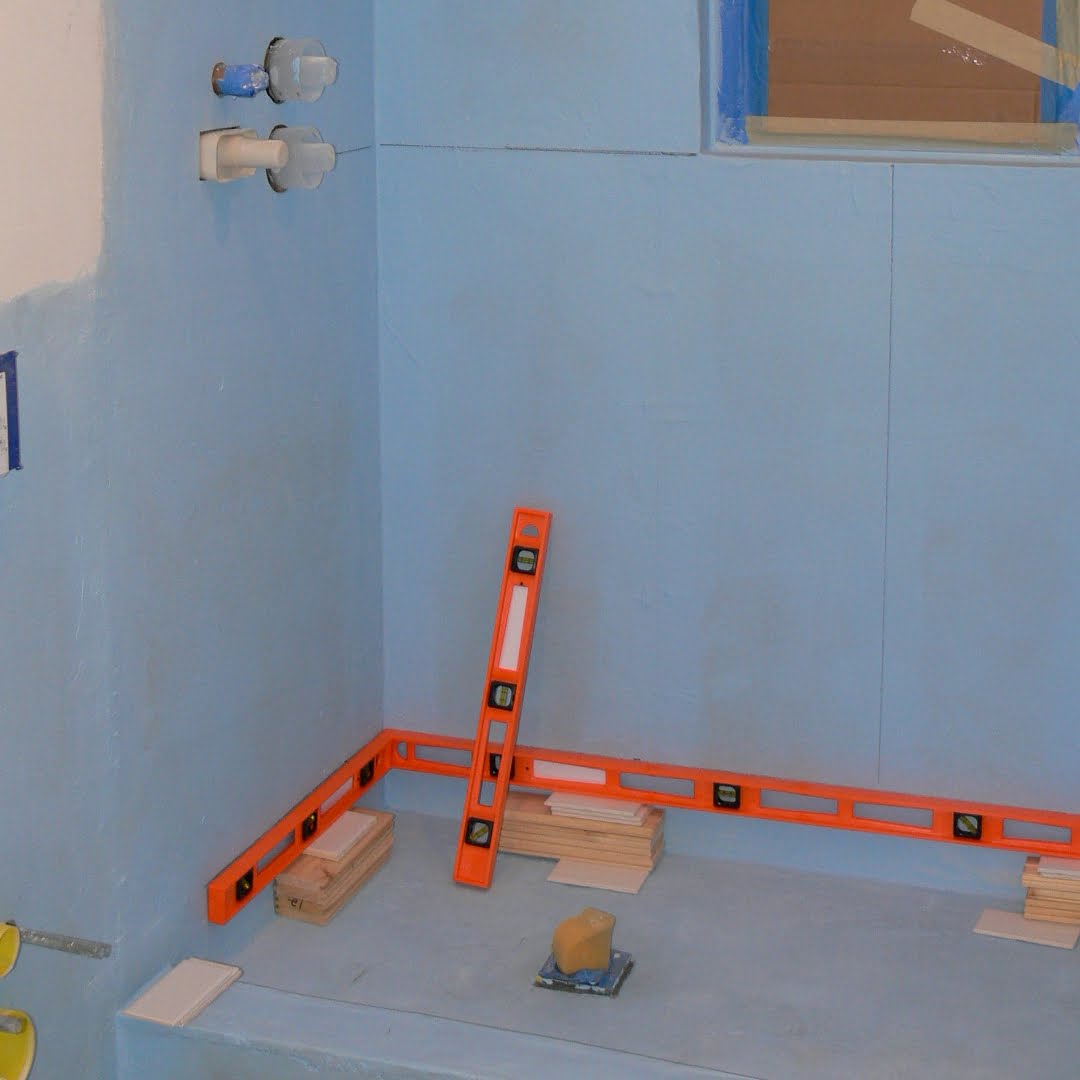 Once you have installed, taped and waterproofed your tile backer, it's' time to install your tile.
So What Is Tile And How Is it Installed?
Tiles are thin flat pieces of clay, stone, or other material used as a construction surface finish.
Tile is often used to finish floors, walls, showers, pools, patios, and counter-tops. Tile finishes are very durable and perform well in wet environments.
Tiles are installed side-by-side using mortar based adhesives called thin set. The gaps between the tiles are then filled with grout; a durable filler often mortar-based with or without sand.
The Layers Of A Tile Surface
Layer 1: Stable, smooth, tile backer surface (concrete, tile backer board, etc)
Layer 2: Tile adhesive (thin-set mortar, mastic)
Layer 3: Tile
Layer 4: Grout
Layer 5: Tile and Grout Sealant (optional)
How To Pick The Right Tiles For Your Shower
Tiles used in shower construction should generally be durable and have low water absorption characteristics.
Tiles are classified by the ISO (International Organization for Standardization) for 16 different standardized characteristics including water porosity or absorption.
Tiles with the lowest rates of water absorption (<0.5%) are classified as "impervious" and generally made of Porcelains. Porcelain are formed by heating ceramics to high temperatures to give glass-like characteristics (vitrification). Ceramic tiles can be heated to a range of vitrification points and are classified as:
Non-vitreous – water absorption of > 6.0% (ceramic)
Semi-vitreous – water absorption of > 3.0% but < 6.0% (ceramic)
Fully Vitrified – water absorption of > 0.5% but < 3.0% (ceramic)
Impervious – water absorption of < 0.5% (porcelain)
Impervious or Fully Vitrified tiles are often the best tiles for shower walls and floors, but many common ceramic tiles used in shower are rated non-vitreous. Non-vitrified ceramics or natural stone tiles can be used in showers, they just tend to be more difficult to keep clean and may be susceptible to mineral and other staining. If using these products it is important to seal, frequently clean and reseal these materials.
Understand that many tiles sold as shower tiles will absorb and pass water. Even the most impervious tile installations will have grout seams and grout seams are generally very water porous and tend to crack over time. It's OK if water moves through tiles and grout lines IF the underlying shower wall and pan construction are sound and water impenetrable. Obviously, lower porosity tiles and grout finishes reduce the water moving into the shower wall and can be important.
We have a walk-in shower we tiled with Carrara marble tile. We carefully sealed the tiles after installation, but they do hold water after use. Because we used a paint-on waterproofing membrane over our tile backer board that lives under the tile, it's probably fine long term. Will these tiles tend to stain and be more difficult to clean? Sure. The point is, if the underlying shower structure is well built with approved backer board and a water-proof surface membrane, more permeable tile is likely fine.
The same argument can be made for the shower floor tile. The tile surface of your shower pan (floor) is not totally waterproof. Water will move through the grout lines, the tile (depending on the tile) and any imperfections that develop over time. It is the job of the shower pan, with its' embedded waterproof liner, that is responsible for a leak-free shower floor.
So, bottom line, using less than impervious tile on shower walls and the floor will work if the underlying structure is properly built, but will require more work and maintenance.
Our main home is an example of this. We re-built our bathroom shower 4 years ago and used large Carrara marble tiles for the walls and a marble mosaic for the shower floor. Both are very porous and readily hold and pass water, but were installed over cement backer board that was completely sealed with a paint-on membrane and a mortar shower pan with an embedded shower liner.
Four years later, our marble-tiled shower still looks great. It takes a bit of work to maintain (we squeegee daily after each shower!), but it can work if done properly.
Shower Tile Size and Surface Characteristics
Tile size and surface finish of shower tile should be considerations as well.
Tile surfaces characteristics should match the function and location of the shower tile. Wall tiles with glossy, smooth and durable finishes are easy to clean and easily stand up to cleaning and scrubbing. Shower floor tiles with glossy, slippery surface finishes can be dangerous. Consider choosing a textured, less-slippery finish tile for the shower floor.
When choosing tile size for your shower, consider the desired finished look, grout lines and the flatness of the surfaces in your shower. Using larger tiles tends to give a more modern, sleek look and result in fewer grout seams to clean later. Smaller uniform tiles finish with many grout lines, but look classic and install better on slightly curved or irregular surfaces.
Shower floors (shower pans) are intentionally sloped and generally require smaller, mosaic-style tiles to accommodate the sloping curves of the shower pan.
Tile Layout Patterns and Tile Grout Lines
When planning your shower tile layout, consider the tile layout pattern design you would like. There are many different tile layout patterns which give different looks. Stacked, straight, brick patterns, classic subway (what we used), herringbone, french, vertical, and many others. Pick a pattern that matches the tile and the projects. For our cabin shower, a classic 50% brick (subway) layout with classic 3″ by 6″ subway tiles was perfect.
What is Thin-set Mortar and Which Thin-set Mortar Should I Use For Shower Tile
Thin-set mortar or thinset, is a Portland cement based mortar mix of fine sand, Portland cement, water and often additives to retain moisture during curing and to improve performance of the mortar.
The main two categories of thin-set mortar are generally those fortified with polymers (like latex) often called "Modified or Fortified" and those that are not fortified known as "Unmodified", "Dry-set" or "Unfortified" mortar.
Polymer fortified thin-set mortars add latex or similar polymer compounds to improve tile adhesion and bond-strength (depending on the surfaces), water resistance, tolerance to freeze-thaw cycles, prolonged application and working times and improved flexibility and durability.
Historically, un-modified mortar was used when tiling over concrete, cement board and dry-wall and modified mortar was used to install tile over challenging surfaces or those requiring improved initial bond (like wood, old tiles, ceilings, etc). Today, many tile manufacturers specify the type of thin-set mortar to use for a specific tile. It is important to use the proper thin-set mortar for the type of tile and conditions of the specific install, so carefully check the recommendations for the tile you plan to use and the recommendations of the specific mortar.
That said, I almost always use a modified thin-set mortar for my tile installs. Modified mortars are a bit more expensive, but for the smaller projects I tend to use if for, the extra cost is more than worth it.
Which Notched Trowel Size Is Correct for The Tile I Plan To Use
The proper notched trowel size is determined by the size of the tile you plan to install and the type of surface it will be installed on.
The goal is to provide just the right amount of thin-set mortar to properly set the tiles – enough to cover most or all of the backside surface of the tile, but not too much that the mortar bleeds out through the tile grout seams leaving insufficient space to apply grout.
The ANSI (American National Standards Institute) guidelines for tile mortar require 80% mortar coverage for all installations except for wet or exterior installations which require 95% coverage. Read the guidelines for tile mortar coverage and notched tile size here.
The following table will, in general, provide sufficient thin-set mortar coverage when installing standard tile to a relatively smooth surface (like backer board):
1/4″ x 1/4″ V-Notched
| | |
| --- | --- |
| 2″ – 4″ wall tile | 3/16″ x 1/4″ V-Notched |
| 4″ – 6″ tile | 1/4″ x 1/4″ U or Square Notched |
| 6″ – 8″ tile | 1/4″ x 3/8″ U or Square Notched |
| 8″ – 12″ tile | 1/4″ x 3/8″ U or Square Notched |
| 12″ – 24″ tile |  1/2″ x 1/2″ U or Square Notched |
If you are unsure if the trowel you are using is the correct size, try installing a few tiles. The tiles should settle into the thin-set with good adhesion. If thin-set is oozing out of the grout spaces above the level of the tile surface, then there is too much thin-set and the notched trowel size is too large. If you remove the trial tiles, you should see near complete coverage of the back of the tile surface, if there is insufficient mortar on the back of the tiles, the notched trowel size you are using is too small.
OVERVIEW | Tile a Shower
SUPPLIES LIST | Tile a Shower
Ceramic Subway Tile 3" x 6"

Daltile Restore Bright White 3 in. x 6 in. Ceramic Subway
White 1" Hex Marble Mosaic Tile

Jeffrey Court Statuario Hex White 12 in. x 12 in. x 8 mm Marble Mosaic Wall Tile
TOOLS LIST | Tile a Shower
STEPS | Tile a Shower
IMAGE GALLERY | Tile a Shower
Tile Installation