When remodeling our cabin, we wanted to install hardwood flooring. We were excited to rip out the old, dirty carpet and replace it with a rustic, dark, wide plank hardwood flooring. We did, and the results were fantastic. Adding hardwood floors to our cabin was one of the best remodeling decisions we've made. This is what we did.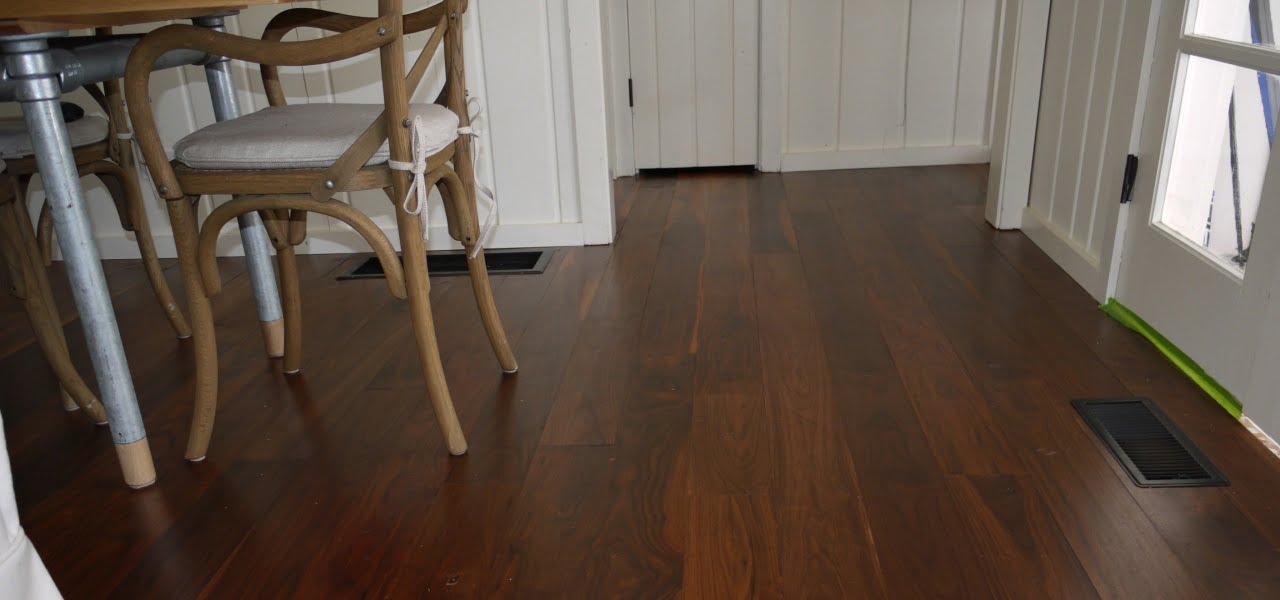 Hardwood flooring install
How to Install Wood Flooring Yourself
If you are thinking of hardwood flooring, as Nike says, just do it. Harwood flooring adds character, appeal and function to your living spaces. It can add value. Hardwood is also a very durable flooring, typically outliving carpeting and most other flooring surfaces.
Once you decide to install hardwood flooring, you will need to make many decisions regarding the product you choose and how you will install and finish it. Some of these decisions will be aesthetic only, but some will influence the durability and performance of your floor and will require some consideration.
Like any project, if you do a bit of research, take your time and use the proper tools you can do it yourself. Read on for an outline and step-by-step discussion on how to install hardwood flooring yourself. Enjoy!
The main decisions you will face when installing a hardwood floor:
Solid hardwood flooring vs engineered hardwood flooring
Factory prefinished vs site finished
Wood species
Wood grade & cut & board width
Install technique – nail, staple, glue, floating
Finish type and sheen level
1. Solid vs. Engineered Hardwood Flooring
Traditional hardwood flooring is cut directly from logs, producing solid boards, appropriately known as "solid" wood flooring.
Newer techniques combine a solid top layer of wood to a base layer creating a composite flooring board known as "engineered" wood flooring.
Both types of hardwood flooring have advantages and disadvantages.
One advantage of solid hardwood flooring is that it is typically thicker and has a thicker wear layer compared to engineered hardwood flooring. Most solid wood flooring is 3/4″ thick compared to 1/2″ or 5/8″ for engineered wood flooring. With a thicker wear layer, solid hardwood flooring typically allows for more refinishing opportunities and potentially a longer life.
Engineered hardwood flooring has the big advantage of improved dimensional stability. Combining a top hardwood layer to a separate base layer (often high quality plywood), greatly improves the dimensional stability of the flooring.
These engineered products provide the look and feel of solid wood flooring, but expand and contract less when installed in temperature or humidity dynamic environments. Improved dimensional stability makes engineered flooring more suitable in challenging installations like basements, lake homes, entryways, over radiant heating and other environments typically not suited to solid hardwood flooring.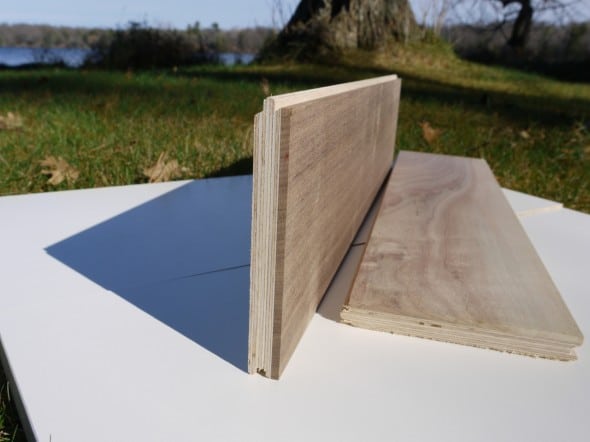 No matter what type of flooring product you decide to use, buy the highest quality product you can afford. Quality wood floors will outlive the installer. Do it right and use the best products you can.
If you decide to find and order you flooring online (like I did) use care to find and use a reputable seller. Do a bit of looking around to search for customer complaints and use resources like the Better Business Bureau's website (bbb.org) to research before you buy.
I did buy my hardwood flooring online and found a company I would highly recommend; Hurst Hardwoods.
Hurst sells a large variety of unfinished, pre-finished solid and engineered hardwood flooring and trim. I used them for this project and would not hesitate to use them again and I could not be happier with their products or service.
They are a family run business and act the part. When I ordered from Hurst, I got an order confirmation from the owner, Craig Hurst himself. They also have an A+ rating from the Better Business Bureau. If you are considering ordering wood flooring online, I highly recommend you consider them.
Hurst Hardwoods, LLC
1-888-704-8778
105 Douglas Rd. E.
Oldsmar, FL 34677

2. Factory Prefinished Wood Flooring vs. Unfinished Wood Flooring
Traditional hardwood flooring is installed unfinished, sanded flat and finished on-site. The downside of traditional hardwood installations is the added time required to sand and finish the floor once installed.
Today, most wood floor installations bypass this timely, traditional method of on-site sanding and finishing and instead install prefinished hardwood flooring products.
Both techniques have advantages and disadvantages. The main, obvious advantage of installing prefinished flooring is the time savings. If you are a builder, the time advantage is important.
On the other hand, if you are a homeowner, understand that prefinished flooring is, in some ways, shortcut product. Similar to prefinished trim and other off the shelf building products, prefinished, ready-to-install products are designed for builders. They save time and money but at the cost of old fashioned craftsmanship.
Floors sanded flat and finished on site represent craftsmanship. It takes time, effort and attention to detail to hand finish flooring. It takes time. But, the reward is a custom product that is crafted for your home. The floors will be flat and not simply follow the contour of the subflooring. Site finished floors will be sealed with one continuous layer of finish, without cracks and grooves that trap debris and grim.
Here is a brief comparison of prefinished vs. site finished hardwood flooring:
Prefinished hardwood flooring – prefinished flooring offers the advantages of a factory applied finish:
Speed – there is no on site sanding, sealing and finishing when installing prefinished flooring – install the flooring and you are done! Not only does traditional site sanding and finishing take days to weeks to complete, most site applied finishes need additional days or weeks to completely cure.
Finish quality – factory finishes are typically very high quality and applied in ideal conditions. Most finishes offer 25, 50 or lifetime finish warranties.
Lower cost – although more expensive at the time of purchase, prefinished flooring installs save time and money compared to traditional on site floor finishing.
Unfinished hardwood flooring – unfinished traditional wood flooring offers the advantages of customized onsite sanding and finishing after installation:
Smooth, flat, sealed floor with no grooves – prefinished floors have slightly beveled edges to ease transitions between boards. These bevels produce visible grooves between boards after installation giving a tell-tale "prefinished flooring" look that is somewhat off the shelf feeling. Grooves also tend to trap dirt and debris. Site sanded and finished floors are flat and sealed providing a continuous whole floor seal and finish.
Finish variety – although prefinished flooring typically offers a wide variety of factory finishes, finishing on site offers more options. White and color washes, oils, wax, and many other options are available when finishing on site.
Matching of existing wood flooring – most original wood flooring in homes was install unfinished and unfinished flooring will typically match better for repair or expansion work.
Lower cost for DIYers – unfinished flooring material will be initially cheaper to purchase and if you choose to finish it yourself you may save money overall.
3. Wood Species
Choosing a wood species for your flooring provides opportunities to make aesthetic as well as functional choices. Different wood species not only look different, but many have unique structural properties that can affect the performance of your flooring.
Wood density or hardness differs among wood species. Harder floors tend to be more durable. A measure of wood hardness is the Janka hardness test, a standard test which determines the amount of force required to embed a steel ball halfway into the surface of a wood. Differences in wood hardness may correlate with the suitability of a particular wood species for a particular use, harder woods (higher Janka scores) tends to be more durable and more resistant to dents and scratches.
Janka Hardness of Some Common Woods
| | | |
| --- | --- | --- |
|  Wood | Janka (Pound-force) | |
|  Ipe (Brazilian Walnut) | 3684 | |
|  Ebony | 3220 | |
|  Mesquite | 2345 | |
| Hickory | 1820 | |
|  Maple (hard) | 1450 | |
| White Oak |  1360 | |
|  Ash | 1320 | |
| Beech | 1300 | |
| Red Oak | 1290 | |
| Black Walnut | 1010 | |
| Teak | 1000 | |
| Birch | 910 | |
| Cedar | 900 | |
| Sycamore | 770 | |
| Yellow Pine | 660 | |
| Douglas Fir | 620 | |
| White Pine | 420 | |
Rain forest exotic species such as Ipe, tend to be much harder than domestic woods. Of the domestic woods, Mesquite and Hickory are 4 – 6 times harder than soft pines and firs. Traditionally, Red Oak has been used as a standard for wood floor hardness.
4. Wood Flooring Wood Grade, Saw Angle & Flooring Width
Wood Flooring Wood Grade
Wood grade is a measure of the quality and uniformity of a piece of wood. Imperfections like knots, worm holes, mineral streaks and ratios of hardwood to sapwood determine grade. Typically all grades of wood flooring should be considered serviceable, higher grades of wood provide a more refined, uniform appearance while lower grades of wood will have much more variation in color and contain increasing amounts of wood imperfections.
Higher grades of wood are more expensive and typically provide a more formal look. Lower grades of flooring have much more character and typically have a more rustic, dynamic feel.
Here are some commonly used Wood Grades and their characteristics
| | | | |
| --- | --- | --- | --- |
|  Grade | Characteristics  | Cost  | |
|  Clear |  uniform appearance, few if any knots or character inclusions | $$$$ | |
|  Select or Better |  characteristic color for species, sound knots, small streaks | $$$ | |
|  #1 Common | light and dark wood of species, knots, streaks, small holes | $$ | |
|  #2 Common |  more wood color variation, larger knots, streaks, worm holes |  $ | |
| Character, Utility, Cabin, Natural | varied, rustic, wide color variation, large knots, streaks, holes, character marks |  $ | |
Wood Flooring Saw (Grain) Angle
Saw angle refers to the alignment of a mill saw to a log. Boards cut at an angle or perpendicular to annular rings are called quartersawn or riftsawn boards. These boards have tight, straight grain patterns parallel to the long axis of the board resulting from saw angles of 30 degrees to 90 degrees. These tight grain boards are less prone to warping and twisting and have more deminsional stability compared to standard cut lumber. But, because quarter-sawn or rift-sawn boards are more difficult to cut and create more waste, they are more expensive to mill.
Traditionally milled boards are cut flat (flatsawn or planesawn) top to bottom across a log resulting in boards with typically flat, variable surface wood grains with broad, curving (cathedral) grain patterns. Plane-sawn boards are more prone to warping, twisting and have less dimensional stability, but produce less waste and are cheaper to produce. Most wood is milled in this flat-sawn manner.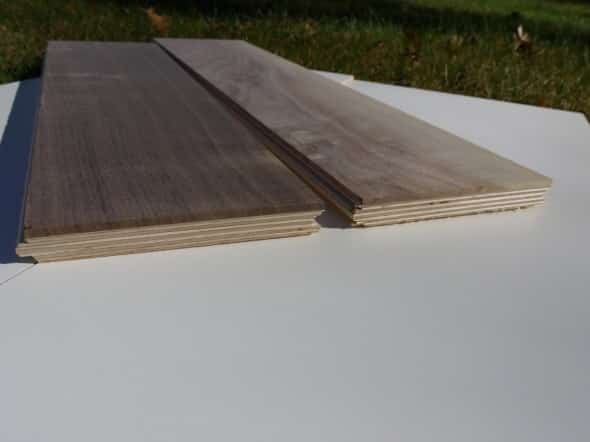 | | | | |
| --- | --- | --- | --- |
|  Grain Angle | Characteristics  | Cost  | |
|  Rift-sawn | most dimensionally stable, straight grain pattern (cut angle of 30° – 60°) | $$$$ | |
| Quarter-sawn |  dimensionally stable, characteristic flecks in oak (cut angle of 60° – 90°) |  $$$ | |
| Flat-sawn (Plane-sawn) | varied grain pattern, most sensitive to moisture changes (flat, variable cut angle) | $ | |
Wood Flooring Board Width
When choosing your hardwood flooring, consider how the board width (and length) of your flooring will affect the look and feel of the finished floor. Traditional hardwood floors were constructed from narrow (2 1/2″ -3 1/2″) boards, and many older home floors were built with narrow boards. Wider plank flooring, boards 4″ to 10″ inches wide, and gained popularity recently and typically provides a more contemporary, country feel.
The board width of your flooring will influence the finished look and feel of the floor. Floors built with wider planks tend to provide a more rustic, country feel, while narrowing boards gives a more traditional, formal feel.
In addition to feel, flooring board width will determine the number of seems in your finished floor. Floors constructed from wider and longer flooring boards will have fewer seams and a more uniform appearance compared to floor built from narrower, shorter boards.
The grade of the wood used for flooring will also influence the finished appearance of a wood floor. Higher grade flooring, with more uniform appearance, will provide a more formal or modern look. Lower grade flooring with more color variation and natural imperfections tends to look more rustic and less formal.
No matter what width of flooring boards you choose, in general, wider flooring boards should be longer in length, while narrows boards can be shorter in length. Manufacturers will often supply longer flooring board lengths for an additional cost.
5. Install Technique (Fastener Style)
Depending on the surface you will be installing your hardwood to, you may have several choices regarding how you install your flooring. Most hardwood floors, both engineered and solid are installed with nails (cleats) or flooring staples. You may also have the option to glue or float your flooring.
No matter what type of fastener system you use, you will need a flat, solid, clean, appropriate surface to attach your hardwood flooring to. For staples or nails, this typically means at least 5/8″ plywood or 23/32″ OSB subflooring. Thicker subflooring is better and remember plywood will hold fasteners better than OSB. Particle board is not acceptable as a subfloor for installation of hardwood using penetrating fasteners due to lack of fastener hold.
If you have a concrete slab and plan to install hardwood flooring over the slab you will have the option of glue-down or floating flooring if laying the flooring directly on the concrete slab. Slab subfloors must be cured (typically 60 days or more) and have minimum moisture content and / or a moisture barrier placed depending on the product you are using. You may also glue down a plywood sub-layer on top of the slab and then use penetrating fasteners to install your flooring on top of this sub-layer.
In general using staples or nails is easier than using adhesives – this is especially true for do-it-yourselfers. Adhesives tend to be messy, difficult to clean up and harder to achieve acceptable results. If you need to glue down your floor, consider contacting a flooring professional for help. In addition, flooring adhesives are expensive. Expect to spend $.50 – $.75 or moer per square foot of flooring for high quality flooring adhesives.
6. Wood Flooring Finish
No matter the type or style of your wood flooring, you will typically have options regarding the finish applied to your floor.
Factory prefinished flooring will likely offer the fewest finish options, but most manufacturers will have several levels of finish luster or sheen to choose from.
Site finished wood flooring installs will offer the most finish options. You will have a virtually unlimited variety of finish types and sheen to choose from.
That said, most floors are finished with oil-based polyurethanes or water-based polyurethanes. Urethane finishes are by far the most common wood flooring finishes and provide a durable, low-maintenance finish. Oil based urethanes have slightly different characteristics compared to water-based urethanes as highlighted here:
| | | |
| --- | --- | --- |
| | Oil Polyurethane | Water Polyurethane |
| durability |  ++++ | +++ |
|  finish color | amber with age | clear |
| drying time |  8 – 24 hrs | 4 – 8 hrs |
|  VOC / Odor | +++ | + |
|  application | china bristle, lamb's wool | painting pad, synthetic wool |
|  cost | $25 – $50 / gal (500 sq ft) | $40 – $50 / gal (500 sq ft) |
| application |  easy, forgiving | dries quick, less forgiving |
In addition to polyurethane floor finishes there are several other finishes you can use on your floor. Several of the more esoteric finishes (acid-cured Swedish, moisture-cured urethane) typically require professional application. Shellac floor finishes were once very popular, but do not have the durability or performance of modern polyurethanes. Penetrating oils and waxes can be used and provide a very warm, soft, matte finish, but lack durability and must be re-applied every few years.
Finally, when deciding on a finish, you will need to pick a sheen level of the finish. Sheen is the level of light reflection from the finish measured at 60 degrees and graded on a luster index from 0% to 100% luster. Commonly available finishes are typically available in Matte (less than 25% luster), satin (~ 30 – 40% luster), semi-gloss (~ 60% luster) and gloss (more than 70% luster).
Higher luster (gloss and semi-gloss) finishes tend to look more formal and traditional. Lower luster finishes are more popular today and tend to give a softer, more natural look to the floor. A few comparisons for high vs. low luster floor finishes:
| | | |
| --- | --- | --- |
| | High Luster Floor Finish | Low Luster Floor Finish |
|  appearance | Formal, traditional, high-end | natural, warm, modern, rustic |
|  maintenance |  shows dust, scratches, imperfections | hides dust, scratches, wear |
|  surface | hard, smooth, can be slippery | softer, quiet, more grip |
To finish our floors we choose a matte finish oil polyurethane (DuraSeal brand) for our floors. They turned out perfect! We love the matte finish and soft, warm feel of the finish that perfectly compliments the natural wide-plank walnut flooring. The finished flooring almost feels like it doesn't have a finish on it – just the beauty of the wood.
Before You Start Your Wood Floor Installation
Once you have decided on installing hardwood flooring and walked through the multiple options for your flooring, you should consider best practices and have the following in place prior to beginning:
A sound, flat, suitable subfloor to attach your hardwood flooring to. For additional details: National Wood Flooring Association Wood Flooring Installation Guidelines and Methods – revised 05-2012
Wood flooring acclimated to the installation site prior to installing. This typically means allowing the wood flooring product to acclimate to the install site for at least 3 – 5 days. Acclimation and flooring installation should occur after most other finishes (dry wall, painting, etc.) are complete and the building has a functional HVAC system which has been in operation for 5 days or more prior to the acclimation process. The goal is to install a stable product that has acclimated to a stable, low humidity environment.
Wood FLooring Follow up Images of Our Floors Years After Use
Here is a view of what our floors look like today after use for 7 plus years.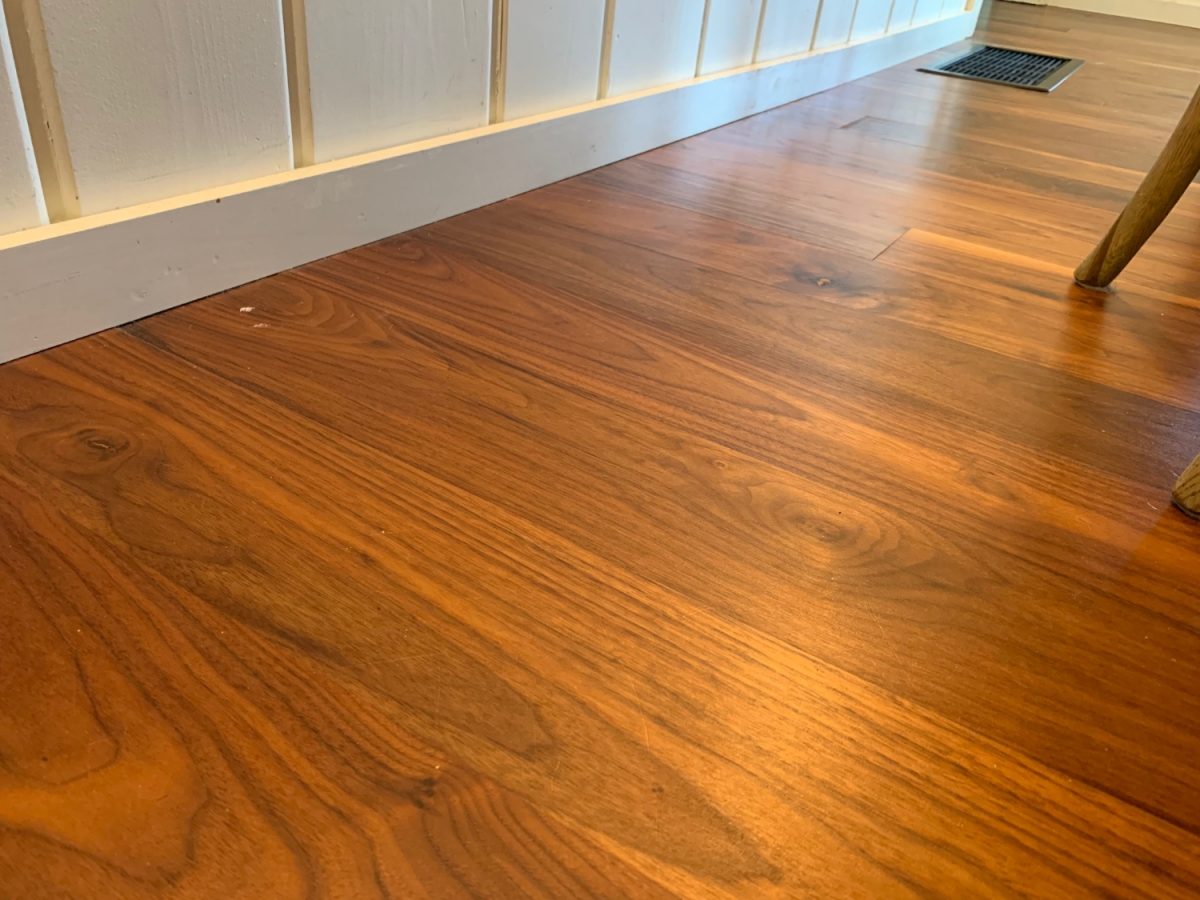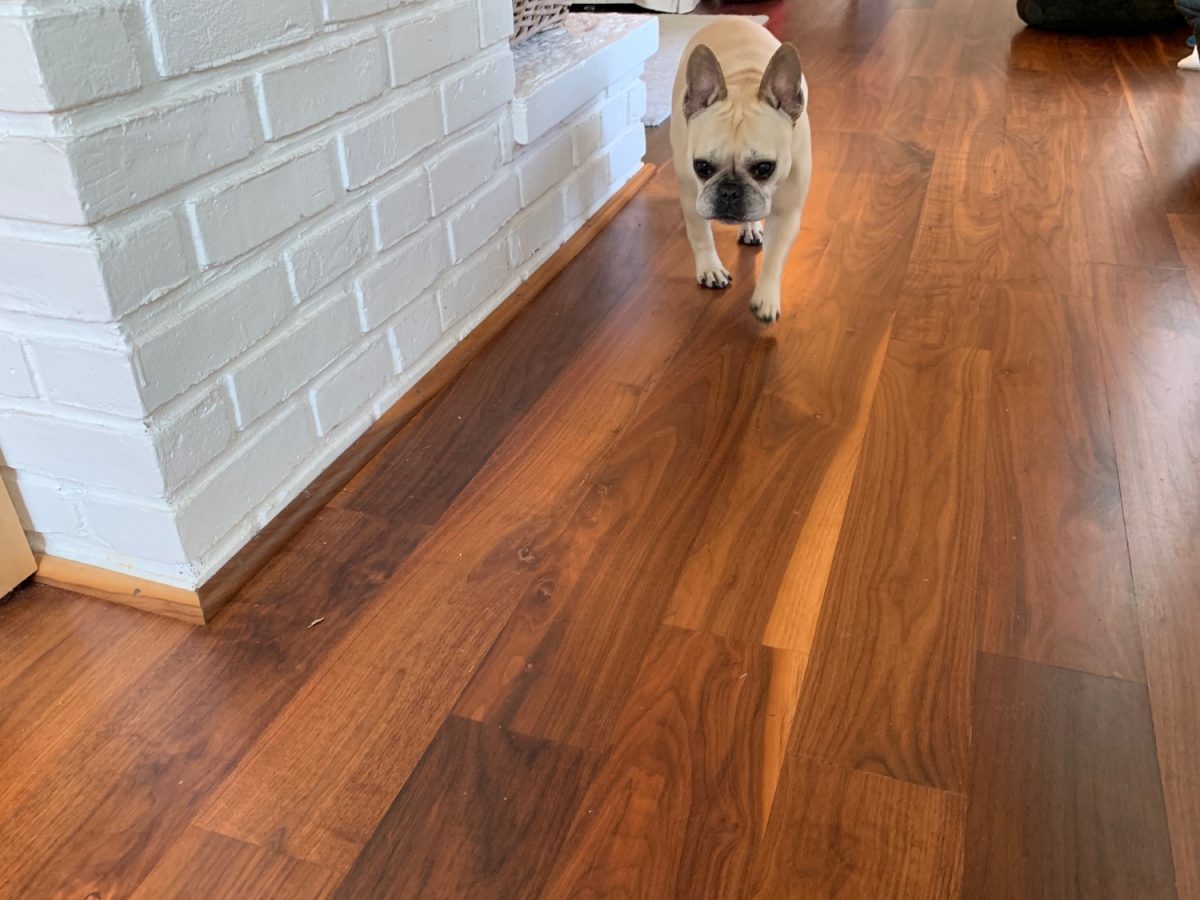 SUPPLIES LIST | Install Wood Flooring
TOOLS LIST | Install Wood Flooring
STEPS | Install Wood Flooring
IMAGE GALLERY | Install Wood Flooring
FOLLOW UP | Install Wood Flooring