A big priority for our cabin bathroom renovation was a spacious walk-in shower. Removing the old bathtub along the outside wall of the bathroom would give us plenty of room for a new shower and would create openness in our new bathroom.
This article is the first of a series of three articles walking through our complete shower build. This article starts at the beginning with demolition, shower framing and rough-in plumbing for the new shower.
Article two covers the process of building the concrete shower pan and the final article walks through shower floor and wall tile selection and install.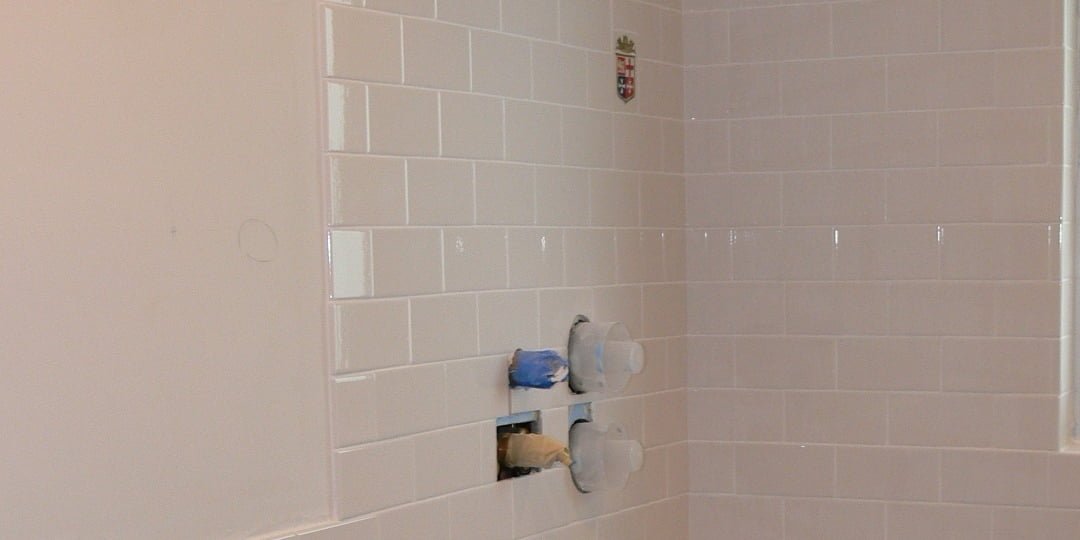 How to build a shower yourself. A complete how-to from framing to tiling.
How To Build a Walk In Shower
Plan your shower location. Assuming a complete renovation and new shower build, remove old tile, wall sheathing, ceiling sheathing, and flooring.  The goal is to have structurally-sound wall, ceiling and subflooring prior to beginning the shower build.
Eventually the shower walls and ceiling will be sheathed with tile backer board and the floor sheathed with at least 3/4″ plywood subflooring (some would say two layers of plywood) to provide a stable base for the shower tile and concrete shower pan floor.
Although all projects may not need an entire demo of the planned shower space, opening the walls, ceilings and floors will allow you to inspect, replace and reinforce any questionable framing and sheathing components. Showers and bathrooms are wet locations and tend to have rotten framing and sheathing.
In addition, older building techniques, especially with tile, tended to be not very durable – like tile over gypsum/paper wallboard. Use the demo opportunity replace, reinforce and upgrade the walls, ceiling and subfloor as you can.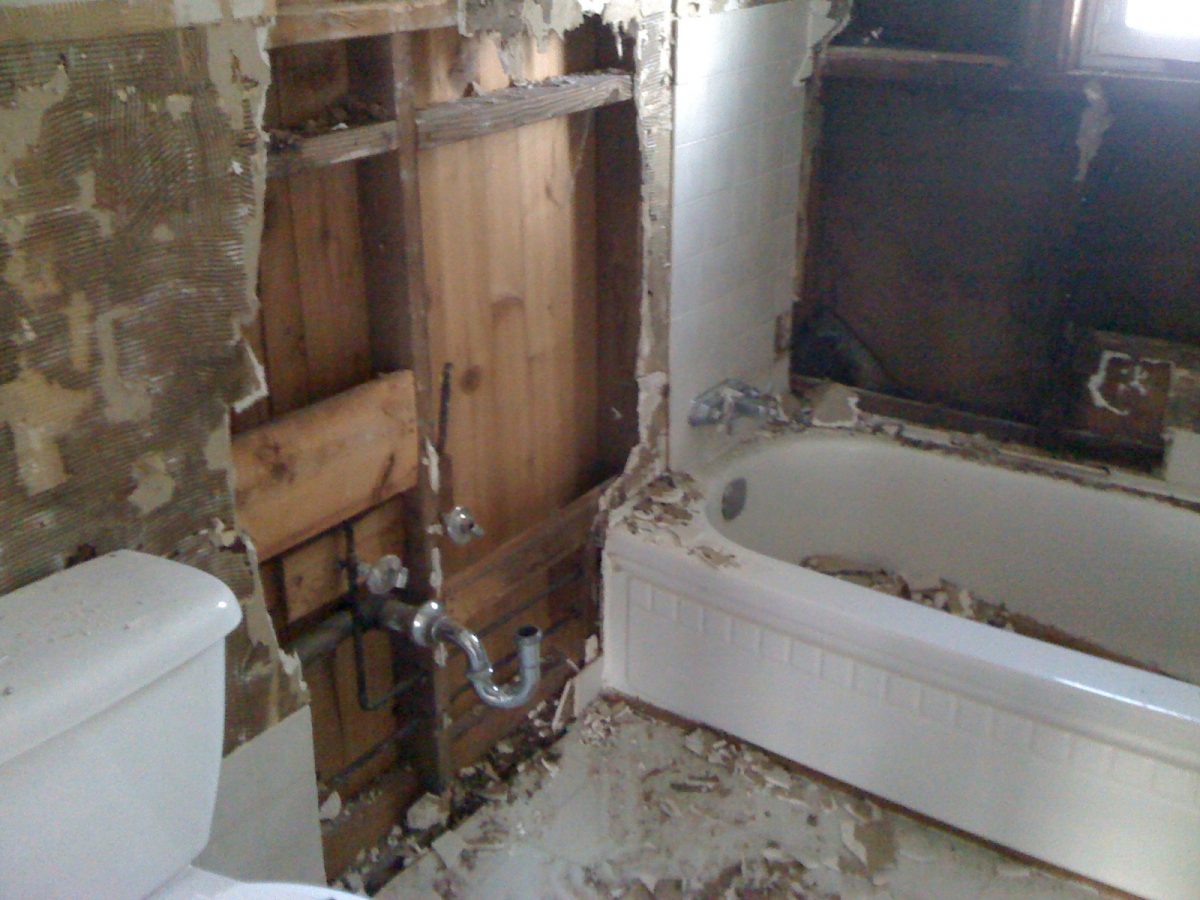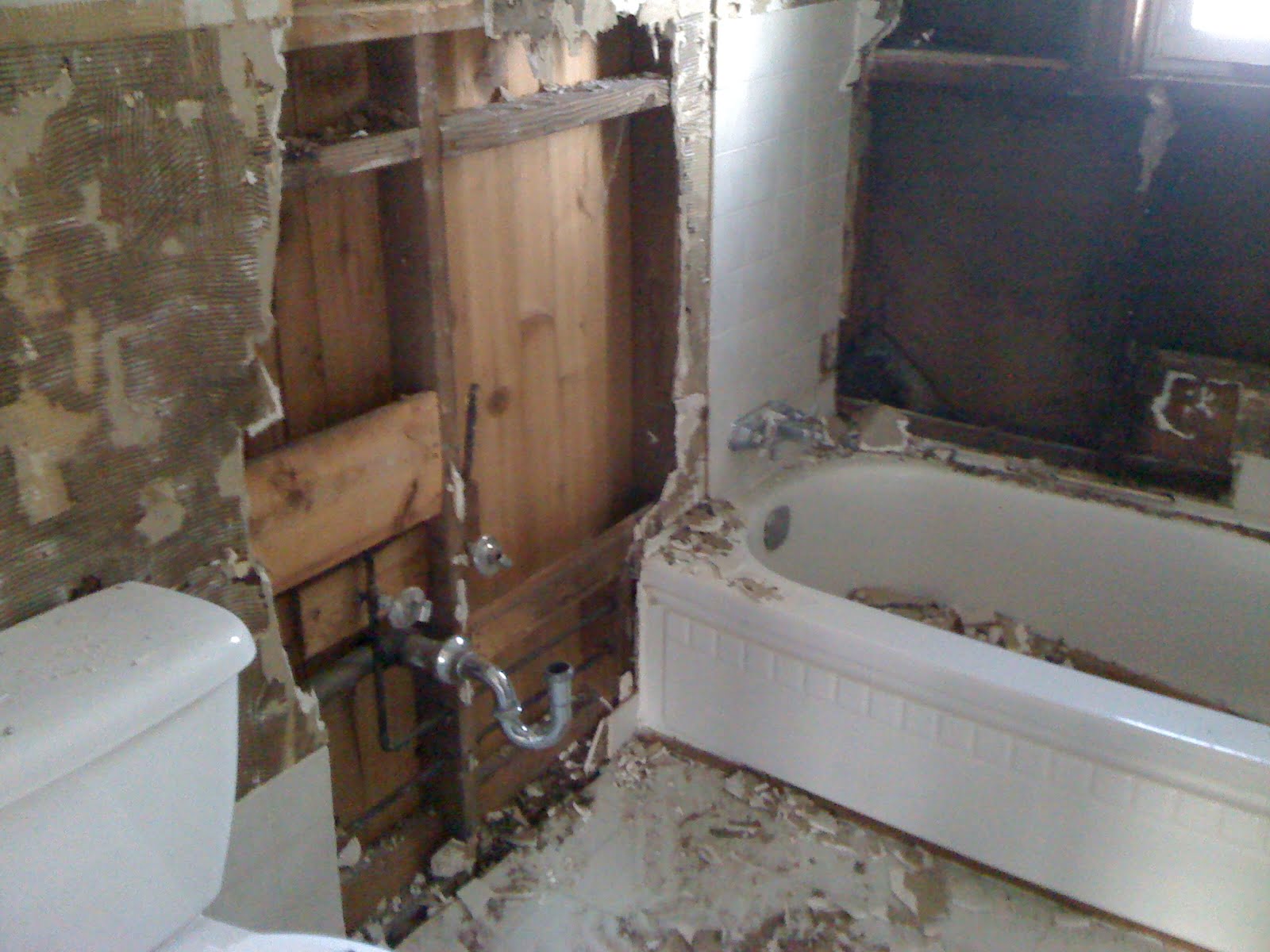 Begin Your Walk-in Shower with Adequate Wall, Ceiling and Floor Framing
Walk-in tile showers are heavy. Before building your new shower make sure your have adequate subfloor, wall and ceiling framing suitable for the demands of a several thousand pound shower. If you are building from scratch or renovating with a contractor, make sure they know your plans for a walk-in shower (and likely a tile floor to go with it) and its planned location before you build. If you are building the shower yourself, take the time to reinforce wall and ceiling framing and subfloor framing and sheathing.
Durable tile installations require flat, stable subflooring able to withstand the weight of tile backer board, mortar and tile. Tile finishes, especially on floors, require relatively stiff, flat surfaces that resist deflection with load. Specific recommendations are available from the Ceramic Tile Institute of America. In general, most tile floors will require subfloor deflection of less than 1″ in a 360″ (30 ft) span (L/360). The requirements for natural stone tile are greater.
Bottom line is showers are heavy and require proper framing. If you are at all unsure if your planned shower makes sense in your home, consult a structural engineer before proceeding.
Tile And Heavy Shower Pans Like Rigid Subfloors
When planning your shower build, give extra consideration to subfloor under your planned shower and bathroom floor. Subfloor framing and sheathing is very important for showers and tile.
Subfloors that flex too much can crack tile and cause the tile to release from their thin set adhesive beds. The perfect foundation for floor tile is one that is very flat and very stiff — older style 2″ mortar beds are perfect, but are labor intensive and very heavy.
Existing wood subfloors tend to flex and often require reinforcement prior to laying tile or building a shower. Ideally, wood subflooring for tile floors should have at least two layers of exterior grade plywood (3/4″ is best) oriented at right angles to the floor joists. Floor joist improvements can also help provide a more stable foundation for floor tile.
For this project, I planned to install tile on the bathroom floor in addition to building a new shower and therefore used two layers of 3/4″ plywood.
Although not under as much stress as floor tile, wall mounted tiles are also susceptible to excess movement. Walls with excess flex can lead to tile breakage and release, grout disruption, and damage to the waterproofing (especially if paint-on variety). If accessible, wall studs can be reinforced with bracing and metal plates prior to tile backer board installation. If your shower plan necessitates horizontal seams in the tile backer board installation, you may consider installing horizontal blocking between studs to support these seams, especially if using heavy tile.
Here is a brief summary of things that can be done to improve structural elements before tiling bathroom showers, floors and walls:
For walls:
Replace damaged or rotting wall studs / framing
Reinforce wall framing with angled metal plates (Simpson Strong-Tie Gusset Angle, etc.)
Add horizontal blocking between wall studs to improve strength
Add blocking to support tile backer board horizontal joints
For floors:
Replace damaged or rotting joists / framing
Reinforce floor joists by sistering joists (doubling joist, adding plywood sisters)
Reinforce floor joists by adding support under joists (jacks, beams)
Add blocking between joists
Reinforce floor sheathing (increase thickness, add second layer)
Rough-In Supply Plumbing And Drain Plumbing
Once you are satisfied with the structural components for your shower build, begin working on the shower plumbing. Your shower requires both hot and cold supply plumbing and drain plumbing.
Supply plumbing requirements depend on the type and number of fixtures you plan to include in your new shower and the specifics of the mixing valve you plan to use. Typical showers operate satisfactorily with 1/2″ supply lines.
Showers with high flow shower heads or using multiple shower heads may require 3/4″ or great diameter supply lines. Consult the installation documents for the shower mixing valve and fixtures you plan to use.
Drain plumbing may already in place prior to your shower build. Often, existing plumbing is inadequate and may benefit from revision. Newer plumbing code requires a 2″ diameter drain pipe, and many older shower and tub drains are only 1 1/2″ diameter.
All drains require a trap to prevent the flow of sewer gas into living spaces. If you are revising your drain plumbing, you may need to incorporate a clean-out fitting into the drain plumbing branch if not already in place.
Here is a summary of the supply and drain plumbing to install:
shower drain plumbing
hot and cold supply plumbing
the shower mixing valve
shower head 90 degree drop ear elbow
Each shower plumbing plan will be unique based on the existing plumbing. Getting the shower plumbing right and leak-free is obviously very important. Don't hesitate to get professional plumbing help as needed for your install.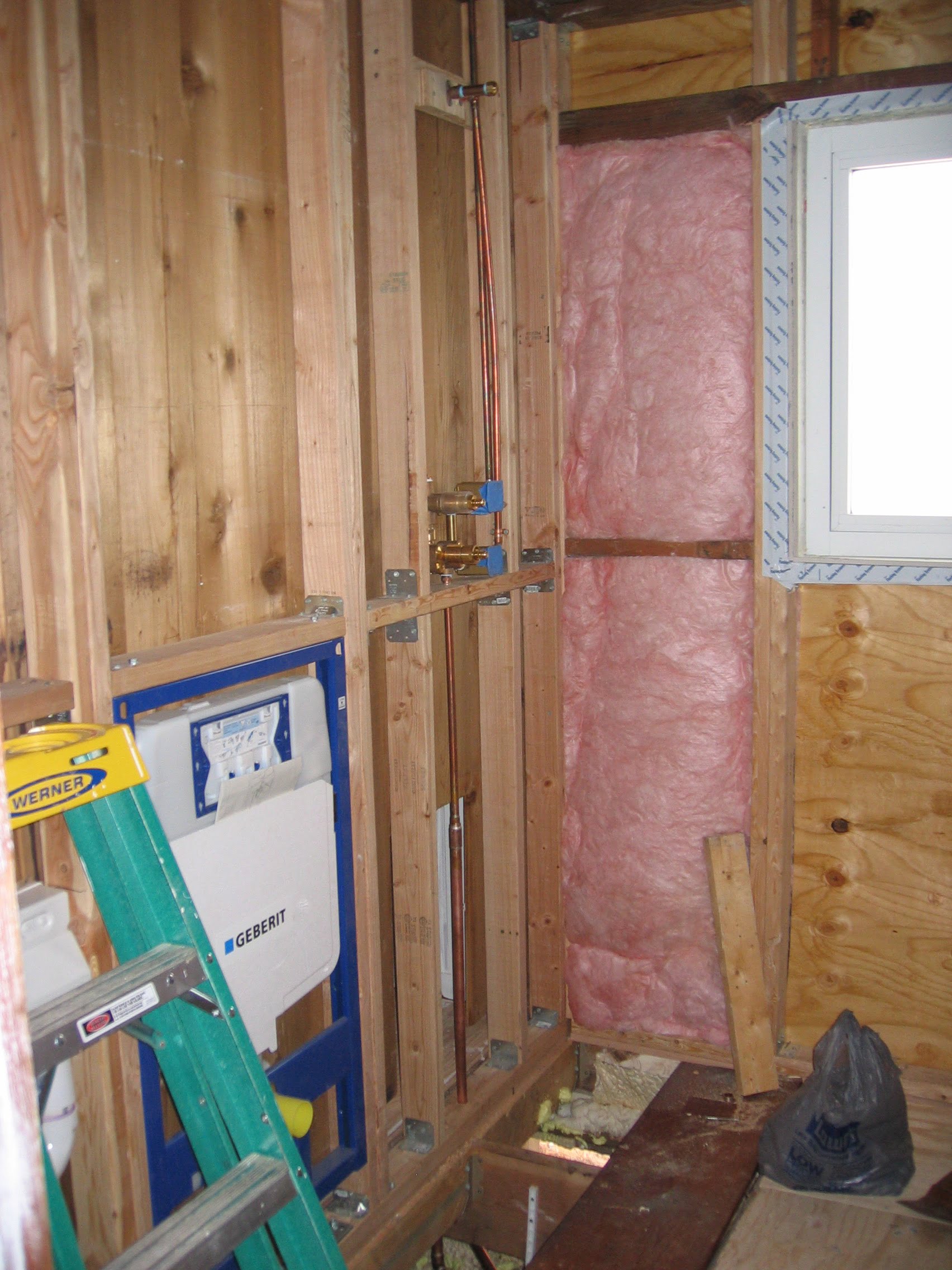 A Strong Frame And Solid Plumbing Provides The Foundation For Your New Shower
Building a beautiful walk-in shower takes time and effort. The first steps of framing the space and plumbing the shower provide the foundation for a highly functional, durable shower and are important. Invest some time in getting these steps right, and you will enjoy your shower for many years. To follow, I outline the steps I used to frame and plumb for our new walk-in shower build at the cabin. Additional to-follow articles outline the shower pan build and finish tiling of the shower. Enjoy!
Additional Shower Framing and Plumbing Information
OVERVIEW | How to Build a Shower - Framing and Plumbing
SUPPLIES LIST | How to Build a Shower - Framing and Plumbing
TOOLS LIST | How to Build a Shower - Framing and Plumbing
STEPS | How to Build a Shower - Framing and Plumbing
IMAGE GALLERY | How to Build a Shower - Framing and Plumbing