44 comments
How to Paint Wood Paneling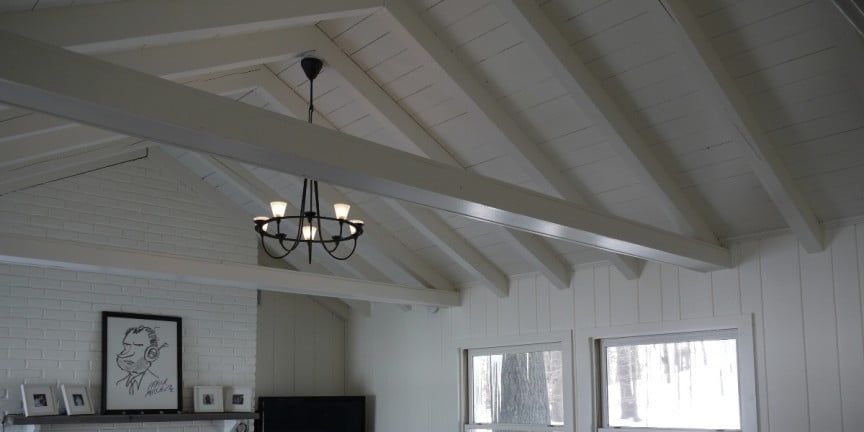 How to Paint Paneling
We knew when we bought our cabin that the dark wood paneling was not for us – the interior walls were finished in vertical cedar paneling that had become fairly dark and a bit grimy over the years – not what we were looking for.
While painting wood paneling is not for everyone, many may prefer the look and feel of traditional vertical knotty pine or cedar wood paneling, but we were looking for something different.
We hoped to create a light, bright interior that was more cottage than cabin. Think East Coast cottage instead of the traditional Midwest hunting shack. To achieve this and keep a nice balance of a warm white, we used was a terrific off white that my wife found, White Chocolate from Benjamin Moore.
So how exactly did we do it? Easy… we used an acrylic (latex) finish coat on top of two coats of shellac (alcohol-based) primer and finished the trim and beams were finished with waterborne alkyd (oil) over the same shellac primer. Read on for a step by step, illustrated, how-to on painting wood paneling and see just how we did it.
Here are a few images of our cabin's interior before and after we painted over the wood paneling:
How to Paint Paneling – Overview
Preparation and Materials
Project Overview
Level: Easy
Time: Days
Cost: $200 – $500+
Project Big Picture
Prep wall.
Prime paneling.
Finish coat paneling.
Paint Paneling – Materials and Cost
Item
What I used
B-I-N Zinsser
Shellac primer 
(the best primer for old
varnished wood paneling)
Benjamin Moore Regal Eggshell
OC-127 White Chocolate
Alkyd Trim Paint
Nylon/Poly Paint Brushes
Mini 6.5″ Roller
Paint Pail / Tray
Paint Tray Liners
Paint Paneling – Tools / Supplies
Item
What I used
Scaffold Tower
Backpack Vacuum
(the best vacuum!)
Wool Duster
(the best duster for painting!)
Denatured Alcohol
Rags
How to Paint Paneling – Step by Step
Prior to painting remove or cover all furniture, fixtures and appliances.  Cover the floor with drop cloths or similar to protect from paint.  Tape off and cover windows and electrical switch / recepticle plates.
Assembly painting supplies and tools. Gather paint, brushes, rollers, ladders, tools and supplies.

Dust and clean surfaces to be painted.

Thoroughly dust all to-be-painted surfaces with microfiber duster or lambswool duster. You may also use a vacuum cleaner with a wide brush attachment.

If your paneling is dirty or has a residue (think kitchen grease), you should consider cleaning the surface with an appropriate solvent or cleaner. Trisodium phosphate and water is often used, but check the recommendations of your paint products — Zinsser B-I-N recommends using an ammonia / water solution and not TSP solutions. Rinse well after cleaning and allow to dry for at least 24 hours.

Apply first coat of primer.

Begin applying the primer to the ceiling, starting from the top (highest portion) of the ceiling and work downward. This will help control the flow of paint. Next, prime the wall. Again, start at the top of the wall and move downward.

Depending on the primer you are using, the surface you are trying to cover and the final color of your finish, you may need to apply more than one coat of primer. Knowing that we were using a white finish over the dark paneling, we planned on applying at least two coats of primer.

Follow the recommendations of the primer you are using for drying times required prior to second coat application. The beauty of the shellac (alcohol) based products is that they dry very quickly, and can be re-coated in an hour or less.

Additionally, the alcohol based products have very good adhesion qualities and tend to "bite" into the surface you are painting. This is particularly true for our varnished wood paneling that we were painting, making this type of primer an excellent base coat for the finish paint. This primer (Zinnser BIN) also has excellent sealing properties helping to eliminate odors (smoke, etc) from the paneling.

We applied the primer by the traditional technique of using a brush to cut in corners and a roller to cover the large surfaces. For the roller, we used the light-weight Mini-Koter roller system (6 1/2 inch) by Wooster. We found it much less fatiguing verses conventional rollers, especially when working overhead.

We started with the ceiling and then moved to the wall paneling. To paint the tongue and groove wall, we found that the small Mini-Koter rollers turned vertical fit perfectly in the vertical groove of the paneling and could do both the "cut-in" work in the grooves and the surface finish work without using the brush — this was a big time saver.  Again, paint from high to low to help control drips and the flow of the paint.

Apply a second coat of primer (if needed for color or stain coverage).

Using the same methods as above, we added a second coat of primer to the walls and ceiling. Because the shellac base primer dries so rapidly, we were able to keep our scaffolding setup on one stop for both coats.

Apply the finish coat.

Once the primer has fully dried (check the recommendations of the primer you are using), apply the finish coat of paint. Using the same techniques of brush cut in, roller finish and working from high to low, apply the first finish coat.

Depending on the product you are using and your finish color, you may need to apply two finish coats for a satisfactory finish. Follow the manufactures recommendations for second coat application.  As stated above, we used an acrylic (latex) paint, Benjamin Moore Regal interior acrylic eggshell for our finish coat for both the paneling and roof boards.

Finish coat the ceiling beams and trim.

To add contrast to the trim elements we used a different paint, one with a slightly more glossy finish (Benjamin Moore Advance waterborne interior alkyd satin), to finish coat the trim.




This alkyd satin finish paint gives the wood trim elements a slightly harder finish (more washable too) and a bit of brilliance next to the matte appearing eggshell finish latex. We used the same color, Benjamin Moore's White Chocolate, for both paints.

Enjoy your new interior.
Paint Paneling Image Gallery