How to Stain a Wood Door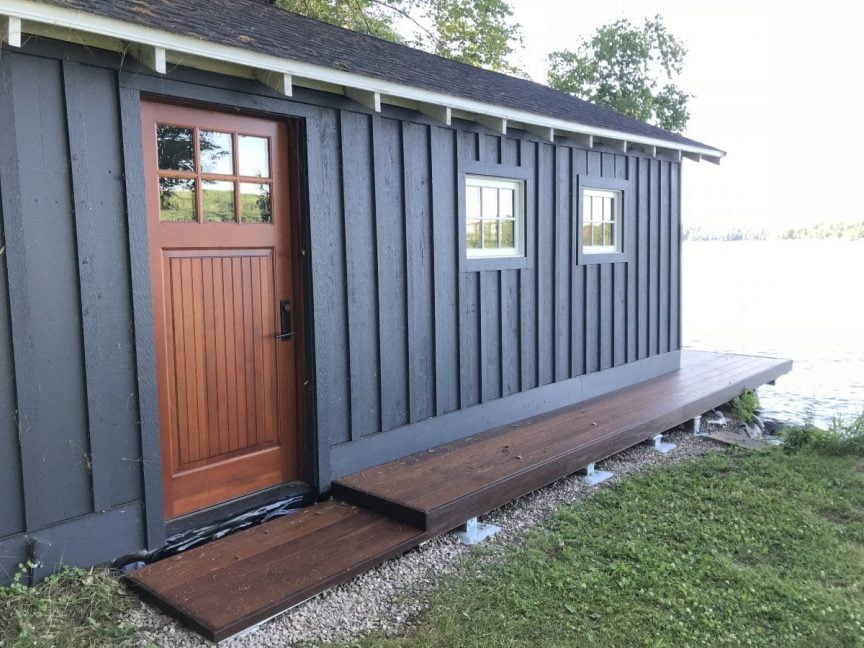 How to Stain an Exterior Wood Door
A well finished exterior wood door is a thing of beauty and an easy project for most do-it-yourselfers. The steps are simple; prepare the wood door, apply the stain product and wait until it dries. The process, however, takes a bit of time and planning. Depending on the product/process you use, it will likely take you several days to a week or so to complete your staining project.
To get started, you'll need to choose the type of product or products for the project. There are many different types of stains and wood finishes for exterior wood. Traditionally, staining wood meant first applying a wiping stain and when dry, finishing with a clear coat finish like varnish. This two-step process works well and is easy to use, but gives a certain look and may not perform as well as newer, exterior wood stain products designed for specific purposes.
Choose a Stain Product Based on the Surface to be Finished
Exterior specific wood stain and finish products are intended for particular surfaces – decks, siding, doors, etc. Each product is designed to offer advantages based on it's intended use – like better mechanical durability for deck stains, high UV protection for fences, and mildew protection all of the outdoor products. For these reasons, consider a finish intended for the surface you plan to finish when choosing a product to use.
Also, consider the finished look of the wood you are going after. Heavily pigmented "stain" finishes give a more "painted" compared to traditional wiping stains. Semi-transparent and translucent exterior staining products tend to offer a more natural wood look, similar to conventional wiping stains but with the advantages to additives targeting exterior use.
Looking for a natural, translucent, just slightly colored finish, I chose a two part system by PPG ProLuxe (formerly Sikkens) called Cetol. The Cetol system uses a pigmented base coat (Cetol 1 RE) and a durable top clear finish coat (Cetol 23 RE). This system provides a very translucent, glowing, deep finish that is incredibly beautiful and durable. Considering these doors are going on a boathouse, I was also concerned with the durability of a finish exposed to sun and weather. This two part alkyd system seems perfectly matched for this challenging environment.
For doors, I think this finish is hard to beat. Especially considering my doors are going on a boathouse. This finish is extremely water resistant and well suited my lake-side environment. It might a bit much for fencing or decks, but for my project I think it's perfect.
For your project, consider your options and find a match, and ask a painting professional if you need help. Here is a chart summarizing some of the options for exterior wood stain products:
Comparison of Exterior Wood Stains/Finishes
| Product | Overview | Cost | Durability | Notes |
| --- | --- | --- | --- | --- |
| solid color stain | paint like, grain not visible | $ | most durable | often water-based (acrylic), durable, good mechanical protection (decks) |
| semi-solid color stain | less pigment, some grain visible | $ | very durable | often water-based (acrylic), durable, good mechanical protection (decks) |
| semi-transparent & transparent  stain products | finer tinting pigments, grain visible | $$ – $$$ | durable | oil or water borne oil-based (alkyd), penetrating |
| one-step stain finishes | tinted, clear finish | $$ | durable | oil or water borne oil-based (alkyd), pigmented clear finish |
| gel or wiping stain + clear coat | stain first, then clear coat | $ | durable | wiping or gel stain followed by polyurethane, shellac or varnish top coat |
| clear finishes (shellac, polyurethanes,varnish) | clear finish | $ | very durable | water (acrylic), alcohol (shellac) or oil-based (alkyd), seals, UV & rot protection |
| penetrating oil | penetrating finish, no film | $$ – $$$ | least durable | oil with additives, highlights the natural wood, UV and mildew resistance, often used with exotic woods |
Choose a Product Based on the Intended Surface, Desired Look and Durability
Solid and semi-solid stain products perform and look more like paints. These product are typically flat finished to allow wood grain texture to show through, but depending on the pigment content, will hide some (semi-solid stains), to most (solid stains) of the grain of the wood you are finishing. These products are very durable and will typically last 5 or more years before needing to be refinished. These products are readily available at hardware and home improvement stores and are relatively inexpensive – $20 – $40 / gallon.
Semi-transparent and transparent stains tend to be more stain like and less paint like. The often are oil-based or water-borne oil-based formulations with finer oxide pigments that change the tone of wood, but retain the visibility of the wood grain. These products are available at some hardware and home improvement stores and at specialty paint stores. These products are often more expensive with prices ranging from $40 – $100 / gallon.
Clear finishes like spar varnish, polyurethanes and shellac products provided a clear or nearly clear finish over the wood surface. These finishes are very durable and inexpensive. Look for products intended for exterior use (like Marine Spar Varnish) as these will have additives for enhanced UV and moisture protection. Cost is $20 – $40 / quart.
Penetrating oils condition the wood and add UV and mildew resistance, but do not form a film layer after application. These products tend to look amazing initially, but require frequent (annual) reapplication. The best products are formulated from exotic wood oils (like Brazilian Rosewood oil) with added protectants.
These products leave the wood color-enhanced and looking the most natural of the finishes. Penofins makes excellent examples of these products. The are harder to find and somewhat expensive at $ 60 – $100 / gallon, especially considering the need for frequent reapplication. They do look amazing though, here is a photo of Penofins Exotic Hardwood formula on Ipe decking:
How to Stain a Wood Door – Preparation
Preparation and Materials
Project Overview:
Level: Easy
Time: days – week
Cost: $50 – $200
How to Stain A Wood Door In Steps:
Sand and remove dust from door.
Remove hinges, door handle, other hardware.
Tape glass (if present).
Apply finish coat(s).
Allow to dry and replace hardware.
Materials – Stain an Exterior Wood Door
Item
What I used
PPG ProLuxe Cetol 1 RE
(Teak) base coat
PPG ProLuxe Cetol 23 Plus RE
(Teak) base coat
Mohawk Putty Sticks
Sanding Sponges
Microfiber Cloth
Painter's Tape
Mineral Spirits
Tools – Motion Sensor Light Switch Install
| Item | What I used |
| --- | --- |
| China Bristle Paint Brush | |
| Scissors | |
| Razor Blades | |
How to Stain an Exterior Wood Door – Step by Step
Pick a Clean, Dry Place to Work.

Find a clean, quiet place to prepare and stain the door. You will likely need to have the door there for a few days. Place a large piece of cardboard or drop cloth to work over (you can wait until after you have sanded and cleaned the door to keep dust off the drop cloth).

Prepare Unfinished Wood Door Surface by Sanding.

Sand bare wood door surface using 80 – 120 grit sanding block or similar. You can use a finer grit sandpaper, but this finish recommends medium grit sanding for optimum wood prep to take the base coat of finish. I used a 180 grit sanding block on my Douglas Fir door with good results.

Surface prep is dependent on the wood species of your door. Dense hardwoods may require additional prep, like acetone wipe just prior to product application. Read the directions for the specific product you are using.

Thoroughly Clean and Remove Sanding Dust on Door.

After sanding, remove all sanding dust and debris on the door surface. I vacuumed with a soft brush attachment and finished with a clean microfiber cloth.

Tape Windows, Weather Stripping and Other Surfaces Not to be Stained.

Using painters tape, protect the glass near the window moldings. This is a tedious job that takes some time, so be patient and set aside some time for this step.

To tape windows, I first cut strips of tape that are shorter than the window pane length and place these on two side of the window pane. The short tape allows you to place without worrying about the short edges that will be covered by the last two strips of tape. Once the two short pieces are in place, place the last two pieces. For these, I usually cut a square sharp edge with a scissors for the starting edge and just leave the opposite edge long and trim with a razor blade.

When placing the tape, leave a very slight gap between the tape and the window molding. This small gap allows the finish to seal to the glass surface and ensures coverage of the entire molding surface. Make sure the tape edge is smooth to the glass by running a plastic putty knife, your finger nail or similar along the edge of the tape.

Fill Nail Holes with Putty.

Using color-matched putty, fill nail holes prior to finishing. I like putty sticks, as they are easy to use and work well. Just rub the end of the putty stick back and forth over the nail hole to fill and smooth with your finger. Most finishes can be applied immediately after applying the putty.

Ensure Door Surfaces are Dust-Free and Begin Applying Stain.

Dust entire door with microfiber cloth or similar. Begin applying stain. The following directions apply to the PPG ProLuxe Cetol two part stain finish that I used for these doors. If you are using a different product, please read and follow the application directions for that product.

Prior to applying stain, new wood should be clean and dry with a moisture content of less than 18%. An easy test is to sprinkle some water on the wood surface. If the water drys within 2 minutes the wood moisture content is typically low enough to apply the Cetol products.

Thoroughly stir the first product, PPG ProLuxe Cetol 1 RE Transparent Stain, then apply with a china bristle brush, in an even, thin coat. Avoid heavy application and excessive overlapping. Apply the stain in the direction of the wood grain. Allow this first coat to dry for at least 24 hours before applying the second coat.

Next, apply at least two coats of the satin top coat Cetol finish product, PPG ProLuxe Cetol 23.  Stir product before applying. Apply with a clean china bristle brush, again in the direction of the wood grain. Allow at least 24 hours dry time prior to applying the third, final coat. Allow the finish to dry for at least 48 hours prior to handling and replacing hinges and other hardware.

If the door(s) you are staining were purchase new and came prehung with a casing, finish the casing as desired prior to installing the door. I choose to finish the door casing with the same two-step Cetol process.

Once Dry, Replace Hardware and Hang Doors.

After the doors have thoroughly dried (several days), remove the painters tape from the windows and other covered surfaces. Pull the tape at a 45 degree angle to help reduce the chance of pulling off finish with the tape removal. For slower drying finishes like these products, plan to wait several days before removing the painter's tape. Certain tapes, like the 3M Walls + Floors tape I used, have a less aggressive stick and tend to be easier to remove after longer applications.

Next, re-install hinges, and door hardware. Dummy hinge straps can be added for a more rustic look. If adding hinge straps, consider using vintage square head screws to give an authentic look.

Install Doors.

Reinstall doors. If the door set is new, as was the case for me, finish the door casing separate and before you install it. I used the same two part ProLuxe Cetol system for the door jamb and casing. It turned out great. I ordered and finished a total of three exterior doors – a set of double hung doors for the boathouse lake side entry and a single hung for the service door.

The doors are high quality Douglas Fir prehung door sets from Simpson Door Company (Bungalow model#7228 Douglas Fir). I ordered them from our local lumber supply/hardware store. Although these doors are expensive, I highly recommend them and I plan on buying them again for future projects.
Stain A Wood Door Image Gallery